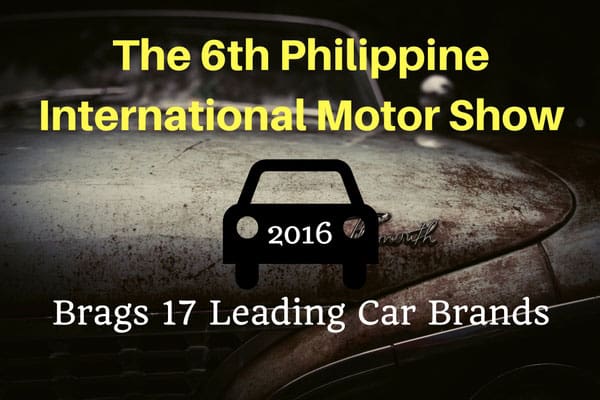 The Philippines' most exhilarating motor show, the Philippine International Motor Show (PIMS), is now coming back in its 6th year. In celebration of its success, the Chamber of Automotive Manufacturers of the Philippines, Inc. (CAMPI) will be hosting the 6th Philippine International Motor Show with the theme "Steer the Future: Driving, Progress, Empowering Society". PIMS will run from September 14 to September 18, 2016. Doors will be opened from 10:00 am to 9:00 pm at the World Trade Center in Pasay City Metro Manila.
Related Other Automobile News Hot cars to watch out for at the 2016 PIMS auto show
Goals of the event
The 6th Philippine International Motor Show will continue to promote the significant contributions of the automotive industry to the country and economy. Its theme plays an important role in conveying the event's goal to Filipinos. Its aim is to present the future of better mobility and transportation in the Philippines.
Participating brands in the event
Once again top car manufacturers and distributors will join together to showcase their new vehicle and automotive innovations in the 6th PIMS. Seventeen of the leading car manufacturers and distributors including BAIC, BMX, Daewoo, Foton, Honda, Isuzu, Kia, Mazda, Mercedes-Benz, Mitsubishi Motors, Nissan, Peugeot, Suzuki, Toyota, Volkswagen, Jeep, and Lexus will be expected at the motor show.
Total is also expected in the event as a proud partner of the 6th PIMS.
Success of the event
The Philippine International Motor Show is undeniably a huge success in the country. In its 6th year celebration, 17 top leading car manufacturers and contributors will showcase their advance vehicular and automotive technologies in the motor show. The booming success of PIMS is expected to highlight the leading car brands' support to the Philippines' transportation and economy. The success of the nation is after all the highpoint of the triumphant 6th Philippine International Motor Show.
Related Other Page for Car Show Enthusiast Gaikindo Indonesia International Auto Show 2016 Cars List
Tickets on the 6th Philippine International Motor Show is still available at SM Ticket Cinema outlets or at smtickets.com for only P100.00