Since the birth of the first automobile in history, the auto industry has grown vastly over the time. Now, numerous car companies have established strong market roots all over the world. When it comes to vehicles that provide both performance and fuel efficiency, Isuzu is one of the most sought-after brands. Headquartered in Shinagawa-ku, Tokyo, Japan, this automobile company is known for producing diesel-powered commercial vehicles. Isuzu is also recognized for manufacturing high-quality diesel engines.

And because it continuously produced vehicles and engines that are better than par, Isuzu managed to widen its network by establishing joint ventures and subsidiaries like: Sollers-Isuzu (joint venture in Russia), Anadolu-Isuzu (joint venture in Turkey), Isuzu South Africa, Isuzu UK, and Asian joint ventures such as Isuzu Philippines, Isuzu Malaysia, Isuzu Vietnam, Isuzu Vietnam, Isuzu Taiwan, and Isuzu China.
If Isuzu is your pick, you're most probably looking for a vehicle that offers both power and fuel efficiency. Every car lover knows that diesel-powered automobiles consume better mileage. Although some people won't choose diesel-engine because of certain drawbacks like smoke emission, you'd find a handful of good reasons why diesel-powered vehicles are better.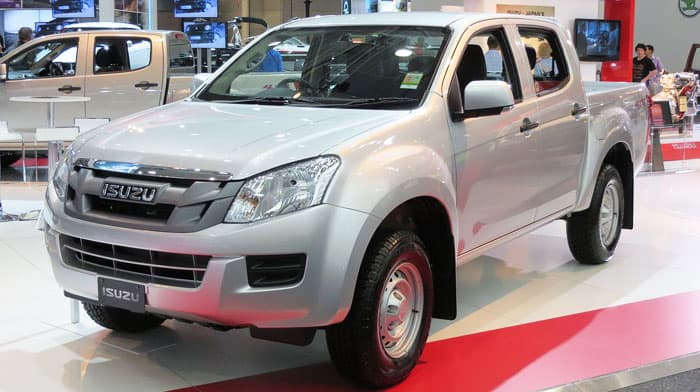 Image Source: By OSX – Own work, Public Domain, https://commons.wikimedia.org/w/index.php?curid=34206670
If you're the type who's mindful of fuel budget, then you've picked the right brand. And if you're looking for a pick-up truck that's both functional for business and family trips, Isuzu D-Max is the way to go.
Forget about sedans and SUVs, because this pick-up truck has a lot of surprises for you. Introduced in Thailand in the year 2002, the D-Max is a pick-up truck that can be paralleled with General Motors' mid-size trucks such as GMC Canyon and Chevrolet Colorado.
Other than the feel-good factor it possesses, the D-Max is astoundingly economical when it comes to fuel efficiency. It is also a good vehicle for off-road trips because of its built. These are just few of the things you'd like about the vehicle model. But if you want the tiniest details about the Isuzu D-Max, this article will help you.
Trivia: That "Isuzu" was named after the Isuzu River. When translated to English, the word "Isuzu" means "fifty bells".
Functionality and Comfort
Note: The model name "D-Max" had been changed on several places. In United States, Thailand, and the Middle East, it was changed to "Chevrolet Colorado", while in Australia (years between 2003 and 2008), the D-Max was changed to Holden Colorado. This model was also named Isuzu Rodeo in United Kingdom and Isuzu KB in South Africa.
Although Isuzu D-Max varies in models, this article will focus more about the D-Max SpaceCab specifications. This model might be rough around its edges, but with the right accessories, you will surely find it useful whether you're driving off-road or cruising the highway. Generally, its exterior showcases a tough mid-size pick-up truck that looks better with an all-terrain set of tires. On default, you get a set of 17-inch silver alloy wheels (five spoke), but if you want a tougher stance on your D-Max, you can swap these to Speedy rims (which are, by the way, 6-spoke) on Toyo tires (all-terrain).
And if you're sprucing up your vehicle a bit, opt to an additional nudge and sports bar. Its slick paintwork, chrome-finish grille, and well-built two-door entrance add up to the vehicle's sturdy presence. Add-ons on the package are the following: a tonneau cover (roughly about $650), a tow pack (this is a must have for about $750), and a tub liner (for about $550). And to make your Isuzu D-Max more astounding, throw in a set of spot lights and huge fog lamps onto those mounting brackets (on the sports bar).
Compared with dual-cab vehicles, the Isuzu D-Max SpaceCab boasts of an extra bed length of 273mm. Being that, it gives you a maximized storage space when in need of a lift for moving, off-road rides, and even business/delivery trips—because if you don't get that much, then what is a UTE for? Well, that is if you'd opt for the suicide-door D-Max.
Also, you cannot open the suicide doors without having the front door open. This could pose a little inconvenience for you, especially if you're getting in with loads of carried stuff. On the bright side, you can fit in huge stuff in this, like a trail bike (just make sure you store it diagonally) and even a disassembled queen-sized bed.

Image source: wikimedia.org
Inside, the Isuzu D-Max looks surprisingly neat. Start with the cloth seats that are fairly comfortable. The radio controls is also pretty much basic. When it comes to its air cooling system, you'd be disappointed to know that the Isuzu D-Max doesn't offer complicated settings—however, you'd find the simple air cooling system knobs (one for fan speed and one for the temperature) basic and easy to navigate.
Two vertically built aircon systems (instead of the conventional horizontal installation) can be found in the middle. Isuzu D-Max is so simple that it doesn't have features like climate control, rear-view camera, and even navigation. The good thing about it is, you won't have to learn every bit of complicated setting there is—yes, it's fool-proof.
Connectivity is also one of the inclusions of Isuzu D-Max. You can pair your phone (for Mp3 playing) through Bluetooth. There's also an LCD display (basic tri-line) that's easy to navigate. However, there's one issue that most D-Max users complain about the connectivity settings: it's impossible to switch from one phone to another after you have paired your gadget into the system.
To connect another phone, you just have to delete the first phone, connect the second one, restart configuration, and decrease the microphone's sensitivity for the system to work perfectly. The vehicle's audio system doesn't stand out that much, but you'll get a good sound from the 6-speaker stereo. You might also find the mini-USB input jack a little useless, but who knows, you'll find it otherwise.
Related Article List of different Isuzu vehicle models
Some complained about the uneasy access to the rear seat, but these are quite useful on shorter trips—it's just that, these aren't that comfortable. If you have a huge built, making yourself comfortable while sitting behind would be a challenge as the seats are small, the cabin room is tight and it's obviously just enough to house small to mid-size built.
Although it's one of D-Max's bad side, the inside features make up for the drawbacks. Take for example, the storage compartments right under the vehicle's jump seats. In there, you can store your jack, tool kit, towing D-shackles, and different tools that you can use when you run into a small engine or tire problem.
Want to be a little creative to maximize your storage? Line up the compartment with a few layers of garbage bag, fill it with tube ice and voila—you can now keep refreshments and other frozen food cold whilst driving to your camping or fishing destination. When driving on a long road with towering trees on the side views, there is nothing better than to turn off the air conditioning system and roll down your windows to get some nature-crisp fresh air. Even better, the rear windows can be opened (pop out), so that the air can reach even the vehicle's rear area.
Engine and Performance
The Isuzu D-Max is a good performer on the road, whether it's a highway or an off-road. On rougher surfaces, the vehicle is impressively bouncy. However, it also inclines to jittering on a not-so-good road conditions. Because of the vehicle's wheelbase (3095 mm-long), which is not as quite spry as the other vehicles, there's a tendency that your D-Max might slide around on muddy roads. Long and short of it, the Isuzu D-Max, honestly, is not that dedicated when it comes to off-roading—but you'd surely be impressed with its performance!
Note: If most of your driving includes off-roading, it is recommended to add a set of tubular sliders instead of using the standard steps.
Isuzu D-Max's hill-descent control poses a slight issue, too. The good side is you just have to select low-range and drive first-gear through its automatic transmission. This way, you'll achieve a slow but manageable downhill cruise.
You will not find it that hard to drive your D-Max on a gravel road, but on extremely rocky roads, your driving experience could be extra bumpy and it takes a short time for the vehicle to get in sync with the road condition. And because the Isuzu D-Max is mid-size truck, it's honestly hard to steer when you're driving at low speed. So, whenever you're driving around sharp corners, make sure you're doing it with extra care.
With a spec of 130kW/380Nm, 5-speed Automatic Transmission, 3.0L turbo-diesel engine, the Isuzu D-Max boasts of 8-liter/100km mileage when driven around town and it can even reach up to 5 litres per 100km on a highway. This is something impressive—living up to its market claim of astounding fuel efficiency.
If you're more into eco-friendly vehicles, this pick-up truck is not for you because its smoke emission is one thing that might disappoint you. Because it is diesel-powered, smoke emission is not that nature-friendly. Take note that diesel-powered engines provide better fuel economy, but the emission is the downside.
Switching from 2WD to 4WD is easy; whilst driving, turn the selector and the vehicle will switch from 2WD to 4WD high. If you want to switch from 4WD high to 4WD low, you just have to stop the vehicle to engage to a low-range. Note: It's easy to determine when you're in low-range; you could hear the faint whine from the driveline. You'd be impressed with the Isuzu D-Max's low-range torque when you put it to test on different road conditions (mud, rocks, and even farm paddocks).
Related Other Pickup Truck Body Type Vehicle Ford Ranger Car Model
It terms of mechanical problems, it's good to know that the vehicle doesn't have any reported issues. Although the brake pedals feels a little soft and soppy, it's not that big of a deal because brake performance is unaffected.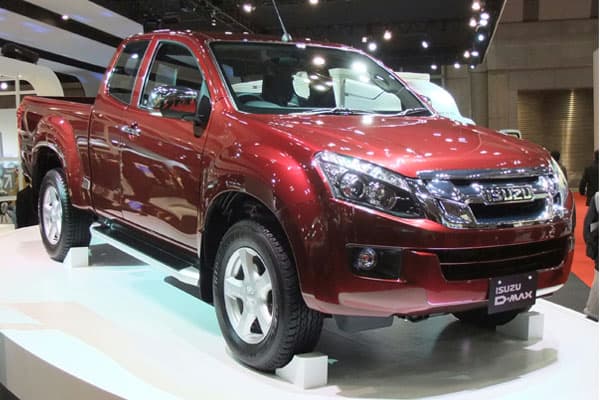 Image source: wikimedia.org
Conclusion
If you still can't figure out whether you're picking Isuzu D-Max over other models, consider this: The D-Max is a fair vehicle and you will surely get the most out of your paid greens. Priced at about $47,000, this pick-up truck is reliable on different driving occasions.
You might be a business man who always goes on a shipping trip, a family guy who loves taking his kids to camping on weekends, an off-roader who keeps on exploring the roughest terrains, or a bachelor who's spending most of his life travelling interstate. Whatever your interests are, it is safe to say that the Isuzu D-Max can give you the following:
Fuel economy – It uses up less fuel than those that are gasoline-powered. If you're a little mindful of your fuel budget, you surely will not spend a lot when it comes to the D-Max. Plus, it gives you more mileage.
Total package for any road condition – Although the D-Max is not really built for off-roading alone, and neither is it built for commercial driving, but you will not be disappointed with what the vehicle's overall engineering has to offer. It is built to withstand any road condition, so you won't have to consider your vehicle when you're planning to go somewhere using it. Whether it be off-roading or a highway cruise—is fine.
Storage capacity – Having a vehicle does not only mean that it must take you anywhere, it has to be a vehicle that can take you to places—with as much stuff you can take with. This pick-up truck can take the claim and you will never be disappointed. It can be loaded with huge things like bike, disassembled furniture, kayak, storage boxes for moving, and lots of stuff.
These are just some pointers that you can consider before buying your pick-up truck. But if you're that convinced, what are you waiting for? Dash to the nearest Isuzu dealership and purchase your very first Isuzu D-Max now!
Other Isuzu D-Max car model Resources: