History
Jetta, originated from six generations of predecessors
Its original design was a traditional three-box design, and it was available as a four-door sedan body types and two-door sedan. The name "Jetta" was discontinued in the third generation which is from 1992 to 1999. In this generation it was officially renamed as the Volkswagen Vento in European countries. Volkswagen decided to keep the Jetta nameplate because of its success in North America.

The arched roofline styles and rounded shape began in the fourth generation from 1999 to 2006. This serves as the new Volkswagen styling trademark, discontinuing traditional sharp creases for more curved corners.
The present and the sixth-generation of Volkswagen Jetta are also known as the New Compact Sedan. The car is now more competitive against its Japanese rivals as the new model is larger and cheaper to produce than the previous Jetta.
Looks (Exterior and Interior)
Jetta has a simple and basic look of a three-box sedan. The style gives an advantage of a good rearward visibility. The slab sides and the corporate VW nose seem to be unchanged. Also, last year's style remains with an added refreshment. All models of Jetta 2016 are now equipped with LED running lights, headlight that have an optional bi-xenon elements, and a taller three-bar grille that is attached down to the bumper. To give Jetta a premium look, it has a spoiler on the trailing edge of the trunk lid lighted with LED taillights.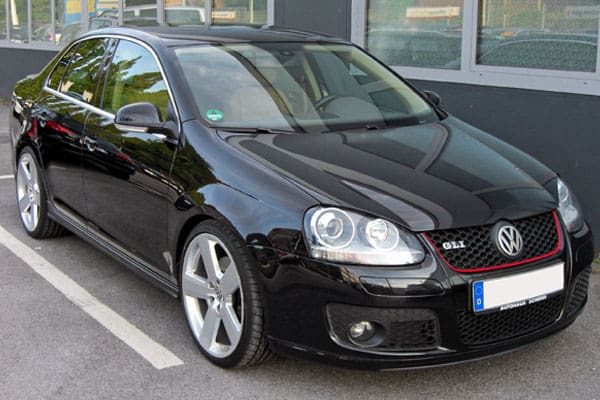 Related Other Sedan Vehicle Suzuki Ciaz Car Model
Looking inside the Jetta, drivers will be accompanied by well-organized and user friendly controls and by a classic VW big round gauges. The shifting stick is capped with a stripe of metallic trim. Seats are covered with leather and have sporty horizontal ridges.
For sporty and Jetta GLI model are equipped with distinctive styling for 2016. A front fascia with honeycomb grille and a rear diffuser with twin chrome-tipped tailpipes make the two models of Jetta sporty and aggressive. The red stitching on the sport seats and the flat-bottomed steering wheel also adds to the sportiness of the model. An optional black 18-inch wheels and red-painted brake calipers are also available.
Engine
The 2016 VW Jetta offers seven different powertrain combinations. These include three separate gasoline engines, each with a manual or automatic, and a hybrid model, the lineup's fuel-efficiency champion. Every engine in the Jetta now enjoys and sports a turbocharger. Impressive and refined, qualities you'd expect from German automotive.
The Jetta 1.4T comes with a 150-horsepower turbocharged 1.4-liter inline-4 putting out 184 pound-feet of torque.
The energetic 1.8-liter is a turbocharged inline-4, rated at 170 hp—and its torque has a maximum of 184 lb-ft. It has only a single model, the 1.8T Sport. Both the 1.4T and 1.8T engines are tuned to provide strong power low down in their rev ranges.
Related Article List of different Volkswagen models
The most powerful top-of-the-line Jetta GLI 2.0T puts out 210 hp from its turbocharged 2.0-liter inline-4. It also brings on its boost low in the rev range, and delivers consistent, exciting power into the 6,000-rpm range.
The 1.4T, 1.8T, and 2.0T turbo engines all run on regular gasoline and are available on either a 5-speed manual gearbox or a 6-speed automatic transmission.
Fuel efficiency, that's the job of the Jetta Hybrid, rated at a 44 mpg combined. It uses the same 150-hp 1.4-liter turbo four as the base. It also uses a 20-kw (27-hp) electric motor. This alone uses VW's 7-speed dual-clutch gearbox. Output of the combined gasoline-electric powertrain is 170 hp. The Hybrid can run up to 44 mph on electric-only power. It also switches off the engine and slips into what VW calls "sailing" mode, in which the electric motor alone propels the car.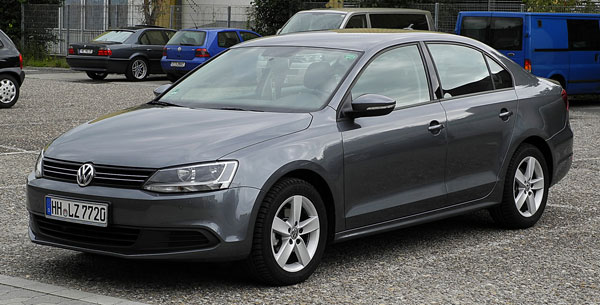 Safety
The understructure of the Jetta 2016 was beefed up two years ago in response to the tough new small-overlap frontal crash test from the IIHS or the Insurance Institute for Highway Safety. With the added active-safety features, Jetta has been rated as "good" and an IIHS Top Safety Pick+.
This sedan got a five-star overall rating from the NHTSA or the National Highway Traffic Safety Administration. Six airbags are standard on every Jetta, including curtain airbags, dual front and side. Jetta is also equipped with active headrests, stability control, tire pressure monitors and anti-lock brakes.


The car's good outward visibility is also notable. The rear-seat headrests are low, the glass area is large, and the roof pillars are relatively tall.
Jetta trim levels are equipped with an automatic post-collision braking system. The Driver Assistance Package that includes adaptive cruise control, forward-collision warnings and automatic braking, and blind-spot monitors are available on selected models.
Comfort
Jetta S has cloth seats, 15-inch steel wheels with silver plastic wheel covers, and a 5.0-inch touchscreen. It also offers options for a center console, cruise control, and a sunroof.
On the other hand Jetta SE offers heated front seats, heated washer nozzles, electric power steering, an iPod input, and a satellite radio.
Ride & Handling
The Jetta's independent suspension on all four corners gives better combination of ride control and precise feeling. All versions now have electric power steering. Its brake feel is strong and deep. Jetta delivers the same supportive but absorbent ride. Jetta GLI had a tightened springs and shocks. It was also lowered into the right height and an added electronic simulated front-differential lock.
We thought you were interested in this other Volkswagen car model. Volkswagen Golf
Conclusion
Today, Jetta model depicts a shift toward more of a Costco philosophy of getting the biggest product for the least amount of money. Jetta model has more spacious trunk and cabin than its competitors, but there's a sense of cost-cutting in this model that was absent from previous models.
On the bright side, 2016 Jetta boasts an up-to-date interface with smartphone integration. Given the competitiveness of some other sedans, it's hard to overlook the Jetta's lackluster handling and lack of strong interior design.
Other Volkswagen Jetta car model Resources:
Volkswagen Jetta Wikipedia Page
Volkswagen Jetta Official Page