Exploring new frontiers and overcoming challenges – dreams and aspirations that some adventurous motorists have in mind, especially when considering a vehicle that'll take them places and beyond. And even for individuals who face a daily jungle and wildlife such as the urban metro, a vehicle that has the right set of tools and power is needed to get through the daily grind.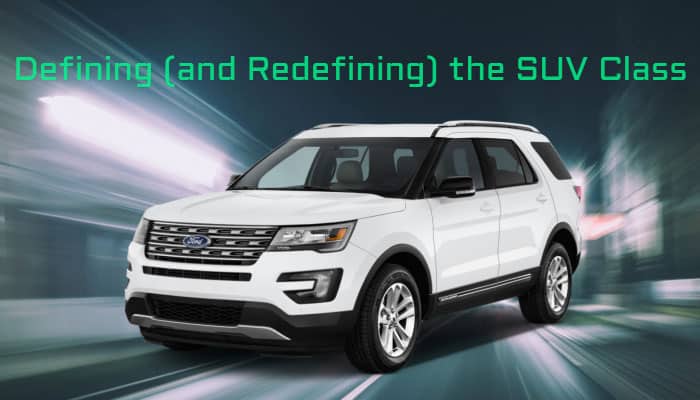 If you're that sort of driver, then look no further – the Ford Explorer can definitely meet (and exceed) your expectations. Let's find out more below on what makes this impressive car such a delight to drive and ride in below!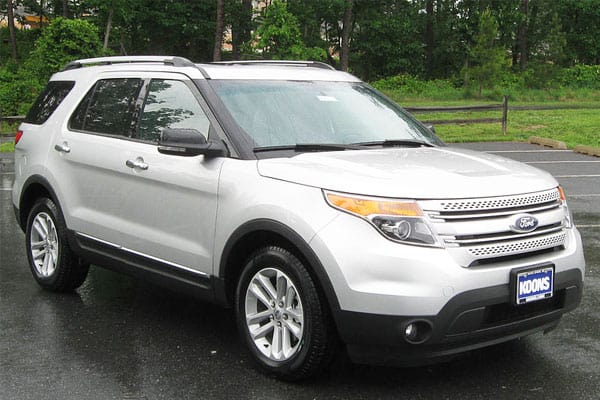 Image source: wikimedia.org
Defining (and Redefining) the SUV Class
First released in the early 90s as a full-size sport utility vehicle (SUV), the Explorer has redefined its image at the onset of 2010 as a crossover platform.
Regardless of the shift, the Explorer has always been a popular vehicle, mainly because of its tough (yet appealing) appearance and its performance in performing and delivering no matter what a driver demands it for.
As such, this SUV can very well be dubbed as to what this class of vehicle should be. As the standard, one can only expect the best from this car – a testament, considering that the Explorer is one of Ford's best-selling models!
Ford Explorer Configurations – A Matter and Convenience of Choice
Perhaps what makes the Explorer such a hit even through the years is its high capability of keeping up with them times. Aside from the constant integration of smart technology features and the seamless innovation of improving what already works with the SUV, the Explorer's flexibility to fit to a driver's style and personality is what makes it such a thrill to drive. Let's find out some features that adapt through the years:
Engine Variants and Configurations
The power from within – this is what makes the Explorer a force to be reckoned with. Also, a Ford signature technology, the EcoBoost® is a driving force that makes the Explorer stand out from the rest. The EcoBoost®, which blends maximum power and fuel efficiency, is truly a wonderful engineering wonder. For the latest Ford Explorer variant, EcoBoost® technology comes in these configurations:
We thought you were interested in this other Ford model. Ford C-Max
3.5L EcoBoost®
A perfect combination of direct injection and turbo-charged power. Able to deliver 365 V6 horsepower (350 lb.-ft. torque), this is a beast that can bring in the thrills during every ride.
2.3L EcoBoost®
With 280 horsepower (310 lb.-ft. torque), one can only expect a satisfying boost of power from this choice.
Additionally, the Ford Explorer engine also comes in this configuration/option:
3.5L Ti-VCT V6 Engine
At 290 horsepower (310 lb.-ft. torque), this Explorer option comes with a variable control of its valve cam timing, eliminating any compromise when it comes to driving performance.
The Power to Tow
For the latest model, the Explorer can tow up to 5,000 lbs. of cargo. And coupled with the right set of equipment, carrying loads is even more safer – and thrilling – than ever. Here are a couple of towing innovations that may strike your fancy:
AdvanceTrac® (with RSC®) System
By making use of gyroscopic sensors, the Ford Explorer can monitor yaw and roll rate. This means the AdvanceTrac® with RSC® (Roll Stability Control™) system can help motorists maintain optimum control, and prevent wheel slip, oversteer, or understeer situations.


Curve Control System
Additionally, the Ford Explorer comes with a Curve Control System to help drivers slow down during curves. This system, when sensing that the car is moving fast in a curve, will apply additional brake pressure, allowing drivers to stay in control of the Explorer.
Related Other SUV Body Type Vehicle Honda CR-V Car Model
Trailer Sway Control System
Working in hand with the AdvanceTrac® with RSC® System, this particular feature reconfigures and considers trailer and heavy load cargoes. Engine power adjustments are also applied, if needed or suggested by the system.
That Iconic Look
Also, another important aspect that makes the Ford Explorer standout and remain the best through the years is its iconic design. Basic yet elegant, this is a car that definitely brings out the beauty in the beast (of power).
The Ford Explorer Exterior
Power can be seen and is exuded from the exterior of this fine SUV. The solid and dynamic outline of the vehicle is a testament of strength and confidence, which can be outfitted with several key Ford equipment to accentuate one's needs or personality. Nevertheless, the sleek and basic design of the Explorer is already an eye-catching appearance – definitely to remain in one's head as a memorable vehicle to gaze upon!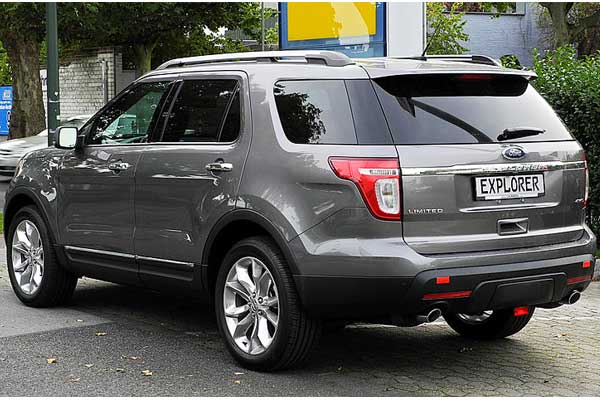 Image source: wikimedia.org
The Ford Explorer Interior
Step into the cockpit and be amazed on how spacious the Explorer is! Aside from complementing the cargo capacity the SUV delivers, this vehicle's interior is also packed with essential and exciting goodies.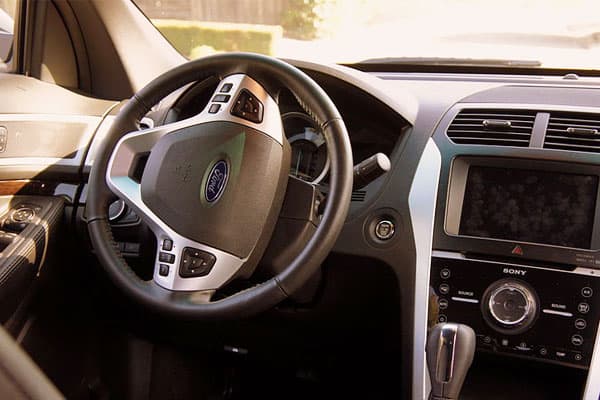 Image source: wikimedia.org
Particularly for the Ford Explorer Limited, heated front-row seats are available to keep drivers and passengers safe and warm during cold climates of weather conditions. Additionally, infotainment features, such as the SiriusXM® Traffic and Travel Link® system, and the SiriusFM® Radio, will help keep each ride exciting and action-packed.
Explore the Outdoors Today
The Ford Explorer is definitely a fantastic vehicle. From being a powerhouse SUV to an appealing and smart car, this vehicle will definitely delight drivers from all walks of life. Do contact the nearest dealership to inquire about this ride. This is an SUV you should truly drive to appreciate!
Other Ford Explorer car model Resources:
Ford Explorer Wikipedia Page
Ford Explorer Official Page
Video of Ford Explorer Car Model