Dubbed as a "Mystery Utility" vehicle, the Isuzu MU-X introduces a sense of excitement for drivers, with its many features that are best appreciated when discovered on the road. We'd like to take the opportunity to share some of the many factors that this SUV has, for you and other motorists to decide if it's a car that' be worth your time (believe us, the MU-X is definitely worth your time!).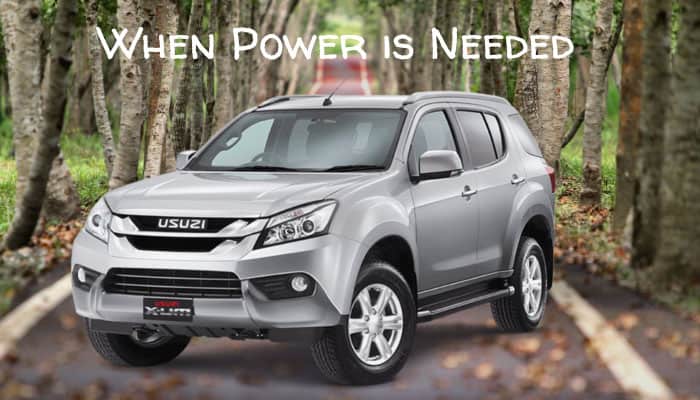 Bringing Light to the Mystery
Initially launched last 1989, the Isuzu car company wanted a car that will best emphasize excitement and reliability for their market. As such, the MU incorporates several tried-and-tested facets and the latest road technology (at that time) to best address driving needs.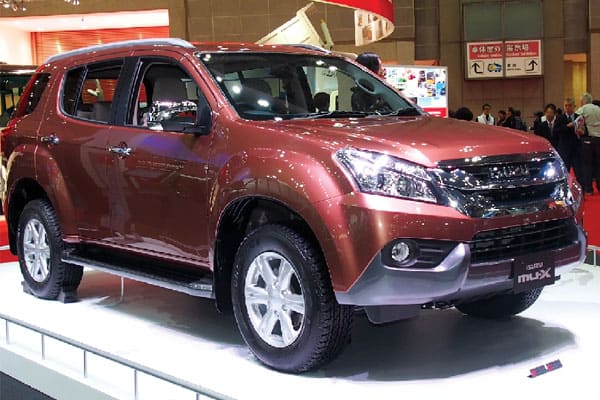 Image source: wikimedia.org
And through the years, Isuzu continues to introduce new and efficient technologies for every release of a new Isuzu MU-X variant. Yet, no matter the variant released, the MU-X has constantly continued to deliver, by providing the already-expected road-worthy and safe drives that Isuzu models are known for.
Perhaps the mystery in this car, as a matter of fact, is on how why more people need to know and drive this vehicle. This mid-sized SUV is absolutely a car one can be proud of, with its tough, attractive, and reliable features.
Which is why, when Isuzu released the MU-X last 2013, the Japanese car manufacturer took the mysterious acronym a step or level higher. Instead of "Mystery Utility," Isuzu came up with the term "Makes U eXciting," a fitting phrase on what the MU-X has always offered for its drivers (and even passengers)!
When Power is Needed
Power is assured in the Isuzu MU-X. Look under the hood, which stores a Blue Power (Euro 4) direct injected VGS turbo diesel engine, and you may just realize that Isuzu doesn't hold back with the power output of the MU-X. As such, motorists can expect excellent torque delivery, without having a high rpm output. Best of all, fuel-efficiency is also prioritized in this vehicle, allowing drivers who are in a budget to strike a balance with power and fuel consumption.
In terms of control, the MU-X may seem to be an intimidating vehicle to take hold of. But, another mysterious surprise can be observed here, with the vehicle equipped with a six speed automatic transmission system (additionally, comes with a sequential shift feature as well) for total and hassle-free drives.
For more control and driving assistance, the MU-X also makes use of an electronic stability control system (ESC), hill start assist feature (HSA), hill descent control assistance (HDC), and an innovative traction control system (TCS). Also, a five link suspension (spring) suspension system is used by the MU-X, assuring motorists of safer and smoother rides.
Related Other SUV Body Type Vehicle Toyota Rush Car Model
Also, when it comes to both control and road safety, the Isuzu MU-X takes pride of its brake systems. The mid-sized SUV comes equipped with an automatic braking system (ABS), brake assist features (BA), and electronic brake force distribution technology (EBD). But what makes the MU-X stand out from other competitors in the market is the emphasis and priority on creating better ventilated brake discs for the car.
Additional safety features found in the MU-X are SRS airbag installation (dual), seatbelts with pre-tensioner integration, and reverse sensors. Truly, a safe ride can be expected in the MU-X!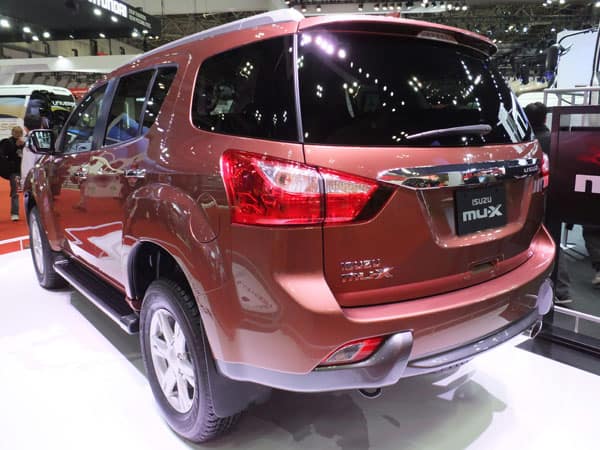 Image source: wikimedia.org
Making a Powerful Statement
When it comes to style, it is no mystery that the MU-X can make a powerful and exciting statement. From having an intimidating exterior to a classy and comfy interior, this mid-sized SUV assures drivers of having a beautiful and respectful appearance on the road.
The MU-X's exterior design is a great representation of allure and strength. With a massive façade, the mid-sized SUV incorporates aerodynamic fixtures that blends and improves its look. LED lights accentuate the car's chrome grille, with crease lines all the way towards the windshield offer a subtle yet sophisticated appearance. The MU-X's mirrors complement the chrome door handles – another subtle yet beautiful accent that will surely delight owners and pedestrians alike.
Offering functional and charming factors are the car's sidesteps – easy access is assured, with even creating a beautiful accent to the car's outside appearance. Another functional aspect are the MU-X's roof rails. Looking like aerodynamic fixtures, these rails can carry heavy cargo, perfect for drivers meaning to use the mid-sized SUV for long treks or out-of-town trips.
Inside, the MU-X continues to dazzle. Spacious as seen from outside, the MU-X is a 7-seater wonder vehicle filled with interior details that will delight passengers lucky enough to ride in it. With the back rows of seats capable of being adjusted, the MU-X can provide space-saving solutions perfect for travelers and the like.


Also, leather seats and several infotainment features offer comfortable and exciting travel experiences. For infotainment, a touchscreen (a size of 7 inches) and several speakers (8 in total) spread all though out the vehicle, help in giving unforgettable memories in every MU-X trip.
For even more comfortable trips, the Isuzu MU-X comes with fancy climate and air conditioner control systems. This just means that drivers and passengers gain to have access to perfect and relaxing weather conditions, no matter what the climate may be on the road.
A Car that Definitely Delivers
Transform this mystery into something exciting. Visit the nearest Isuzu dealership for more details on the MU-X now.