Buying an automobile is not as easy as shopping clothes or picking your groceries in the market. Aside from the price, you also need to consider a lot of things from the vehicle's functionality and performance. When it comes to automobile brands, Japan is known for having most of the world renowned car makes. It is a home for high-quality manufactured automobiles that are being distributed in many countries around the world.

The Nissan Motor Company Ltd. is one popular car manufacturer that is headquartered in Yokohama, Japan. Being the sixth largest auto manufacturer globally, Nissan Motor now offers automobiles under three makes: Nissan, Datsun, and Infiniti. Because of its optimum-performing and reliable manufactured vehicles, the company is now the leading Japanese brand in Mexico, Russia, and China.
Navara's body style consists of two versions: a 2-door truck and a 4-door truck. From its predecessor, the Nissan D21 series, the Navara is considered as the improved version when it comes to Nissan pick-up trucks. This model is also considered as a compact-sized pick-up.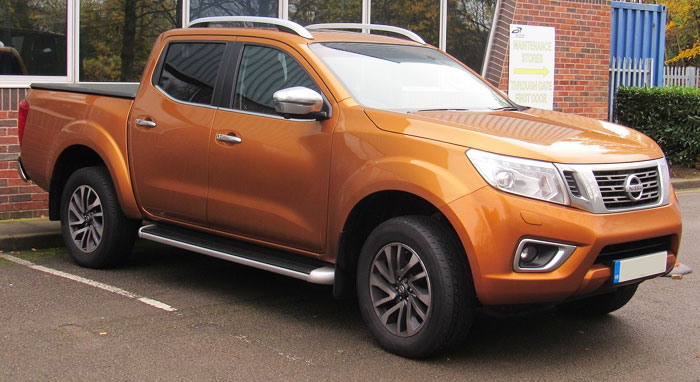 Image Source: By Vauxford – Own work, CC BY-SA 4.0, https://commons.wikimedia.org/w/index.php?curid=64116122
Trivia: The term 'Navara' comes from the name of a Northern Spain region, Navarre. In some European markets, the Navara is also called Nissan NP300. This model was also created to replace the old model, Nissan Hardbody Truck. The following are the other names for this model:
Japan: Datsun
Brazil, Mexico, Argentina, Canada, USA, and Philippines: Frontier
Chile: Terrano
Bolivia: Fiera
Europe and Australasia: Navara
Middle East: Winner (Crew Cab)
Persian Gulf Countries: Didsun/Datsun
This Nissan model sold at a considerable figure, that is why in the year 1999, the auto maker decided to create a special edition called the Nissan Desert Runner. The vehicle consisted of a king cab base, a supercharged variety of the V6 engine, a boost on the vehicle's height, bigger set of tires, and a transmission of 4- or 5-speed 2WD drivetrain. The Nissan Navara is also tagged as the cheaper option of the D40 (Pickup) model.
Eventually, the compact pickup truck was completely facelifted and redesigned that it became a mid-sized pick-up truck. Using the Nissan F-Alpha platform, the second generation Nissan Navara now showcases an exterior that resembles with that of Nissan Titan's body styling. Then another restyling came with the third generation Navara. Car owners loved the improvements on the model and since then, Nissan continued to manufacture Navara.
If you are interested in knowing more about the Nissan Navara, this article will greatly help you.
Functionality and Comfort
There are about 27 types of vehicle from this model; and two among these are the Crew Cab and the King Cab. The Crew Cab is suitable for a family guy who regularly travels with two or more passengers. It is a 4-door vehicle with a considerable rear seat space.
Generally, a newer version of Nissan Navara is built with a complete boxed ladder frame with a wheelbase of 125.9 inches (3.20 meters) and an overall length of 205.5 inches. Because of the 2nd generation improvement, its towing capacity now reaches 6500 lbs. (about 2950 kilograms).
The facelifted Navara (2010) had its subtle alterations on its headlights and bonnet. Nissan decided to have the V-shaped grille shell less highlighted and the bumper is now a little rounder. Also, the automaker made the bumper 80mm longer for a little additional space.
One of the biggest improvements in Nissan Navara is the set of wheels. The vehicle now boasts of a 6-spoke 17-inch alloy wheels which are perfect for travelling heavy loads. Even better, you can also opt to choosing 18-inch alloy wheels if you want a sure off-roader. Overall, the Nissan Navara's exterior is impressively slicker, bigger, and more capable for an off-road driving compared with its predecessor.
In the year 2015, the Nissan Navara third generation was introduced in the market. The vehicle is also called Nissan NP300, Renault Alaskan, and Mercedes-Benz X-Class. Designed by Mamoru Aoki in the year 2012, the vehicle received positive feedback based on its new look.
Although rounded on the edges, the vehicle now has a tougher look. The hood seemed to have been lifted higher and the chrome grille is made smaller. The rear doors are noticeable wider, too. Although there have been changes on the exterior, the third generation Nissan Navara's set of wheels are still alloy and six-spoked. Side mirrors are slick-looking on chrome finish.
Taking a look at the vehicle's interior, Nissan decided to use top-of-the-line materials for a more upscale ambiance. Softer materials and carefully engineered seats and moulds were used to achieve a fresh a new look. Even better, there have been revisions in the centre console and fascia layout. The instrument binnacle design and door trims were also revised for better aesthetic. All throughout the cabin, you will notice a bright and glossy finish on the surfacing.
You probably will also like the Nissan Navara's electronic features. Aside from the CD audio system (by the way, it's a six-stack!) and the TV Navigation entertainment system, the vehicle now offers an upgraded speed-sensing volume, Bluetooth connectivity for playing audio, and it is also Mp3 compatible.
The dual-zone climate control, trip computer, remote audio connectivity and trip controls (built on the steering wheel), follow-me-home lighting, temperature gauge (external), and windscreen wipers that are speed-sensitive are just some of the additional revisions in the Nissan Navara. Moreover, the side mirrors can now be electronically folded in when needed (parking or even car washes).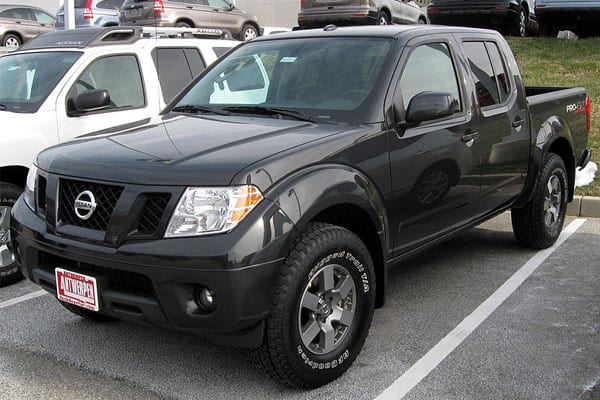 Image source: wikimedia.org
Trivia: The Nissan Navara (D40 series) is one of the vehicles that compete in the Coupe Rallye (Quebec series). Under the team NISMO Stuff Racing, the Navara is being used for more than two years now. Impressively, the Navara didn't have any reports of mechanical failure during its eight stage rallies and two hill climb racing. Even better, the Navara (D22 and D40 series) won driver's championship for eight consecutive years (2001-2008). Now, this vehicle is a sure off-roader!
Overall, the Nissan Navara offers great cabin space, amazing features, and great interior setup.
Engine and Performance
The Nissan Navara has undergone a tremendous improvement when it comes to its driving performance. From a 2.5-liter turbocharged diesel engine-powered vehicle from the Navara Double Cab, the facelifted Navara on its second generation is now powered by a brand new 3.0-litre V6 turbo V9X diesel.
The new engine now produces an impressive 240 horsepower (175 kW)—apparently higher compared with its previous 172 horsepower (128 kW). Even better, it also has a power spec of 406 lb-ft, 500 Nm at 2500 rpm (Revolutions Per Minute), and a tweaked 2.5-litre dCi unit (an impressive YD25DDTi High Power).
Meanwhile, the Nissan Navara (version 2011) and the Pathfinder facelift V6 produces a power spec of 170 kW (231 PS), 550Nm torque (that delivers an RPM between 1700 and 2500). On the other hand, there's not much alteration on engine power when it comes to VQ40DE; it still produces a power of 261 horsepower (195kW) with 5600 RPM.
Related Other Pickup Truck Body Type Vehicle Isuzu D-Max Car Model
While for the third generation, the body and chassis layout comes in variants of rear-wheel drive and four-wheel drive, front-engine vehicles. Engine variants come in the following: 2.5-litre QR25DE14, 2.3-litre single turbo (diesel-powered) YS23DDT, 2.3-litre twin turbo (diesel-powered) YS23DDTT, and the 2.5-litre YD25DDTi. Nissan also offers two transmission options, the 6-speed manual and the 7-speed automatic transmission.
Safety is also one of the things that Nissan made sure of, so as to ensure the customers that they are getting not only a reliable product, but also highly durable. You'd be glad to know that the new Nissan Navara (diesel-powered) is built with a stability control system which is called Vehicle Dynamics Control. There are also the V6 (petrol) and diesel-powered variants which are equipped with side-impact and side-curtain airbags for additional security not only to the driver, but also to the passengers as well.
The vehicle has a dual airbags in front. However, there have been complaints about the driver legroom—that drivers with taller stature get a short straw of space and seating position. Because the back adjust can only get far back enough, taller drivers don't have much choice but to have their legs on a splayed position. That could be downright uncomfortable if you are about 6 feet or more!
Not known to many, the Nissan Navara encountered an unlikely story of success when it undergone the Euro NCAP crash test. Along with its competing vehicles, the Mitsubishi Triton and Isuzu D-Max, the Navara only received one star (strikeout)—being considered as the vehicle with the lowest rating in the batch.
Using an upgraded computer software, the Nissan Navara went through another crash test and this time, its rating went two stars higher. As a matter of fact, it went highest among the group! It turned out that there were minor problems during the crash test, resulting to the vehicle's poor response.
Some of the problems that occurred were the following: (1) There was a delayed airbag deployment and (2) there was an inadequate seatbelt restraint. These problems were then addressed when a software upgrade was applied. Impressively, the Nissan Navara received good ratings in Side Impact, Frontal Offset, and Roof test by the IIHS. However, the vehicle only received 'Acceptable' rating in the rear impact test.
We thought you were interested in this other Nissan model. Nissan NV350 Urvan (Nissan Caravan)
Driving experience is a wide range of possibilities for the Nissan Navara. For the 6-speed Manual transmission in 2.3-litre diesel-powered engine that pumps out 405Nm, you'd quickly notice that it is reasonably smooth in handling. However, there were some complaints that most Nissan Navaras are pretty noisy especially when revving up. Good thing, insulation around the cabin is good, so you won't have to worry about waking your passengers up because of the engine noise. Driving on a freeway is good, and you get a reasonable 2000 revolutions per minute.
The Navara's clutch is light (for Manual transmission) and you need to be a little careful when shifting gears, specifically from 2nd to 3rd gear. If you think that just because the Nissan Navara is a mid-size pick-up truck, you won't be able to rush in narrow corners, you might want to reconsider this thought. Steering this vehicle, although it is huge, is surprisingly easy. Turning circle is also above-average for a mid-size vehicle. As for the suspension, this vehicle can get jittery when driven. Although it is a vehicle that is also built for off-roading, it is disappointing to know that the Navara doesn't manage speed bumps pretty well.
When it comes to fuel consumption, the Nissan Navara has an average rate of 8.0 litres per 100 kilometres in town driving.
Overall, the vehicle's engine is average if you're going to purchase first-generation variants. But if you're buying from second generation up, then you're getting a big improvement in engine performance. Driving experience is also average, but it is safe to say that you will get the hang of it as time goes by.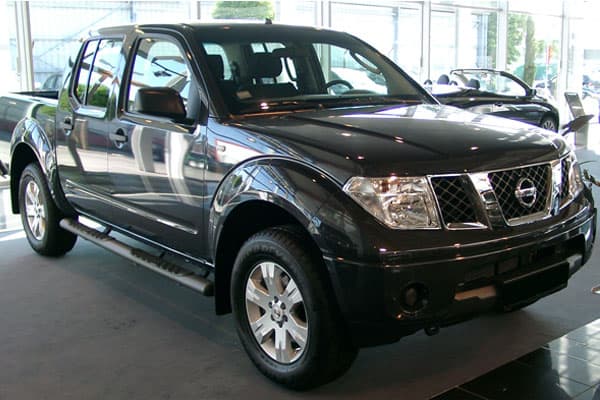 Image source: wikimedia.org
Conclusion
Now that you've learned enough about the Nissan Navara, is it a yay or nay? It is safe to say that you're getting the best out of your paid money in this vehicle. The facelifted Navara offers so much from slicker exterior to spruced up, upscale-feel interior. The vehicle's added features, cooling system, audio system, and connectivity are also things you'd love about the Navara. The vehicle also offers generous interior storage-perfect for drivers who travel with a considerable amount of stuff.


Driving performance is more than par. The vehicle is built for driving in and out of season. Whether it is city, highway or off-road driving, you can always rely on Nissan Navara. Although there are some minor problems that you will encounter, like small driving legroom, no option for rear coil spring, jittery suspension on speed bumps, and noisy engine, these could be negotiable standards that you can always get used to.
As for pricing, the Nissan Navara is a bit pricey, especially the third generation D40 Navara. But one thing is for sure, even if you're splurging a bit more for this mid-size pick-up truck, you sure will get your bang-for-buck.
What are you waiting for? Go to the nearest Nissan dealership today and purchase your first Nissan Navara!
For more information about automobiles, visit the other pages from this website.
Other Nissan Navara car model Resources: