Small Utility Vehicles have become a craze to many car owners because not only these are functional (in terms of seating capacity), but are also aesthetically impressive (looks tougher than a sedan but is slicker than a van). Are you up to buying a small SUV for your daily trips? If a Japanese automaker is a preference, you'd better go for Suzuki.

This multi-national car company is known for manufacturing high-quality motorcycles, automobiles (even 4WD), ATVs (All-Terrain Vehicles), and numerous combustion engines. Considered as the 9th biggest car manufacturer globally, the Suzuki Motor Corporation has proven itself a credible automaker to 192 countries around the world. Currently, it has an employment size of 45,000 (globally), has about 35 main production plants (in 23 nations), and about 133 distributors worldwide. That vast, huh? No wonder it is a widely known automaker.
When it comes to small SUVs, Suzuki Motors Corporation is particularly popular in its creation, the Suzuki Vitara. Although this funky-looking small SUV has been scratched off the car industry since the year 1998, its nameplate somehow left a mark that cannot be removed in the automobile history. Why, it is one of the best and cheapest off-roader you'd find in the market–and that is why Suzuki gave this iconic model a reborn. Suzuki Vitara's re-introduction promises a good future, a model that is spruced up with various upgrades in its exterior, interior, engine, performance, fuel economy, and other features.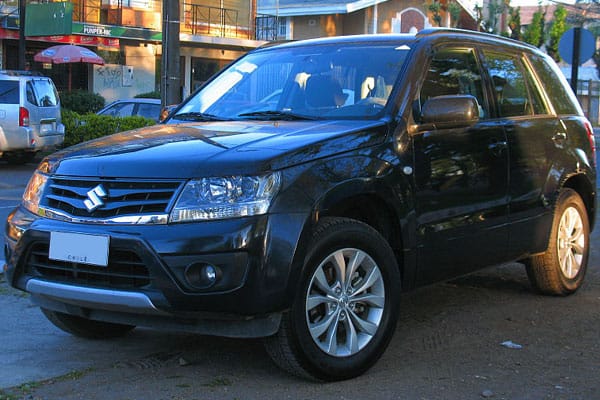 Now, if you're keen in knowing more about this small crossover SUV that beats other hatchbacks in the market, you're on the right page. This article is going to dig deeper about the pros and cons of the latest Suzuki Vitara 2016 (RT-S and RT-X versions). Sit back and learn more about this vehicle model.
Functionality and Comfort
When it comes to exterior design, the Suzuki Vitara finally breaks the mold compared with its predecessor models. Unlike its 'twin' vehicle, the S-Cross, the Vitara showcases a monocoque structure. Several improvements have been made like making the 2016's body chassis shorter than its previous model. It also eliminates a low-range construction, plus a nice level of ground clearance. The vehicle's outer built is bulkier with a more sporty and masculine design. Aside from its sleek aesthetic, the Vitara also rocks high-quality 17-inch alloy wheels that are good for city driving or off-roading.
Equipped on the middle of each alloy wheel is the 'S' logo. Daytime running lights are a package and the tough-looking chrome grille with the prominent emblem on the middle of the facade makes up for the vehicle's good looks that trump some hatchbacks. Yes, the grille and bumpers are made even bulkier to give the vehicle a more powerful look, while the LED headlights are a lot slimmer and brighter for better visibility during night-driving. Moreover, equipped on the rear side are elevated tail lights which are made bigger than the previous model's tail lights.
We thought you were interested in this other Suzuki model. Suzuki Ciaz
The Suzuki Vitara 2016 is considered to be based from an iV-4 concept, where it will be offered in 2- and 4-door configurations. The 2-door configuration vehicle comes with a body shape that is narrower (only measuring 4.21m in length and 1.85m in width,1.66m in height, and 2.50m in wheelbase). This model showcases a generous cargo space, so if you're always on the go alone, you can pack as much stuff as you can. However, you might be disappointed to know that only the front seats are considered as passenger seats.
But fret not, the 4-door model is the solution to your dilemma if you're looking for a Vitara that can accommodate more than just two passengers. With a dimension of 4.51m in length, 1.81m in width, 1.694m in height, and 2.639m in wheelbase, the 4-door model can now house up to five passengers. Despite the vehicle's small dimensions, its built is rather set-apart from a conventional hatchback automobile because of its increased 1610mm height.

When it comes to interior design, the Suzuki Vitara 2016's cabin is made more upscale-looking because of its re-designed trims, dashboard, and other features. The RT-S model has the similar 7-inch display with camera and a sat-nav control (the same as the RT-X). As for the RT-X model, it has a line-up of added features like the panoramic sunroof, front and rear parking sensors, auto wipers, and leather (suede) seats.
Additionally, the interior is also equipped with colorful plastic inserts, and for an added premium, you can have your Vitara spruced up with colorful plastic bits on the dash. There's also a 7-inch screen that is user-friendly and allows the driver to see details such as tire pressure, vehicle's critical features that are malfunctioning, and even the fuel level.
It has a home screen that displays four quadrants that is the same as the Ford's SYNC 2 SYSTEM. The sat-nav's graphics quality is excellent, and there's a reverse-view camera that is set-up with guidelines. Even better, it is also voice control activated and the car's audio system is impressively compatible with almost any phone with Bluetooth. Also included in the package are eight speakers plugged up the audio system (with an audio input option) and an improved infotainment system.
As for connectivity, the Vitara offers a Mirror Link that is compatible with Android devices. Unfortunately, this model does not offer Apple CarPlay yet, but keep hoping that in the future, Suzuki will decide to add this feature. On the other hand, the universal connectivity feature, USB (port) is included. The Vitara is also manufactured with a zonal climate control that is very functional in regulating temperature inside the automobile. Now, you won't feel the hassle of controlling the temperature by adjusting the AC system; you just have to activate this function and it does the work for you.
Related Article List of different Suzuki models
Going to the driver's seat, you'd be impressed to know that it is more elevated which gives you a better view when driving. The ergonomics are fair and the steering wheel's built is just enough for a good adjustment whenever you reach or rake on the steering wheel. As for the cabin storage, the area is built with functional door pockets, phone/wallet cubby that is 2-tiered, cup holders good in size, sunglasses holder, and a fair-sized glovebox. Unfortunately, the Suzuki Vitara 2016 doesn't have a closing center console. The vehicle's rear area, particularly the RT-X model, has a sunroof that, unfortunately, eats up the cargo's headroom.
As for the cargo space, there is a fair volume of 375 liters, which is a little smaller than the S-Cross model, but is a lot more than Mazda 3's or CX-3's cargo space. Even better, the Vitara has a loading floor that is 2-layered and there's also a built-in space saver beneath the cargo area. In terms of legroom and foot room, the Vitara is decently generous.
As for the middle seat, you might be a little disappointed to know that there are no cupholders, air vents, or even ski ports equipped. Thankfully, there are two anchors (ISOFIX) for child seats and there are also three headrests. Comfort in driving and driving position is also what Vitara offers as the steering wheels, the seats, and the gear knob are leather-covered. Overall the exterior, interior, and comfort, the Suzuki Vitara 2016 stands out a bit compared to its predecessor models.
Engine and Performance
Vitara's engine for both versions, the RT-S and RT-X, is comprised of the same 1.6-litre petrol engine that is naturally aspirated. Unfortunately, some consider this engine under-powered as the rates of 86kW at 6000rpm and 156Nm of torque at 4400rpm makes up the vehicle's engine.
Thankfully, because the Suzuki Vitara 2016 is low in kerb weight (you can even feel the lightness of the automobile's doors), which is an impressive 1075kg in two-wheel drive vehicle, the low horsepower is decently justified. So, you can never put a verdict that this vehicle won't take you anywhere just because of the low numbers. Upon testing the RT-S, which is available in 4-wheel drive, you get a package of a 5-speed manual transmission gear box, while the RT-X model impressively comes with a 6-speed automatic transmission gear box (included with paddleshifters).
Related Other SUV Body Type Vehicle Ford Everest Car Model
You'd discover on the RT-S that the feel of shifts gives a rather subtle yet rubbery action. Good thing, the vehicle's light clutch is comfortable to step-on. Although the engine has a low power rate, it makes sure that speed won't be compromised by taking advantage of the vehicle's light weight. The RT-S is fair enough to use in terms of speed and transmission and the RT-X is a lot more better than the 'S' version. Generally, the Suzuki Vitara 2016, because of its diminutive dimensions, is impressively nimble.
When handling the vehicle, you'd feel a darty yet good electric steering that is on-center. The automobile's body/chassis showcases flexibility yet sharp responses on turn-ins, which you won't expect from a crossover vehicle. The tires offer enough mid-corner traction. However, the vehicle's tortion-beam rear turns a little hard to handle at nine-tenths, but it is not that big of a deal.
When it comes to quick maneuvers and directional changes, the Suzuki Vitara 2016 is easily handled. Even better, the RT-X model has this 'Sport Mode' included in its AWD system. The Sport Model improves the gear box attributes and throttle while it relaxes the vehicle's ESC parameters when you are driving at high speed. Yes, if you are an aggressive driver, this is a good engine function that you will surely love.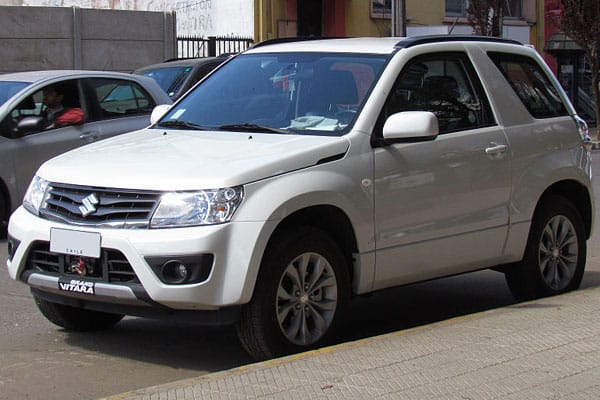 Visibility is also one of Vitara's edges against its competing models. The vehicle's A-pillars are good trim and its side windows are crafted square and deep, giving the Vitara an outstanding outward visibility.
And if you're wondering what more good things you can have by having a small automobile (ergo, small engine), it is fuel economy. The automaker confidently claims that you can drive a Suzuki Vitara 2016 around 100km of distance by just using 5.8 – 6.3 liters of fuel. On average, the rate is 7.3-liter of fuel per 100km for the AWD. That is impressive if fuel economy is one of your major considerations when purchasing an automobile. Ride compliance, on the other hand is sufficient–although both models, the RT-S and RT-X are built on a 17-inch wheel rims on a low profile.
The vehicle feels a little delicate when you experience sharp or abrupt bumps. Good thing, the Vitara stays stable and composed when handling it at higher speeds. However, it is a little disappointing to say that the tire noise that comes from the cabin can give you a little discomfort. Thus, Suzuki Vitara 2016's NVH level is increased.
Moreover, the ALLGRIP 4WD system from this model functions through a rotary dial. Until the vehicle detects a slip, an 'Auto' mode does the job and operates it in front-drive mode. During this mode, the ALLGRIP 4WD system propels torque to the vehicle's rear axle.

When you switch to 'Snow' mode, the system sends more torque to the rear axle while it also applies an extra ESC when you're driving on slippery road. Even better, the ALL GRIP 4WD system (including the 185mm ground clearance) and several features such as the Hill Descent Control improves Vitara's performance in soft-roading. Impressive, right? It's an automobile that tries to do as much work for your driving comfort.
Overall, engine and performance for Suzuki Vitara 2016 does a good job, but the automaker can probably improve more features in future models.
Conclusion
Are you satisfied with what Suzuki Vitara 2016 has to offer? Its performance and fuel economy is above average, while technology and connectivity falls on an average rating. The handling is also pretty decent, expect on sharp bumps and turns, but you'll get along with it in no time. As for the vehicle's space capacity and comfort, you'd probably want something much better. But if you're good with Vitara's dimensions, then it won't be a huge consideration.
With a price of around $22,000+ on the base model and around $24,000+ on a 6-speed Automatic transmission model, you're getting a good package out of this Suzuki baby. After all, you're looking for a practical yet good-performing vehicle, right? So, visit the nearest Suzuki car dealership and order your very first Suzuki Vitara 2016 now!
Other Suzuki Vitara car model Resources: