Today's mode of living is so much easier than yesterday. By just searching on the Internet, you can easily locate your desired destination. By just calling on the phone, you can instantly reserve a seat at a restaurant. By just clicking on a website, you can immediately book a flight.

I get it. You are taking advantage of today's technology, which made you want things to be done in just a blink of an eye. Well, all these things equate to handling a ride no other than Kia Rio. Kia Rio is a fast drive that provides safe and sound riding experience.
Kia Rio's agile performance turned its ride into a piece of art just like Van Gogh's exquisite masterpiece, but the only difference is that Kia Rio gives an unforgettable performance, so you could feel an exceptional ride that only a Kia Rio provides.
Its outstanding speed made it one of today's most distinguished car models. Kia Rio's luxurious looking sedan body style started booming the car marketplace in 2001. After that year, it added another body style called wagon to provide more options for potential consumers like you. Then in 2003, it wowed more of its consumers by providing a 1.6 liter four-cylinder engine and by improving its interior features like map lights and child seater.
Related Article List of different Kia models
After two years, Kia Rio still remained a five passenger car, but has now upgraded its safety features and has turned its speed into a faster economy rate. Then, subtle changes happened for recent years, and it is mainly about Kia Rio's interior features. The only thing that didn't change in Kia Rio is the affordable price it offers in the market.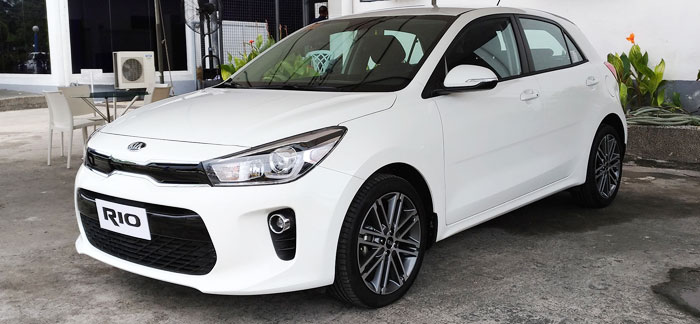 Image Source: By Areaseven – Own work, CC BY-SA 4.0, https://commons.wikimedia.org/w/index.php?curid=59822416
However, I feel like Kia Rio is too good for its affordable price. Because it's just undeniably unbelievable to have a gorgeous inexpensive ride having good quality interior features. Plus, it has numerous exterior color options from Signal Red to Aurora Black to Bright Silver to Clear White, and it has two interior color options of Beige and Black painted on a quality cloth of its interior.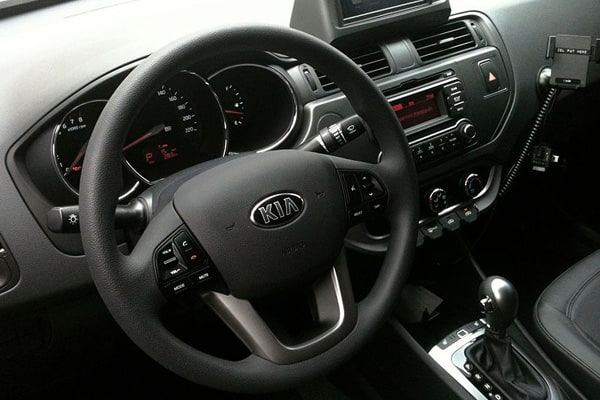 Image source: wikimedia.org
Aside from its two option interior designs, Kia Rio's features were even made more marvelous and lavish. It added high technology features like touchscreen control console, satellite radio service, and Bluetooth connection. It even has four dynamic speakers with rich, quality, and boosting sound, and it also has voice command navigation with a 7 inch touchscreen display.
Its entertainment features are as high end as its safety controls. These safety control features include the Rollover Protection System, Emergency Trunk Release, Emergency Trunk Release, Blind Spot Monitor, and Lane Departure Warning. Of course, it has airbags provided on its passenger's seat, rear seat, side head, and rear body. It was installed to give premium protection to potential consumers like you in case of emergency.
Car review site, Consumers Guide even said that Kia Rio is a hoot meant for 6 footer drivers because of its given vast space. Even automotive shop, Kelley Blue Book added that it is an impressive five passenger ride, which is not surprising for an affordable price.
We thought you were interested in this other Kia model. Kia Forte
But for others, its cheap price is a wonderful surprise. You could never go wrong with Kia Rio's affordable ride that has an economy speed rate. That's the kind of offer that you can only experience with Kia Rio. As most of its reviews said, it is one of the strongest engines in the class. It obviously is with its 1.6 liter four cylinder engine that can produce a 138 horsepower.


Some Kia Rio owners may find its speed a bit harsh and a bit noisy when fast-tracked on road, but it's still bearable for them. It's even the most outstanding ride among its competitors because of the power and acceleration it produces. Even Kelley Blue Book commended its exceptional performance when paired with the 6 speed automatic transmission, which provides good acceleration power.
Related Other Sedan Vehicle BMW X6 Car Model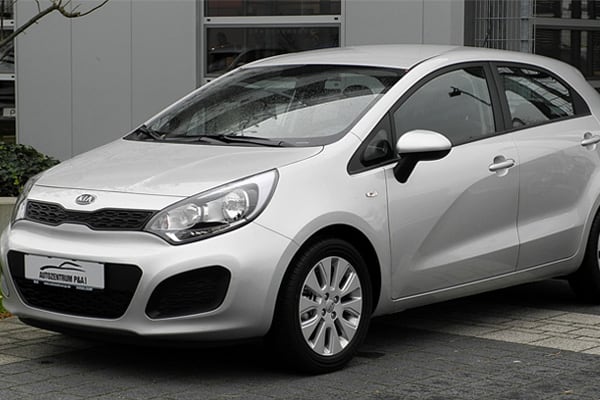 Image source: wikimedia.org
However, other Kia Rio drivers find its competitors more engaging to ride, while some of them don't mind it as long as Kia Rio provides sharp handling power. Even if Mazda 2 and Ford Fiesta beat up this ride, Kia Rio is still their number one choice.
There's no wonder Kia Rio is an affordable ride as it ranges from $12,000 to $19,000. But, there's more to look forward to it like its 1.6 liter four cylinder engine that provides fast travel speed. Its nimble speed turned it reasonably to a great city car. It maneuvers quickly and it parks easily in narrow parkways of cities. It also delivers an impeccable sports driving experience to its car owners making them feel like they're on a race game.
You would really feel confident having a Kia Rio by your side because you can easily handle its brake. Plus, you know by heart that it upgraded all its safety features just to keep you safe for the entire ride. Plus, I know the feeling of driving its wheels at an accelerated rate.
I know the confidence Kia Rio will give to future owners like you, because I felt that too. It doesn't matter whether Nissan Juke gets too noisy when it accelerated or when it gets rough along the way, because there is no easy road after all.
I am driving a Kia Rio, and you are handling it in the future. It's a future with one of the most stunning car models ever made, and considered as one of the most affordable rides in the industry. It can also be one of the most comfortable rides ever produced because of its updated, highly made interior features.
With all these, Kia Rio truly mastered the art of driving, of speeding, of providing comfort, and of giving the best entertainment in the history of cars.
Other Kia Rio car model Resources: