Launched sometime mid-2008, the Kia Forte is the perfect car that will suit both the decisive driver and families in need of a vehicle that will provide comfort and safety. Kia, a Korean automobile firm, is well-known for its constant innovation on the concept of vehicles. Even more so is its creation of the Forte, which seamlessly balances the best of both practicality and power in a compact car.

Coming in three variants, the latest Kia Forte is designed to provide the best driving solution for any sort of need. From off-road treks to busy city drives, or fast and stylish impressions to an everyday family car, the Kia Forte is a multi-dynamic ride that will only deliver the best.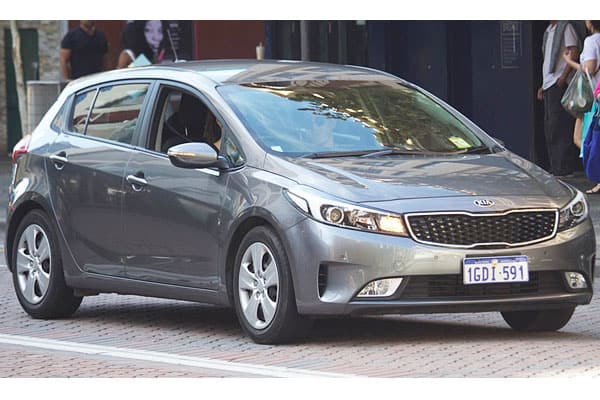 Image source: wikimedia.org
Making an Impression
When it comes to design, the Kia Forte definitely knows how to stand out. Kia did their homework when making this car a stunner – for a small frame, the Kia Forte presents itself as a sturdy and athletic ride.
A sloping bumper that complements the black front grille proves that Kia is constantly evolving its style into something grand. The curved body, accentuated with black matte, offers a touch of elegance much appreciated when observed up close.
Perhaps as a way to signify its move towards a brighter and promising future, the Kia Forte makes use of stylish LED Positioning light fixtures – a functional as well, of illuminating the darkness. Additionally, Perimeter Approach Lighting and pocket lights located in the door handles transform this vehicle into a bright beacon of hope.
The Kia Forte's interior is definitely at par when it comes to the stylish mark it leaves outside. Only the best and premium upholstery is used in the car seats, providing both comfort and aesthetic pleasure for the driver and his or her passengers. Additionally, and for a compact car, that is, the spacious interior is a welcome surprise – both legroom and headroom is visibly large. And with an overall luggage volume of 657 litres, you can be sure that this small car can carry big and heavy loads!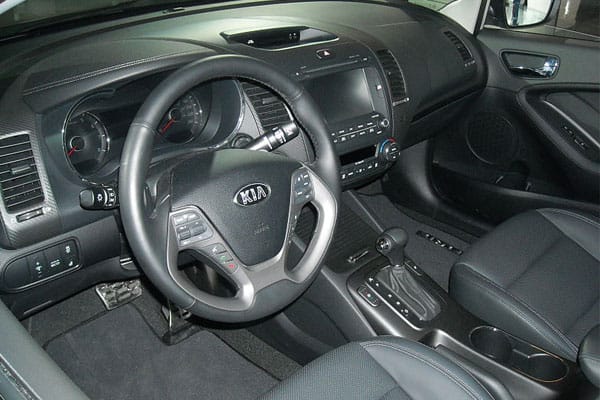 Image source: wikimedia.org
Comfort and Miscellaneous Features Onboard
More surprises are in store within the Kia Forte. Fortifying its push in changing the idea of compact cars, the Forte is designed to provide comfortable rides, no matter the occasion or driving condition.
Let's start off with the seats. The front seats are optimized to provide needed ventilation during hot days – heated chairs are also available when one's facing the cold. Regardless the weather is, a driver is assured that he'll stay comfy within the Kia Forte – making him focus on the road!
We thought you were interested in this other Kia model. Kia Sportage
An infotainment system, UVO eServices, provides the best in staying connected. From managing music files to taking or making calls in a stress-free and hands-free manner, more enjoyable and entertaining rides are now guaranteed for each drive. Google Maps™ has also been integrated into the system, assuring motorists that they won't get lost at all! Also, a 4.5-inch TFT-LCD touchscreen display provide clear and crisp images – a delight to have especially for those long drives!
A Safe and Wonderful Ride
Of course, comfort can only be done if safety features are integrated into the system. And the Kia Forte made sure that these features are innovated within,
A Blind Spot Detection (BSD) system, which makes use of radar, gives a driver a much-needed sense of presence on the road. A Lane Change Assist trigger and a Rear Cross Traffic Alert (RCTA) monitor will prompt the motorist of possible collisions – perfect for allowing one to have a cool head during even heavy traffic jams.
An advanced airbag system and a rear-camera display tops the list of safety features – all bases are definitely covered when it comes to safeguarding driver and passenger wellbeing in the Kia Forte!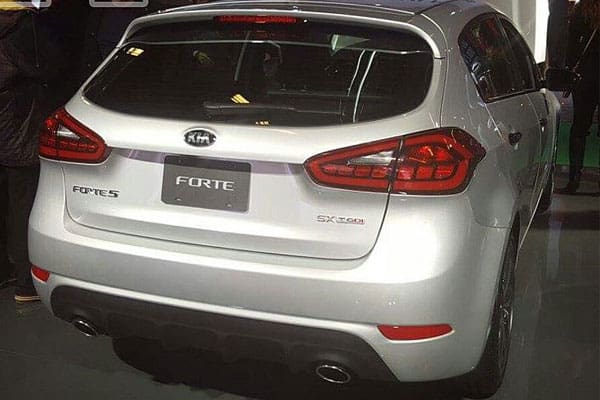 Image source: wikimedia.org
Packing a Punch Within the Small Frame
The best surprise that the Kia Forte has to offer is the massive power it houses. All variants offer the motorist to choose between two engine trims:
1.6-liter Gamma engine (24 kmpl mileage)
2.0-liter NU engine (29 kmpl mileage)
Related Other Small Body Type Vehicle Suzuki Celerio Car Model Review
No matter what one chooses, both engines are equipped with a Dual Continuously Variable Valve Timing (D-CVVT) and electronic fuel injection system. Combining power and fuel efficiency, drivers are definitely in for a treat that mileage is factored when it comes to impressive power output!
And when we deal with power output, the numbers speak for themselves when it comes to leaving a mark: the Gamma engine has the capability to produce 130 PS at 6300 rpm (top torque rating of 156 Nm/4850 rpm); the NU engine can push for 161 PS at 6500 rpm (top torque rating of 194 Nm/4800 rpm).
When it comes to speed, the Kia Forte can definitely go the distance. A 6-speed automatic transmission is offered for both engines: the Gamma engine can go for 0 to 100 kmph at 11.6 seconds (top speed of 195 kmph); the NU engine can fly ahead at 0 to 100 kmph at only 7.5 seconds (top speed of 209 kmph).


Also, the Dual Continuously Variable Valve Timing (D-CVVT) provides some extra oomph without the hassle of one losing control of the car. Couple this significant feature with the fuel-efficiency push it does, and you can be sure that the Kia Forte is the complete package of a fun and amazing drive!
Take this car out for a spin and experience how exciting a compact can be!
Other Kia Forte car model Resources: