What started as an experiment that turned out to be one of the most-sought after vehicles in the subcompact category in the motoring industry, the Toyota Yaris can very well be the best example of a direct reflection of the many colourful moods of the motoring public. With each model revamping and improving, mainly on its sophisticated yet welcome design, the Yaris is both an exciting and fun ride to drive in!

Subcompact Style and Grace
The latest Toyota Yaris is designed and crafted with the latest and most advanced updates in the subcompact car world. Created to match today's fashion-forward generation, the Toyota Yaris' sleek lines are definitely improved by the latest model's upgrade on length. Style and substance indeed, without compromising on either traits!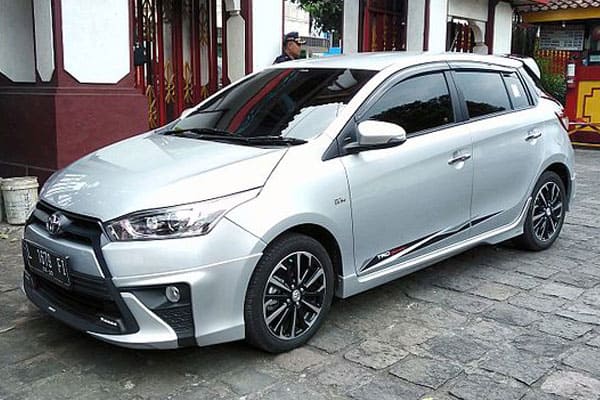 Image source: wikimedia.org
The car's wheelbase has also been elongated, with an increase of 2550 mm. Plus points on style goes to the appealing form yet functional design accents.
The beautiful grille pattern exudes that first impressions last effect
The headlamps and fog lights are designed and placed in practical yet very stylish locations
The 8-spoked 15-inch wheels deliver a sleek and sexy look while still providing the necessary support that transforms even the fastest drives into secure ones.
We thought you were interested in this other Toyota model. Toyota Rush
Inside, space and beauty creates a lasting charm that will definitely be retained on anyone who gets the opportunity to ride in this car. Able to accommodate 5 occupants (and their luggage) with ease and comfort, the Toyota Yaris can – surprisingly – be a good car for long road trips.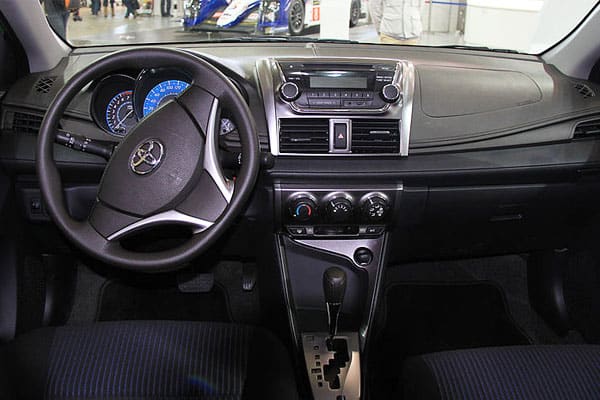 Image source: wikimedia.org
In terms of design, the Yaris' top-of-the-line leather upholstery comes with subtle chrome finish inner linings – a discerning touch of class that stylish motorists will sure love.
Comfort and fun is also definitely prioritized in this fashionable car. A dual zone with automatic AC unit delivers comfortable and pleasant drives, no matter what the weather condition is outside the vehicle. The fun six-speakers surround sound system (with MP3 player, iPod, and Bluetooth connectivity or compatibility) guarantees that drivers or even passengers will move to the beat of an exciting and powerful drum.


Truly, the Toyota Yaris best represents the best of the millennial generation! Yet no matter what one's age is, this car will present only the best in style.
Surprising Boost of Power
Yet for a subcompact, the Toyota Yaris is a powerhouse that doesn't lose out on style points. The power to choose is also apparent in this car – motorists can select from a VVT-I petrol engine with displacement variants of 1.5 and 1.3 litres. Regardless of which engine one chooses, fun and performance is still guaranteed.
Considering the car's small frame, it won't come as any surprise that fuel efficiency is prioritized. And this is where the Toyota Yaris also definitely shines.
1.3 litres details:
85 PS at 6000 RPM maximum output
121 Nm at 4400 RPM torque
1.5 litres details:
107 PS at 6000 RPM maximum output
141 Nm at 4200 RPM torque
The top speed of both variants has been clocked at 166 kmph – impressive yet still a safe rate, considering that city driving is the main environment for this type of vehicle!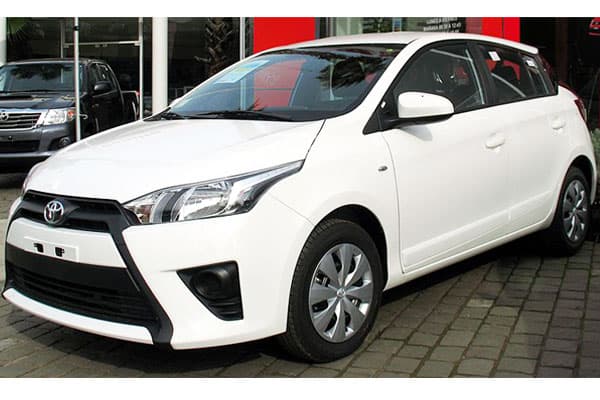 Image source: wikimedia.org
Impressive Safety Features Coming from a Subcompact Car
Speaking of safety, one can be very well pleased to know that the Toyota Yaris does not disappoint in this category.
The car's ventilated disc brakes found in the front and rear drum brakes offer superior stopping power should the need arises for a sudden stop on the road. Considering as well the possibility that the car may face the test of brake torture, the Toyota Yaris also comes equipped a full selection of smart braking systems. Examples of these smart solutions integrated into the car are ABS, EBD, and a Brake Assist system.
Related Other Small Body Type Vehicle Hyundai Eon Car Model Review
Truly, when one needs to brake for safety, the Toyota Yaris does the job right!
Control, just like how determined younger generations are today, is further emphasized in the Toyota Yaris' suspension system. A MacPherson strut with coil spring and stabilizer, outfitted in the front suspension bar, works in-line with the torsion beam with coil spring and stabilizer found in the rear suspension. These impressive features mean that drivers can have access to the right balance of power and control – perfect for safety-first trips (which, in the first place, what every trip needs to be!).
Best of all, the inclusion of all these safety features (and more), packed together neatly in the car's frame, is another reflection of the car's identity to today's young generation. By being able to pick from multiple resources (or features) to combining and making use of only the best, every young driver in the market can expect only comfort and confidence when taking the Toyota Yaris out for a spin!
Make a Statement Today
Perhaps this is what makes the Toyota Yaris such a delight for young and first-time drivers. Style and substance combined, a perfect blend and mirror reflection of today's exciting youth! And coupled with the cutting-edge yet welcome approach to other cars in the market, the Toyota Yaris definitely is an excellent choice to drive in both urban jungles and long and fantastic drives in the highway. Grab the opportunity to drive a Yaris today – hope you get to buy one as well!
Other Toyota Yaris car model Resources: