Buying a luxury car is no easy task and choosing what car model you want is not as easy as choosing what food to order from a restaurant (on a lighter note, picking what food to eat can sometimes be a hard task, too). The automobile market might have a short roster of choices when it comes to high-end vehicles, but it doesn't guarantee that every luxury car is at par with your standards. If you're in doubt on what automaker to choose, BMW car is always a reliable and safe pick.

Formally known as Bayerische Motoren Werke AG (or 'Bavarian Motor Works' in English), the BMW is a German manufacturer of luxury automobiles, engines, and motorcycles that is primarily based in Munich, Bavaria, Germany.
The automaker also has another car division, which is Mini. Furthermore, BMW is also the parent company of another prominent car make, Rolls-Royce Motor Cars. Considered as one of the best manufacturer of luxury cars in the world, you can never go wrong with BMW.
If you are interested in shopping for a luxury car from this automaker and are looking for a vehicle that delivers everything you need, you might want to know more about the BMW X6 model. This vehicle is one of BMW's top-notch creations. Considered as a mid-sized high-end crossover automobile, the BMW X6 is a perfect breed of an SUV (because of its much-elevated ground clearance, AWD feature, big wheels, and its all-weather capability) and a coupe (because of its sloping roof feature). Now, that might sound weird and all-new to you, but this luxury crossover delivers a complete package that will definitely impress you.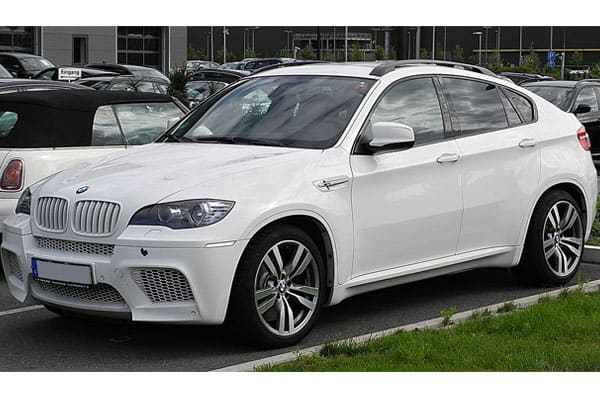 Image source: wikimedia.org
The 1st-gen was a success, especially when the market highlighted its innovative chassis technology, the all-new Dynamic Performance Control system, improved agility, and torque vectoring. Now comes the second generation–improved in critical aspects. If you'd like to know about the latest installation from this model yet, you'd better learn more about the 2015 version.
This article is dedicated in giving you unbiased review about the BMW X6 2015.
Functionality and Comfort
With a unique styling cue, a curvaceous exterior design, this coupe-like crossover SUV surely turns heads. Closely associated with the X5, the BMW X6 2015 is a re-born for more improvements. Although you might not notice it at first glance, but the 2015 version undergoes an evolutionary change in the exterior. The sleek coupe-inspired built has been changed on its front and rear ends.
From the conventional 'kidney'-style grille, BMW decided to highlight it more by crafting it with an X-outlined contour. The front is also sided with a good-sized twin-circle headlights (LED).
Additionally, the automaker also put chrome inserts and broad air inlets for a spruced up look. You can also opt to putting adaptive headlights for this model. On the rear of the BMW X6 2015, the improved aesthetic highlights the vehicle's generous width and it is also made tough-looking with its 3-dimension light strips (LED) rear lights that are L-shaped, and underbody accents that are matte silver-themed like the X6's front.
Taking a closer look, you'll find everything sleek and good. Even better, the side gills that BMW installed minimizes wheel turbulence. Interested about the colors? The BMW X6 2015 comes with two color themes, the Dark Olive and Flamenco Red Metallic.
Related post See Car Models in BMW Pavilion at BGC, Taguig Philippines
Note: The BMW X6 M has an additional air intakes (much larger) and it also has a lower ride height to achieve a more sporty built. There is an included thin and sleek rear spoiler that complements body color. The X6 M also has that 'M' badges that are put on the front, back, and sides of the vehicle.
Taking a look at the BMW X6 2015's interior, you'll find the familiar flat screen display (10.2 inches) that is equipped in the dashboard of the vehicle. You can opt to having the dashboard's hue accent to brushed aluminum or a selection of wood trim facets. While the surfaces are accented by pearl gloss chrome and shiny black for an increased modern yet sophisticated look.
When it comes to trim lines, the BMW X6 2015 comes with a decent range that includes the xLine and the M Sport line. Each trim has a themed package when it comes to appearance features (refined or sporty). You can also opt to having upgrades for the vehicle's interior that come in six (6) colors of high-quality Dakota leather. For the 2015 line-up, Cognac theme and Coral Red are included in the option.
Note: As for the X6 M version, here are some of the additions: More 'M' badgings, Merino leather, aluminum hue trim, and Alcantara headliner.
Related Other Sedan Vehicle Hyundai Accent Car Model Review
As for the seating capacity, you might think that the coupe-like feature on its tapered roofline will drastically affect the vehicle's space. Thankfully, BMW sees ahead of this and made sure that the X6 2015, still, can house up to five passengers. While the rear seat comes in a bench-style (the automaker makes sure that the seat is provided the utmost comfort priority), the vehicle's roofline doesn't affect the headroom at the back.
However, you might be disappointed to know that the legroom and knee space are not as generous as what you should expect from a crossover SUV or a full-size vehicle; but are thankfully better compared to what a mid-size sport sedan has to offer. So, when want to fill in your backseat with friends, there should be no problem when it comes to space capacity.
With the BMW X6 2015's cargo area, it is safe to say that it has a pretty decent space capacity. Although there's a plunging roofline design, you still can make the most out of the space and can put things like grocery bags, personal stuff, and travelling bags. Even better, there is a functional secret storage tray that is located underneath the cargo. If you are travelling alone and would want to have an extended cargo area, you can flip-forward the seatbacks at the rear to maximize the space.
Engine and Performance
If there's something that you would really love about the new BMW X6 2015, it's the powerful engine. The 6-cylinder automobile boasts of a rear-wheel drive, while the AWD model has an improved fuel economy. You can get the 6-cylinder if you are content with the rear-wheel drive. But if you want a power boost on the engine, there is an optional V8 engine that increases engine performance.
When it comes to traction, you'd be happy to know that both the 6-cylinder and the V8 engine model showcase two all-inclusive option packages: the xLine and the Sport. These two models both have the unique set of 19-inch wheels that are carefully designed and manufactured for great friction that will take your X6 anywhere. Want bigger wheels? You can even opt to an upgrade of 20-inch wheels for your BMW X6 2015. Even better, there is also an optional upgrade on adaptive suspension and a speed regulator that has a higher limit.
As for the X6 sDrive 35i and the xDrive35i, these both have a 3.0-liter 6 cylinder engine that is turbocharged wherein the power transposes to 300 horsepower and an impressive 300 pound-ft of torque. The xLine and Sport models both are equipped with an 8-speed Automatic transmission. Moreover, the rear-wheel drive option is a standard for the Sport model (35i) while for the xLine (35i), the standard is an AWD.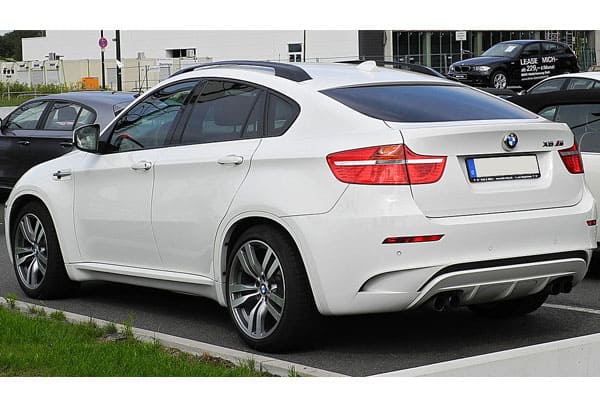 Image source: wikimedia.org
Are you concerned much about the fuel economy? Well, the good news about the BMW X6 2015 is this: you get a slight boost on the rates. For the x6 sDrive35i, the estimated EPA rate on fuel economy is 22mpg (that is combined) both for 19 city / 17 highway. While for the xDrive 35i, the EPA-estimated rate is 21mpg (combined) for 18 city / 27 highway. Speed transition testing performed was quite impressive as the xDrive 35i number went up to 60mph in just an impressive 5.6 seconds.
The BMW X6 2015 xDrive 50i boasts of a 4.4-lliter V8 engine that is turbocharged. The engine gives an optimum 445 horsepower and 480-lb of torque. The model is using an 8-speed Automatic transmission, which is the same as the 6-cylinder X6 models. Power transition rate reaches 60mph in just 4.6 seconds, while the EPA rate is 17mpg combined (15 city / 22 highway).
When it comes to suspension performance, the BMW X6 2015 made a good transition between a sport sedan to a bulky and high-riding crossover automobile with its optimum performing hardware. When trailing on a bumpy road, you'd be impressed to know that the X6 can give you a smooth ride. Even better, you can switch the X6 into Sport mode if you want a tougher, stiffer, and tighter driving experience. For a huge automobile, the BMW X6 2015's handling and steering are sharp. This is one of the features that you'd surely love about the X6.
We thought you were interested in this other BMW model. BMW X3
Even if it's big, you can be sure that you'll find it easy controlling the vehicle. Even better, you'll find minimal feedback on the vehicle's steering wheel when driving. However, one of the challenges you'd encounter when driving an X6 is its size. If you're not used to driving huge vehicles like crossovers, you'd find it hard to drive on back roads. Thankfully, its size won't be a huge drawback to you because of its impressive engine performance (on both 6-cylinder and V8 packages).
The BMW X6 2015 safety is also one of the things you'd love. Showcasing an impressive stability, auto brake drying, traction control, and anti-lock brakes, it is safe to say that the vehicle is pretty much reliable. It is also equipped with front side airbags, as well as side curtain airbags. The X6 is also built with the standard BMW Assist emergency communications system. This feature provides the driver essential information like automatic crash notification, on-demand roadside assistance, as well as stolen vehicle recovery.


Standard and optional features also include the following: rearview camera, forward collision warning system, blind-spot and lane-departure warning system, parking cameras (sideview and around-view), mitigation system that is equipped with pedestrian detection feature, and night vision system. However, take note that the features depend on the trim level. Even when performance testing was done, the braking function was excellent. The BMW X6 xDrive 35i set of summer tires came to a halt from a speed of 60mph in 108 ft. This rate is shorter and quicker compared to other luxury crossovers and SUVs. Pretty impressive, huh?
Want something more? If you're going to shop for the Executive package, you get a good roster of features such as the following: soft-close doors, leather trim (dashboard), quad-zone climate control, an audio system of the top-notch Harman Kardon (16-speaker), head-up display, and a satellite radio. Even better, you can upgrade from Harman Kardon to a swift Bang and Olufsen audio system, which of course, will require you to shell a lot more cash. There are also remarkable options like Active Steering, Automatic parallel parking, rear-seat entertainment system, and adaptive shock absorbers that are driver-adjustable.
Conclusion
Is it worth it to spend tons of greens for the BMW X6 2015. It is safe to say, yes! The 2015 X6 is a good overall package that comes in good-looking set of wheels, interior design, and trim. The engine performance and fuel economy are also some of the major things you'd chase after this vehicle. Even the technology extras are impressive, so it's really worth the spend when it comes to this automobile. With a starting price of $103, 050 (and additional premiums on upgrades and other charges), you get yourself a nice and sleek BMW X6 2015.What are you waiting for? Go to the nearest BMW dealership and shop for this all-new BMW X6 2015!
Other BMW X6 car model Resources: