Small is the new big, or so would the exciting Mini economy car produced by the British Motor Corporation (BMC). With a distinct look that does emphasize the idea of being small, the tiny package of a car shows more than meets the eye.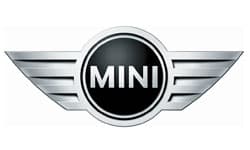 Designed and manufactured in the late 1950s, the car was made more than just an exotic looking vehicle – it did serve the public, which was proved due to its popularity in the coming years. Also, the small car has a surprisingly powerful performance under its hood, making it a favorite for both race car drivers and typical motorists.
(SEE ALSO: Mini Cooper S – Great Speed and Driving Features in a Small Package)
Here are some highlights garnered by the Mini through the years:
Safety First – the small features of the car was considered to keep the driver and its passengers in a safe position during motor accidents. Brakes and handling properties are top-notch in these vehicles, giving both comfort and peace of mind for its owners.
Unique Appearance – the car's very small and unique appearance makes it such a hit for drivers. This can be seen in the numerous television series and movies featuring the vehicle (Mr. Bean, Double Team, The Italian Job, etc.) which shows that the car is great eye candy in the streets. Also, these cars come in different kits and paint jobs, making each look even more distinctly unique from the rest.
Related Other UK Car Brand Morgan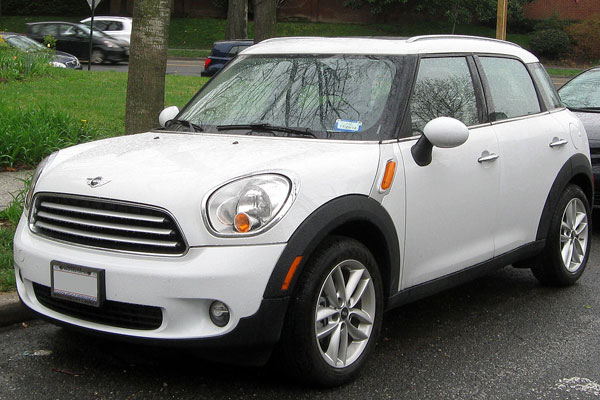 Mini Stylish Design
Image source: wikimedia.org
Performance – power can be found in every drive of this car. The car has seen victories in past race rallies, showing that small cars should never be underestimated. Also, because of the car's propensity to tuning and customization jobs, there is always the possibility of having a jet-speed (exaggerating, though) ride.
Full Mini Models List
---
Mini Countryman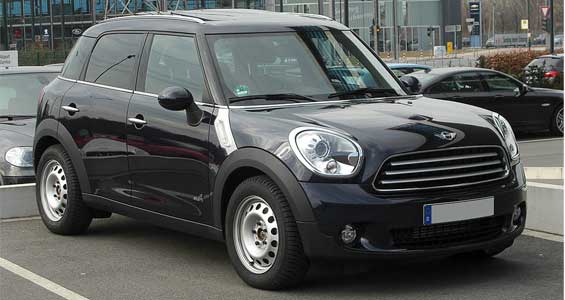 Image source: wikimedia.org
Don't let the name fool you – the Mini Countryman is a vehicle that is big in personality, features, and total driving satisfaction!
Space is Essential
The latest Mini Countryman delivers a key ingredient in its calling to provide more for its drivers – space. With both interiors and cargo space adjusted to fit more, this vehicle is perfect for trips that require carrying heavy luggage, multiple passengers, and more!
A Plethora of Innovative Features
Enjoy what the Mini Countryman has to offer with its long line of features. Park with ease with the rear view camera, enjoy a different view with its panoramic sunroof, and stay safe with the built-in safety features.
Connection is Important
Additionally, the Mini Countryman offers great solutions for tech-savvy folk. Aside from the already impressive infotainment, a satellite navigation system can also be accessed to efficiently plan and map out trips!
Mini Countryman Variants
Cooper A/T
Cooper S A/T
John Cooper Works A/T
More About Mini Countryman on Wikipedia
---
Mini Cooper S Clubman

Image source: wikimedia.org
Compared with the other Mini models, Hardtop 4-Door, and Countryman, the Mini Cooper S Clubman is considered bigger because it is both wider and longer.
More About Mini Cooper S Clubman on Carmodelslist's Blog
---
Mini 5 Door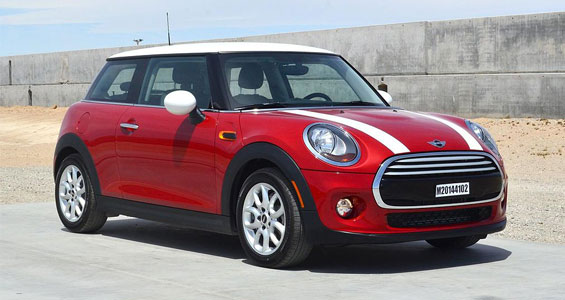 Image source: wikipedia.org
Just because it's in the name, doesn't mean that this car delivers small surprises. In fact, the MINI 5-Door Hatch takes pride of its awesome features and performance!
Safety is a Massive Priority
The latest MINI 5-Door Hatch is equipped with a large array of safety features. An Electronic Brakeforce Distribution system grants the motorist optimum control in any driving condition. The Runflat tyres assure puncture won't result to a devastating blowout.
A Fresh Take on a Classic Design
The radiator grille of the MINI 5-Door Hatch is a sight to behold. Turning function and design into a perfect tandem, the vehicle's extra rear doors make an interesting design which also serves as extra space for cargo and the like.
Going the Tech Distance
Tech-savvy drivers are in for a treat with the MINI 5-Door Hatch. MINI Connected, the centrepiece module in everything related to technology, allows motorists the convenience to stay connected, whenever and whatever.
Mini 5 Door Variants
---
Mini Paceman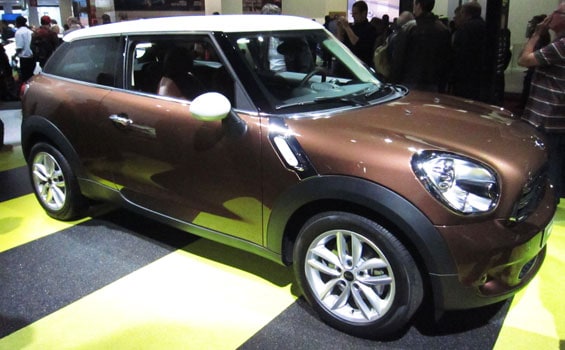 Image source: wikipedia.org
The Mini Paceman is a three-door SUV based subcompact car designed and produced by Mini, a British automaker. It was first a concept car released at the North American International Auto Show. The production started in 2012 and ended in 2016.
Mini Paceman Variants
Cooper A/T
Cooper S A/T
John Cooper Works A/
Other Mini Cars Models List
More About Mini Paceman on Wikipedia
---
Other Mini Car Models
Mini Cooper S
Mini Mk I Cooper
Mini Mk II Cooper
Mini Moke
Mini Hatch
Mini 3 Door

Mini 3 Door Variants
Other Mini Models
Mini Clubman

Mini Clubman Variants

Mini Clubman 1.5 Cooper AT
Mini Clubman 2.0 Cooper S AT

Mini Convertible

Mini Convertible Variants

Mini Convertible 2.0 Cooper S AT
Mini Convertible 2.0 Cooper JCW AT

Morris Mini Saloon De Luxe
Morris Mini Cooper 1961
Austin Mini Super Deluxe
Austin Mini Saloon
Mini Cooper

Mini Cooper Variants

Mini Cooper 1.5 (3-Door) AT
Mini Cooper 1.5 (5-Door) AT
Mini Cooper 2.0 S (3-Door) AT
Mini Cooper 2.0 S (5-Door) AT
Mini Cooper JCW 2.0 S (3-Door) AT

Mini Cooper Countryman

Mini Cooper Countryman Variants

Mini Cooper Countryman 2.0 D AT
Mini Cooper Countryman 2.0 SD AT

Austin Mini Saloon De Luxe

Photos of Mini's Different Types of Cars
(Photos Courtesy of https://en.wikipedia.org/)







Other Mini Car Brand Resources::
Mini Vehicle News, Trivias, Photos and Car Updates.
Swipe to see other trivia