New year is meant for more adventures to come your way. You could simply achieve it by getting the 2017 Subaru Forester. This ride is your not so typical compact crossover SUV. It was design as your zippy, high technology, and sporty ride. It was also designed for practicality, which makes it worth buying among other SUVs.

History
Forester was powered by a legacy engine that produces 30 mpg. After four years, its speed was upgraded to 2.5 liter four-cylinder with either four speed automatic or five speed manual.
Then in 2003, Subaru Forester focused not just on the improvement of its speed but also on its overall look. On the same year, the ride overhauled its interior and exterior features.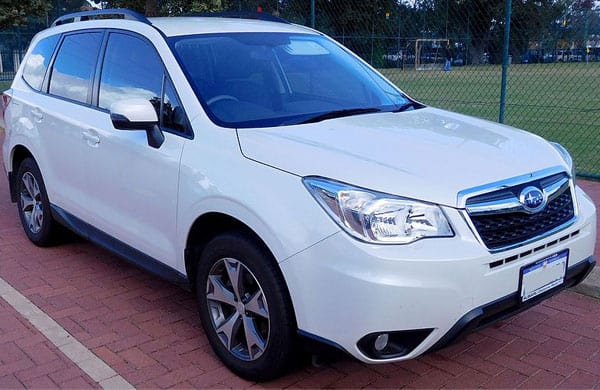 Image source: wikimedia.org
In 2004, the ride's engine power was upgraded into a turbocharged engine. In the year after, Subaru Forester proved that it could survive all types of terrains and it could move under different weather conditions.
In 2006, Subaru Forester improved its speed from 30 mpg to 29 mpg. Then in 2007 to 2008, the ride focused more on becoming a great sport vehicle not just in the car industry, but also to its consumers.
A year after, Subaru Forester continuously improved its speed from a turbocharged 4 cylinder with 224 horsepower to a 4 cylinder with 130 horsepower.
After two years, Subaru Forester was known as the versatile crossover wagon. However it was not the first title given to the ride. Ever since its establishment, the ride has earned the recognition as the 1998 Wheels Car of the Year from Wheels Magazine. As years passed by, the award winning Subaru Forester has gained numerous titles like the 2013 Best Sports Car from Canadian Autos, 2013 Sports Car of the Year from Auto 123, 2013 Ward's 10 Best Engines from BRZ United States, and 2012 Fun-est Car of the Year from Top Gear Australia.
Related Article List of different Subaru models
In 2015, the ride upgraded its four wheel drive by adding security features including reverse auto-break (RAB), blind spot detection, lane keep assist button, and eyesight overheard console.
Then currently, Subaru Forester is boasting its speedy, advanced, and compact features.
Exterior features
Subaru Forester is known for its amazing features including the signature 18" alloy wheels, front grill, and Subaru logo. Its logo was either placed on the center of a honeycomb or a gloss black strip. Plus, the ride is also known for remarkable colors like crystal black, crystal white, jasmine green, venetian red, quartz blue, ice silver, and bronze metallic. These features made the ride appealing to consumers.
Interior features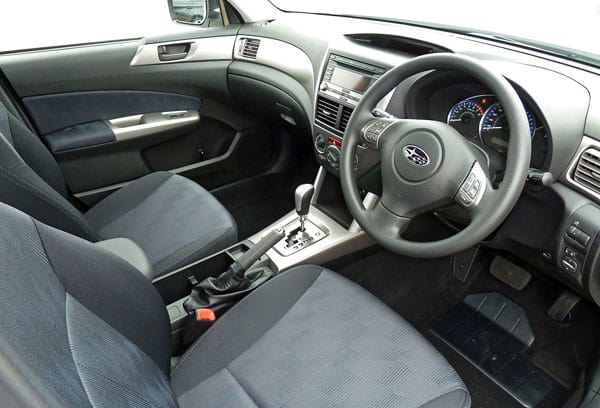 Image source: wikimedia.org
Aside from its exterior, another tremendous feature of the ride is its interior. These are really remarkable to the eyes of many consumers. If you will take a closer look inside the Subaru Forester, you will notice that its seats are customized and covered in genuine brown leather that's placed on black dash trims. Even its steering wheel can be covered in a vinyl leather.
However, some are not in favor of Subaru Forester's interior styling. Some users look at it as bland.
We thought you were interested in this other Subaru car model. Subaru Outback
But I guess you won't mind its style as long as you saw its spacious back seats. It is a must see 34 cubic feet cargo room. Its wide space will definitely give you an easy time loading stuff, and it will absolutely give you less time packing things for your next adventure.
Other interior features of Subaru Forester include high technology features like the 7" stereo, Starlink, ambient light map lights, Bluetooth microphone, sun vision side-out extension, auto diming rear view mirror with compass and Homelink, and SI Drive.
Security features
When it comes to security features, Subaru Forester has improved so much this 2017. It has upgraded numerous features including blind spot detection or rear cross traffic alert, RAB with an upper console screen, reverse automatic breaking sensors with optional rear bumper cover, headlights with steering responsive headlights, optional toy lights, optional dark tinted rear glass, chrome rocker panel strip, fog lights trim, and lane keep assist button.
The ride also has eyesight features such as eyesight cruise control and eyesight overheard. This is for an overall safety of the passengers.
Power
Aside from security, Subaru Forester has also improved its speed. It has produced six different car models with various speed rates. These are the Subaru Forester 2.51, Premium, 2.51 Limited, 2.0 XT Premium, 2.51 Touring, and 2.0 XT Touring. The 2.51 models have 2.5 liter flat-four engine with 170 horsepower, while the 2.0 XT models have turbocharged 2.0 liter flat-four engine with 250 horsepower. All Subaru Forester models use continuously variable transmission (CVT). CVT is also known as the pulley transmission. It allows the ride to shift through continuous range of gear ratios.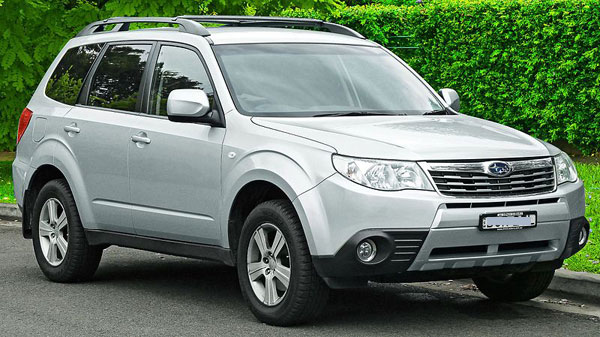 Image source: wikimedia.org
Conclusion
The 2017 Subaru Forester is definitely fresh in the eyes of many consumers. Its 18" alloy wheels and its all-wheel five seater with genuine brown leather seats are what makes the ride so distinct from other SUVs. Other more distinct features of the ride are the 7" stereo, auto dimming rear view mirror with compass and Homelink, optional toy lights, fog lights trim, sun vision side-out extension, and 34 cubic cargo room.
The compact crossover SUV is not just known for its distinct style and marvelous features, but also for its aggressive speed as a cossover sports car. From its speedy ride, Subaru Forester has gained the title of 2013 Sports Car of the Year from Canadian Autos.
Related Other SUV Body Type Vehicle Ford Escape Car Model
Most users admit that the ride's power is too agile for a typical travel and too fast even for a turbocharged engine ride. The latest Subaru Forester might be speedy but most passengers love its smooth and comfortable handling. However, other passengers figured that its fuel economy is a bit low class. But it can still compete among other all-wheel compact SUVs in the car industry.


The latest Subaru Forester is destined for you this 2017. The ride was specifically designed for every consumer's practicality, because I know that every consumer's New Year's Resolution is to be thrifty this year. I suppose buying a Subaru Forester is the right thing to do because it is available at an affordable price.
The 2017 Subaru Forester is perfectly customized for someone like you, who are longing for countless adventures and for a fast yet high technology and affordable ride. It's like everything you asked for in one ride.
Other Subaru Forester car model Resources: