A Peek into When it Started
Perhaps the standard when it comes to Sports Utility Vehicles, the Ford Escape first made its mark in the motoring scene when launched during the 90s. Right when SUVs seemed to be a common sight in the streets, the Ford Escape was an excellent addition for motorists in need of a fun yet efficient ride.

However, what made this particular vehicle stood out from the rest was during that era (even up to now!) was its perfect blend of off-road performance and luxury sedan packed in one stylish package.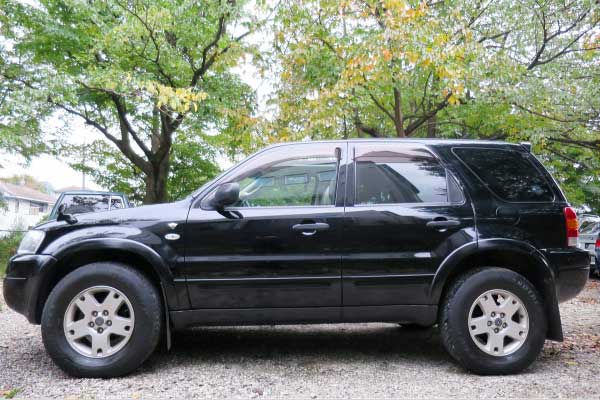 Highlighting as well its stylish appearance, the Ford Escape can very well be an appealing escape from the typical vehicles found in the metro!
Related Other SUV Body Type Vehicle BMW X3 Car Model
And with Ford's constant focus on providing unique and innovative features in their models, motorists are assured that only – and always – the best can be seen in the Escape.
An Emphasis on Style
The Ford Escape has a unique look that exudes athleticism that comes with a touch of subtle luxury. The car's dynamic grille and sculpted hood complement the automatic HID headlamps.
Emphasizing its sporty appeal as well, the Ford Escape also comes with six dynamic and stylish wheel choices:
17″ steel wheels that comes with sparkle silver-painted covers (Escape S standard)
17″ sparkle silver-painted aluminum wheels Escape S option; Escape SE standard)
18″ ultra bright machined aluminum wheels (Escape SE option)
18″ sparkle silver-painted aluminum wheels (Escape Titanium standard)
19″ machined aluminum wheels that comes with luster nickle-painted spokes and pockets (Escape Titanium option)
19″ ebony black premium-painted aluminum wheels (Escape SE Sport Appearance Package; Escape Titanium Sport Appearance Package)
We thought you were interested in this other Ford model. Ford Explorer
Inside features a stylish escape as well. The center console, which also has a handy media bin, offers practical yet innovative solutions for any kind of trip. Master craftsmanship can be seen in intricate details of the car – the 3-spoke steering wheel doesn't only looks and feels good; an available heat feature will assure motorists of comfortable drives.

Image source: wikimedia.org
Additionally, space is of no issue in the Ford Escape. Customizable to suit any motorist's needs, space-saving solutions can be implemented within the vehicle. The large and comfortable leather upholstery matches perfectly with the SUV's infotainment system – an impressive Sony audio system syncs with the optional voice commands for a smoother, enjoyable, and safer ride.
An Escape to the Power Within
The latest Ford Escape model comes with a choice of two equally innovative engines. The first, the SE 1.6 Eco Boost, boasts of a performance of 180 PS at 5700 rpm; 249 Nm at 2500 rpm – a practical yet still powerful boost of power able to suit any road condition. The second choice, Titanium 2.0l Eco Boost, delivers a whooping 240 PS at 5500 rpm and 366 Nm of peak torque at 3000 rpm; coupled with an all wheel drive system.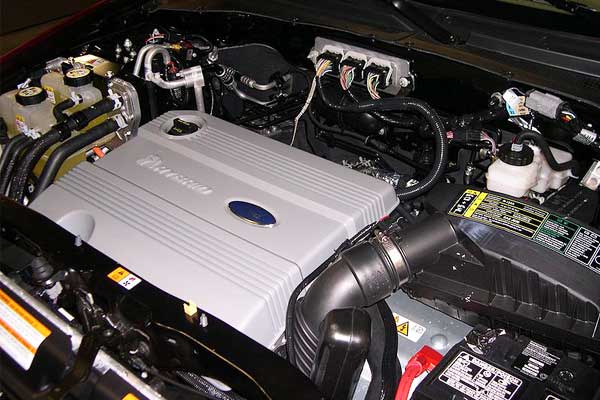 Image source: wikimedia.org
Regardless of the choice in engine output, the Ford Escape comes with a standard 6 speed Select Shift Automatic transmission drive. Fuel efficiency is also prioritized in this SUV, with a 1.6 litre engine able to maximize consumption even for long drives.
Designed to Innovate
Aside from the sharp and athletic looks and the excellent power within, the Ford Escape also comes with features definitely made to innovate.
First and foremost, the Ford Escape's Auto Start-Stop Technology offers a great take on fuel efficiency. Perfect for city drives, this nifty feature adapts to the vehicle's condition: while stopped, the Ford Escape shuts off automatically and restarts once the accelerator is stepped upon.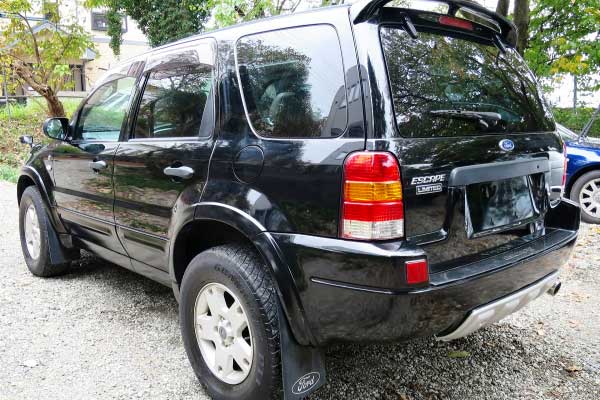 Another innovative feature is the AdvanceTrac® with Roll Stability Control™ (RSC®) technology. Coming in two variants, Standard and Advance, this feature adapts to road conditions, assuring that the driver and passengers are safe from harm.
Speaking of safety, the Ford Escape definitely takes one's welfare as a top priority. An enhanced park assist system helps drivers navigate and park in even the tightest spots. The Ford Escape is equipped with sensors that will notify the driver if the vehicle is too close to objects – just perfect for street parking!
A Focus on Smart Technology
Tech-enthusiast drivers are in for a delight in the Ford Escape. The SYNC® 3 system allows quick and easy access to the net, which opens up several awesome features to make use of. Knowing the importance of safety and driver ingenuity, the Ford Escape even allows motorists to start, lock, and unlock the vehicle remotely.
Additionally, the BLIS® with Cross-Traffic Alert system makes use of radar to notify the driver of vehicles. The main benefit of this feature is for vehicles coming from the Ford Escape's blind spot, offering an overall safe experience for drivers and passengers alike.
It's a Sweet Escape
The Ford Escape is the perfect crossover compact SUV to take a spin in the city or even out in the rugged wild. Equipped with smart features, amazing engine performance, and stylish looks, this is the perfect ride to escape into!


Best of all, the complete package of safety and engineering brilliance allows motorist to have an experience of a lifetime. Perhaps this is what makes the Escape such a trill to drive – it definitely brings the power back to the driver (which, should always be the case!).
Other Ford Escape car model Resources:
Ford Escape Wikipedia Page
Ford Escape Official Page
Video of Ford Escape Car Model