Have you recently looked at your hoot and realized it could be better? I am saying that it could be more modish and more balanced on and off-road handling. It could also have more high tech features and more refined design. These could all come true with a Ford Everest, the known to be 'King of the Hill' for it can surpass water escapades and extreme road adventures including sand, snow, and rock.

History
Ford Everest is one of the most distinguished SUVs, which is why it boomed in the market. Its first generation was launched in 2003, then it was later improved to second generation in 2007. Those four years were the ride's improvement of 2.5 and 3.0 diesel engine, intercooler, and turbocharged.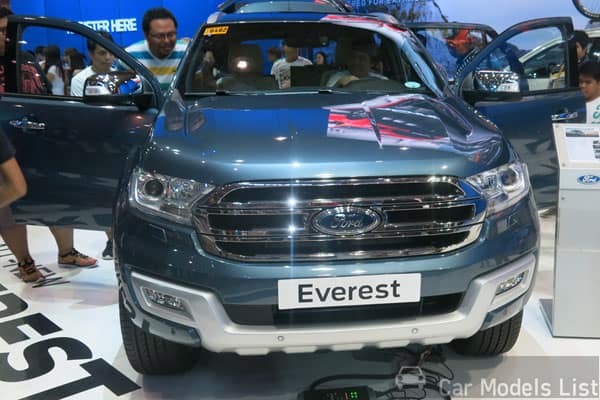 It was also the time of the ride's creation of a four-seat SUV. In 2014, Ford Everest became a seven-seat, which was premiered in Beijing Motor Show. The new seven-seat Ford Everest was specifically made for the Chinese market. The seven-seat concept and exceptional refinement of Ford Everest was made by the creative minds of Ford's Australian design team.
Related Article List of different Ford models
Ford Everest model is more distinguished as an SUV ride compared to its previous generations. Even car review site, Top Speed mentioned that the recent ride undoubtedly has a complete built of an SUV and has a fine design of a T6 architecture. This made Ford Everest a successful and exquisite ride. Ford Everest's success made it to one of the most competitive rides and one of the greatest SUVs ever made.
It was also included in one of the most distinguished off-road hoots in the car market. These titles made Ford Everest the future of Ford Australia. There is actually no doubt about it, because it is obviously an outstanding ride with premium refinements and extravagant price.
Exterior and Interior
One proof that Ford Everest is an exceptional ride is its exterior features. Well, its sturdy looking front end with a distinctive design of LED Daytime Running Lights and its 17-inch alloy wheels made it an exterior wise ride. Aside from those features, its numerous flashy colors including aluminum metallic, black mica, cool white, metropolitan grey, sunset red, and true red made Ford Everest an outstanding hoot on the road.
But Ford Everest has so much more to boost than its exterior. If you would compare it from the previous generations, you will see a broader and more exquisite interior of Ford Everest today.
It has vast space, so it can accommodate up to seven passengers as they seat comfortably on Ford Everest's premium quality cloth seats. Another improvement of the ride is its cargo. It is now upgraded up to 2,010 liters of cargo space, which makes it an ideal hoot for adventures. This hoot also proved that consumers can depend on its upgraded security features.
Some of these include an autonomous emergency break, lane departure warning, lane keeping aid, blind spot monitoring, cross traffic alert, and curve control. This ride also has a Terrain Management System that can fully adjust its car setting depending on the road condition, which includes snowy, grassy, sandy, or rocky.
Engine Power and Performance
Performance wise, a Ford Everest is exceptional. If its mid-sized SUV look didn't amuse or convince you, maybe its two diesel engine options will. This ride really takes things seriously when it comes to speed. Having a 2.2 liter Duratorq four-cylinder or a 3.2 liter Duratorq five-cylinder is a dream come true for every consumer. That is why this ride stood out the most among its few competitors in the market.
Its tough engine choices surpassed other well-known rides like Toyota Fortuner, Mitsubishi Montero Sport, and Chevrolet Trailblazer.
But don't get me wrong. These rides are also great. It just happens that Ford Everest has the most exceptional engine power among them. Its quality ride and dynamic handling on road or off road can attest to that. Although most drivers commend the performance of Ford Everest off the road. Thanks to its four-wheel drive system and Terrain Management System.
It makes extreme adventures so smooth and easy handling. The latter system is also capable of splurging on muddy, snowy, and rocky conditions. It can even drive from a 225 mm to an 800 mm of water. Plus, it provides a tow capacity of up to 3000 kg. Its handling features to its towing capacity are proofs that Ford Everest can be included as one of the extreme off road hoots.
Related Other SUV Body Type Vehicle Lexus RX Car Model Review
Comfort
You can actually make this hoot more extreme by customizing it based on your needs and handling capability. Ford Everest offers a test drive service, so it could provide a 100% comfort to car owners like you. Just check Ford Everest's available number in your country and then you may reach out to it for the service. Ford Everest is not the first ride to offer such service as much as not the only ride capable off the road.
It's been comparing to rides like Toyota Fortuner, Mitsubishi Pajero Sport, and Chevrolet Trailblazer. But among these rides, Ford Everest stood out the most because of its unique features and magnificent performance. Now that makes it a ride worth driving and something to be proud of. Don't get me wrong. Its competitors are great as well, but Ford Everest is greater.
We thought you were interested in this other Ford model. Ford Fiesta
Conclusion
Ford Everest is the greatest of the great, I am pretty sure you would love it. It may be a bit pricey ($30,000 to $43,000), but I can assure you that it is worth every penny. I am sure its refined SUV features, 2.2 liter to 3.2 liter Duratorque four to five cylinder, on road and off road capabilities, well designed exterior, upgraded interior, high standard security, outstanding service offers, and other more features are pretty much convincing enough to replace your ride with it.


Based on my experience, I'd say that you won't actually regret the day of buying a Ford Everest, because it will totally give you a lavish lifestyle and an exciting adventure of a lifetime.
Other Ford Everest car model Resources:
Video of Ford Everest Car Model