Lancia is a vehicle manufacturer based in Italy which was founded by Vincenzo Lancia in 1906. Its first name was Lancia & C. After over 60 years, automobile giant Fiat Group bought the company. Currently, the company calls itself as Lancia Automobiles S.p.A. and used the said name in 2007 for the first time.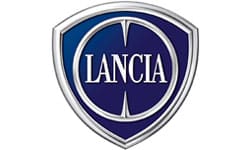 Having a huge Italian background, the company influenced its car models on history as well. In fact, they use the Greek alphabet for the naming conventions of their car models. Currently, the CEO of the company is Sergio Marchionne. Just this 2014, he highlighted the ruling that Lancia cars should only be sold inside Italy and banned exports.
Related Other Italian Automobile Technology Lamborghini
The company started when two Fiat racing buddies, Vincenzo Lancia and Claudio Fogolin initiated the creation of a new car company. Their first car was called the Tipo 51 or 12 HP and lasted on production for a year. The Tipo 51 houses a four-cylinder engine and ignited a small power output of only 28 horsepower.
Through the years, the company has created a strong line of cars. Until in 1910, Lancia started shipping their house-made components to the United States of America where they were used by the SGV Company for their own lineup.
Five years after, Lancia introduced their first truck which they called the Jota. In an unfortunate turn of events, Vincenzo died in 1937 of heart attack. From then, his wife Adele and his son Gianni, took over the company.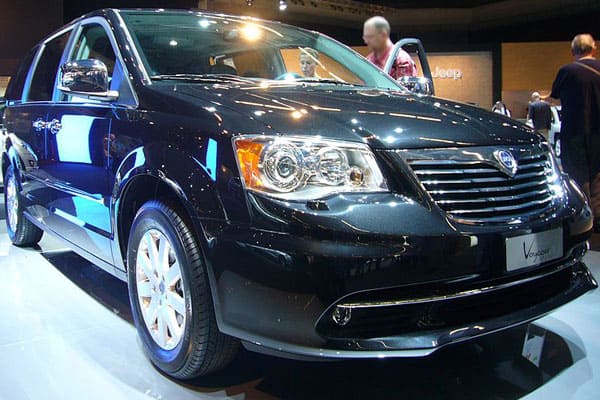 Image source: wikipedia.org
For its entire existence, Lancia is known to be one of the best car companies known for their innovative work. In 1913, they introduced the first ever European car that houses a whole electrical system as its standard equipment. Since racing was really in demand during the flight of Lancia's sales, it focused primarily in racing cars.
It was the first company to produce a V4 engine, and the usage of independent suspension and rear transaxles.
Full List of Lancia Car Models
---
Lancia Stratos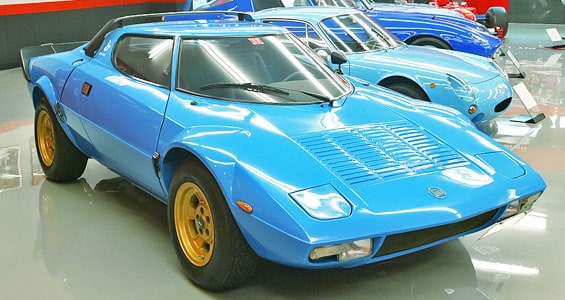 By Tennen-Gas – Own work, CC BY-SA 3.0, https://commons.wikimedia.org/w/index.php?curid=2077387
As one of the most popular cars to grace the race track, the Lancia Stratos is definitely an iconic vehicle to behold. With several versions released, this is a car that has definitely made its mark on the motoring world.
High Fidelity
Perhaps one of the most recognizable Stratos versions, the HF (high fidelity) variant paved the way in both speed and iconic design. With its sleek and sexy curves and its high-performance drive, the Stratos HF remains to be a car that created its own unique mold in the racing scene.
The New Stratos
2010 was a milestone year with the release of the New Stratos. Bringing about the latest and forward-thinking engineering innovations, while at the same time retaining the unique and powerful sensibilities of the Lancia Stratos, this is an automobile that is a step ahead from its counterparts in the industry.
More About Lancia Stratos on Wikipedia
---
Lancia Prisma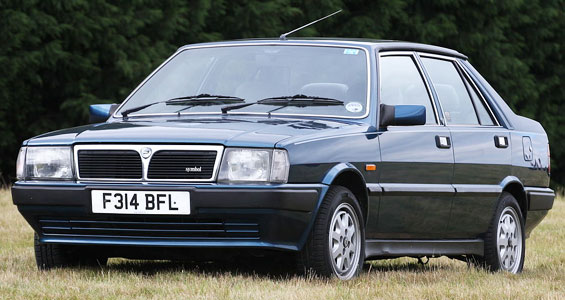 By Tony Harrison from Farnborough, UK – Lancia Motor Club AGM 2010 Thame Oxford IMG_2645, CC BY-SA 2.0, https://commons.wikimedia.org/w/index.php?curid=17603202
Italian car brand Lancia is known for its unique automobile designs and engineering prowess. And an excellent example of how this manufacturer made its mark in the industry is with its release of the Lancia Prisma.
Designed by the Best
With famous automobile designer, Giorgetto Giugiaro, behind the design of the Lancia Prisma, only the best is to be expected. And for its time (the 80's), the Prisma was a dazzling vehicle to behold.
So much so, this was one of the best car products produced by Lancia, with a production at an all-time high during the year 1984.
Safety First
Perhaps one of the best reasons why the Prisma was a popular car choice was not only of its style and speed assets. Lancia made sure to incorporate then high-end safety features on the car. As such, one can be said to be able to drive a speedy – and safe – car!
More About Lancia Prisma on Wikipedia
---
Lancia Dedra

By Charles01 – Own work, Public Domain, https://commons.wikimedia.org/w/index.php?curid=2928312
Initially produced as a replacement for the Prima, the Lancia Dedra can very well be considered as a car that created its own mark in Lancia's dynamic automobile industry.
Creating a Second-Best Car
Catered to the motoring market as a luxurious vehicle, without the sensibilities or price tag of an executive car, the Lancia Dedra faced a challenging conundrum. Yet, even with its label as "second-best", the Dedra stood up on its own as a unique vehicle that delivers for its target clients.
The Station Wagon Version
With several versions produced, the most popular Lancia Dedra variant may perhaps be it station wagon design. With a family-focused approach, the early 90's have shown that a large number of Italian motoring consumers chose the Dedra for its practicality, performance, and design sensibilities.
More About Lancia Dedra on Wikipedia
---
Lancia Musa

By Rudolf Stricker – Own work, CC BY-SA 3.0, https://commons.wikimedia.org/w/index.php?curid=3936452
Passenger safety and satisfaction – these are what makes the Lancia Musa, a mini multi-purpose vehicle, a big deal when it was released!
Be Our Guest(s)
Lancia implemented several nifty comfort features within this small vehicle for an extra-large, satisfying, and memorable driving experience. With ergonomic seating and a focus on ventilation, the Musa can make each ride a safe and comfortable one!
An Inspired Car
Much thought has been placed in this vehicle, that Lancia may very well consider it as a muse! From the soft aesthetics to the passenger-first ideology, this is one car that was definitely made to inspire all! A mix of sophistication and simplicity, the Musa is a car that delivers.
More About Lancia Musa on Wikipedia
---
Lancia Dilambda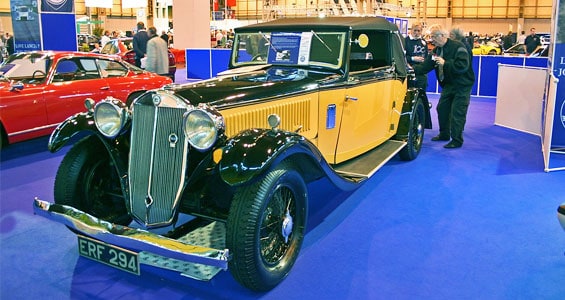 By Tony Harrison from Farnborough, UK – IMG_3803, CC BY 2.0, https://commons.wikimedia.org/w/index.php?curid=3823732
As one of the earliest cars to be produced, the Lancia Dilambda paved the way on creating a hallmark and awesome reputation that the Italian car brand still holds today!
Size Matters
When it comes to size, the Lancia Dilambda was actually the largest car that Lancia has ever produced. With a wide body and a heavy engine, Lancia was able to cement its position as a car manufacturing heavyweight during the time of the Dilambda's release (this was during the late 1920's).
The Beginning of the Italian Style
Perhaps one of the best contributions that the Dilambda has done for Lancia is its style. This car can be designated the start of Lancia's focus on automobile design – an art philosophy that continued to grow and excel throughout the next decades.
More About Lancia Dilambda on Wikipedia
---
Lancia Ypsilon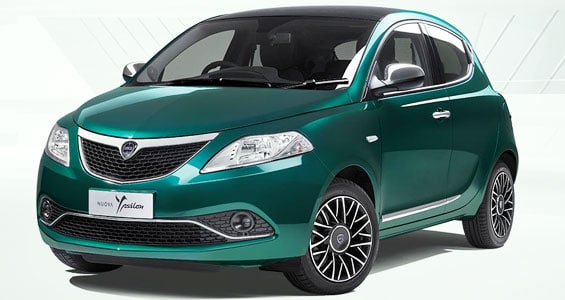 Image source: lancia.com
When even the smallest details matter and add up to an overall large and amazing product, you can be sure that a car manufacturer takes each automobile seriously. And this very idea can be seen in the awesome supermini vehicle, the Lancia Ypsilon.
Excellent Craftmanship
For a small car, excellent focus on details and performance make it even bigger than some of the best cars in the industry. From the form-and-function balance seen on the Ypsilon's exterior to the fashionable interior, this is an automobile that can be truly appreciated up close.
Smart Technology
The attention to detail can further be seen with the smart motoring technology integrated in the Lancia Ypsilon. Smartphone connectivity is assured in the vehicle, which can also link up to the exciting infotainment features found in the Ypsilon.
More About Lancia Ypsilon on Wikipedia
---
Lancia Thema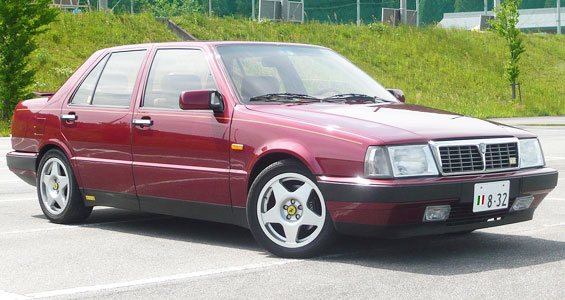 By ????? – Own work, CC BY-SA 3.0, https://commons.wikimedia.org/w/index.php?curid=12000622
Executive car designs are elevated with an Italian touch – best seen on the Lancia Thema! A luxurious car to behold and get behind its wheel, the 80's (and early 90's) sure was a great time to drive!
That Amazing Design
Of course, and likewise seen on several other Lancia models, the Thema was blessed to be designed by the popular Giorgetto Giugiaro.
As such, it came as no surprise that the Lancia Thema was a popular car during its time of production – just the exterior alone transformed this vehicle into eye candy on the road.
The Power Within
Depending on the model, there are Themas that came with Ferrari engines. The combination of excellent style and guaranteed power is a jam-packed motoring combination – a fantasy that came real!
More About Lancia Thema on Wikipedia
---
Lancia Aurelia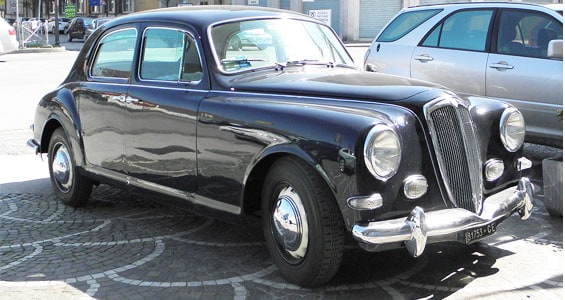 By Threecharlie – Own work, CC BY-SA 3.0, https://commons.wikimedia.org/w/index.php?curid=14751064
Lancia, during the post-war, created a thing of beauty. The Lancia Aurelia, a car powered by a V6 engine, marked the beginning of something wonderful for the Italian car brand.
Sophistication and Excitement Combined
What better way to celebrate the era of peace than with a car that best exudes comfort, style, and excitement? The Lancia Aurelia's exterior brings about a feeling of calmness, an apt choice of a vehicle to see on the road.
And with a comfort and passenger-focused interior, drivers and their guests alike are treated to a memorable driving experience.
A Powerful Surprise
With what may come as a delightful surprise, this seemingly calm car also has the power to compete. The Lancia Aurelia was also part of several motoring events during it prime – a testament that this vehicle has a lot in store for its owners!
More About Lancia Aurelia on Wikipedia
---
Lancia Sibilo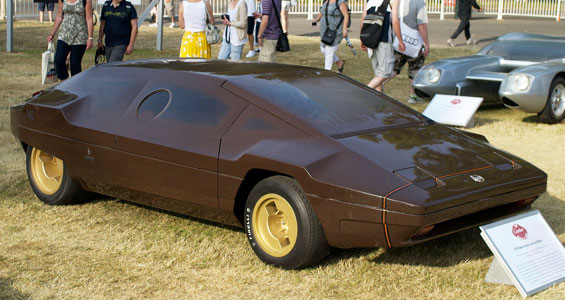 By Edvvc – https://www.flickr.com/photos/edvvc/9314889901/, CC BY 2.0, https://commons.wikimedia.org/w/index.php?curid=33856499
The future is real with the Lancia Sibilo. This concept car's design alone is a great example on how sci-fi inspiration can be implemented on a working and reliable vehicle!
The Stuff of Dreams and Fantasies
With its sleek curves, eccentric interior design features (just look at the steering wheel!), and overall mood-setting appeal, the Sibilo was definitely designed to impress. The stuff of dreams, indeed, the only thing lacking is for it to actually fly!
Powered by a Reliable Model
Taking the same performance specs from the amazing Stratos, the Lancia Sibilo was then a great vehicle that packaged itself as a unique and powerful car. Even so much so, for a concept car even, that collectors can attest to it as an automobile that can match to contemporary rides today!
More About Lancia Sibilo on Wikipedia
---
Lancia Flavia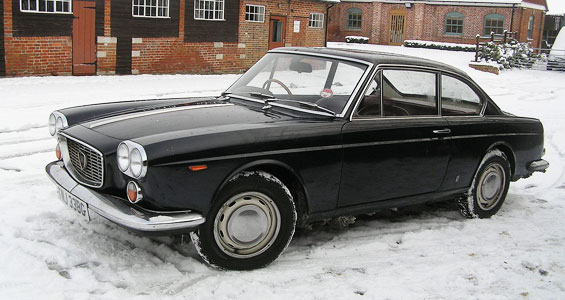 By Pbharcourt – Own work, CC BY-SA 3.0, https://commons.wikimedia.org/w/index.php?curid=15568437
The 60's proved to be a great time to be a Lancia car owner. With the Lancia Flavia manufactured during this decade, drivers were definitely in for a treat on the road.
Beauty and Power
Lancia will always be known for its great-looking cars. And the Lancia Flavia, of course, isn't exempt for this great design philosophy! Throughout the years, the Flavia continued to improve on both design and power aspects, with exterior and interior facets integrated on newer models; larger engines as well.
The Lancia 2000
For the best in Italian motoring experience, go for the Lancia 2000. Created during the 70's, this was the penultimate form of the Lancia. With control and design maximized, the car continues to be a favorite among collectors even today.
More About Lancia Flavia on Wikipedia
---
Lancia Kayak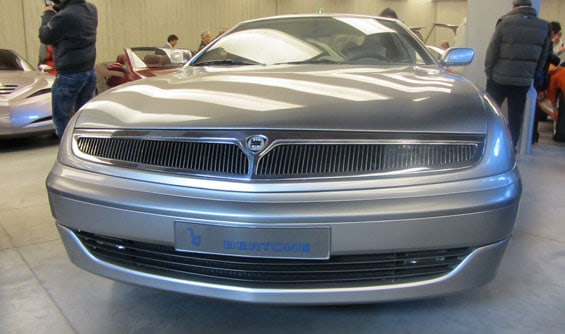 Image source: wikimedia.org
The Lancia Kayak is a concept car designed by Lancia, an Italian automaker. It was first seen in public at the Geneva Motor Show in 1995. Only two units of the Lancia Kayak is available today. Being a concept car, Lancia only made the prototype for public car shows.
List of Other Lancia Car Models
---
Lancia Voyager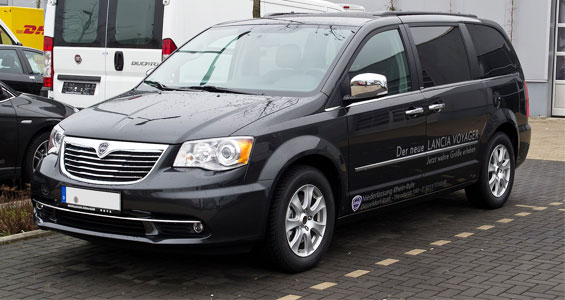 Von M 93, CC BY-SA 3.0 de, https://commons.wikimedia.org/w/index.php?curid=18657203
---
Lancia Thesis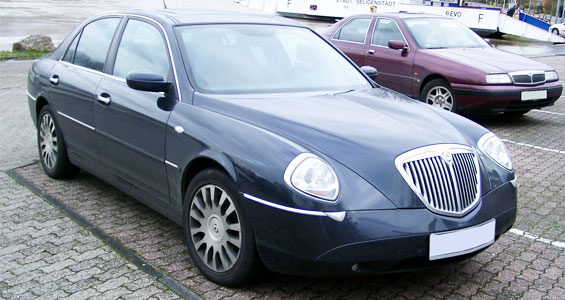 By Rudolf Stricker – Own work, CC BY-SA 3.0, https://commons.wikimedia.org/w/index.php?curid=3213199
---
Lancia Flaminia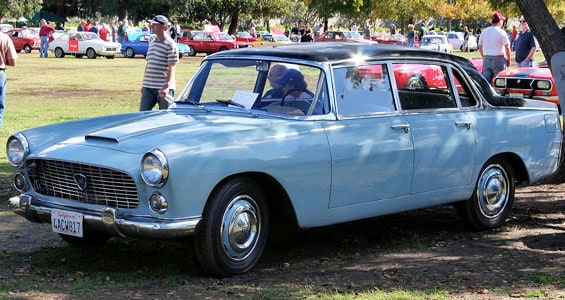 By Rex Gray – originally posted to Flickr as 1966 Lancia Flaminia Berlina – blue black – fvl, CC BY-SA 2.0, https://commons.wikimedia.org/w/index.php?curid=10519391
---
Lancia Appia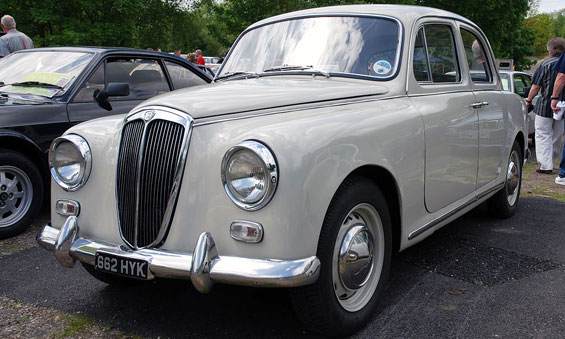 By allen watkin from London, UK – Lancia, CC BY-SA 2.0, https://commons.wikimedia.org/w/index.php?curid=32037897
---
Lancia 2000
Lancia 037
Lancia D50A Formula One
Lancia Delta S4 Group B
Lancia LC1 Group 6
Lancia LC2
Lancia Triota
Lancia Beta Torpedo
Lancia Esadelta C
Lancia Esagamma E
Lancia trolleybus in Athens
Lancia 3RO military truck
Lancia Dikappa
Lancia Trevi
Lancia Lambda
Lancia Fulvia Dunja
Lancia Aprilia
Lancia Dialfa-18HP
Lancia Alfa-12HP
Lancia Autobianchi Y10
Lancia Gamma
Lancia Gamma-20HP
Lancia Beta
Lancia Kappa
Lancia Fulvia
Lancia Augusta
Lancia Delta-20/30HP
Lancia Beta-15/20HP
Lancia Theta-35HP
Lancia Trikappa
Lancia Delta
Lancia Montecarlo
Lancia ECV
Lancia Eta-30/50HP
Lancia Delta S4
Lancia Astura
Lancia Artena
Lancia Ardea
Lancia Epsilon
Lancia Lybra
Lancia LC1
Video of Lancia Car Models
Photos of Lancia's Different Types of Cars
(Photos Courtesy of https://en.wikipedia.org/)














Other Lancia Car Brand Resources:
Lancia on Wikipedia
Lancia Vehicles
Lancia on Youtube
Lancia on Twitter
Lancia on Facebook
Lancia on Instagram
Lancia Vehicle News, Trivias, Photos and Car Updates.
Swipe to see other trivia