Bugatti Car Models List
Posted By: Ghem Sanders under Car Models List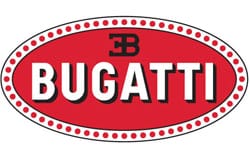 The French have got it zooming in terms of making a mark in the motoring world. This can be seen in the popular and exclusive car manufacturing company of theirs, Automobiles E. Bugatti. Known for its very stylish (verging in high fashion) and very fast cars, the company is actually owned of an even larger car company, the Volkswagen Group.
Related Other European Car Manufacturer Citroen
This can be a blessing for car purists, for without the Volkswagen Group's involvement, then the world may probably not see and experience the best designs found in cars. Concept wise and performance edged, this brand is sure to make heads turn.
Through the years, Automobiles E. Bugatti has had several accomplishments:
Marque Level – citing the avant garde and diverse designs that this company has, it can be considered that cars from this brand are of a very high level. So important are these vehicles, that they can be considered as any car collectors' dream. It's a marque brand, yet of a very functional basis as well.
High Level of Design – Automobiles E. Bugatti's models take design as the topmost priority upon creating a car. The model has to stand out, be entirely different from the rest of machines found on the road. Such is the importance of this priority, that almost every model is made out of hand, to give emphasis to detail and performance.
Race – cars from this brand do not only look stunning. In fact, they're one of the fastest in the world. The company has enjoyed winning some of the most important races in the world (Le Mans as the most remembered victory). One of the company's models, the Type 35, has actually been awarded the most successful racing car of all time title, a feat yet to be defeated.
Here are some of Automobiles E. Bugatti's most famous car models:
Bugatti Type 35
Bugatti Veyron EB16.4
Bugatti Type 252
Bugatti EB110
Bugatti Type 41 Royale
Bugatti Type 18 Garros
Here are some of Automobiles E. Bugatti's list of Prototypes car models:
1900–1901 Type 2
Type 56 (electric car)
1943/1947 Type 73C
1939 Type 64 (coupe)
1929–1930 Type 45/47
1925 Type 36
1908 Type 10 «Petit Pur Sang»
1903 Type 5
Here are some of Automobiles E. Bugatti's list of racing car models:
1910–1914 Type 13/Type 15/17/22
1955–1956 Type 251
1937–1939 Type 50B
1936–1939 Type 57G "Tank"
1931–1936 Type 53
1931–1936 Type 51/51A/54GP/59
1927–1930 Type 52 (electric racer for children)
1924–1930 Type 35/35A/35B/35T/35C/37/39 «Grand Prix»
1923 Type 32 «Tank»
1922–1926 Type 29 «Cigare»
1912 Type 16 «Bébé»
Here are some of Automobiles E. Bugatti's list of road car models:
1910 Type 13[5]
1957–1962 Type 252 (2-seater sports convertible)
1951–1956 Type 101 (coupe)
1934–1940 Type 57/57S/Type 57SC (touring car)
1932–1935 Type 55 (roadster)
1929–1939 Type 46/50/50T (touring car)
1927–1933 Type 41 «Royale»
1922–1934 Type 30/38/40/43/44/49 (touring car)
1913–1914 Type 23/Brescia Tourer (roadster)
1912–1914 Type 18
Bugatti Car Models List of Photo Gallery
(Photos Courtesy of http://en.wikipedia.org/)
(SEE ALSO: The Bugatti Veyron – the World's Fastest Street-legal Car)
These other car models list articles might be helpful to you

Mazda Car Models List


Mini Car Models List


Mitsubishi Car Models List


Morgan Car Models List


Nissan Car Models List
Official Website of the Company:
http://www.bugatti.com/en/home.html
Bugatti Company Random Fact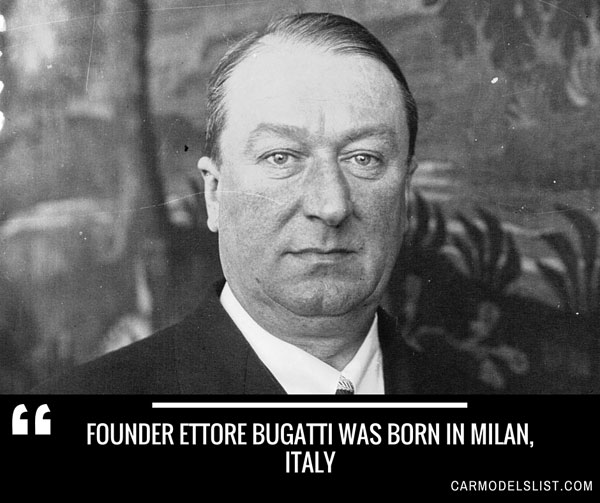 Help others by telling your story with this car