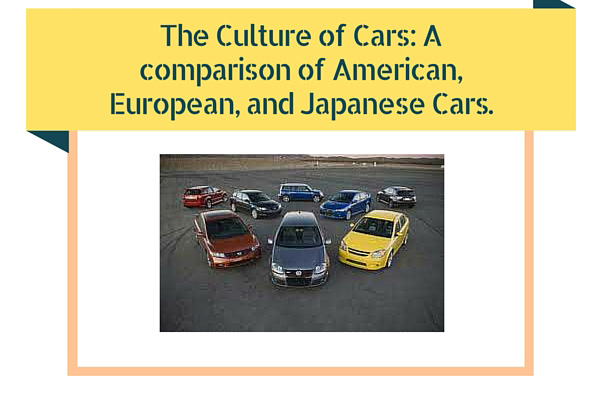 The creation will always have a reflection of the creator's identity. For this case, we examine how cars are made and how they reflect the place where it is built from. From our analysis of the cars they make, we will seek to derive a generalization of what the nation's culture is like.
American Cars are most popular for their "muscle cars"; being dubbed the name "muscle car" because it is all muscle and power. They love packing powerful V8 engines into their cars. It is all about speed and power and in turn entails high-rate consumption of petroleum.
This can really say a lot about their culture: high-consumption without thinking of sustainability. The market of cars in the United States is considered a significant portion of their economy. During recent economic crises they even opted to bail out car companies who produce these high-consuming muscle cars with taxpayer's money.


Nissan GTR and Mitsubishi Lancer Evolution
Japanese Cars would be somewhat of an opposite. In the recent years they have produced the most marketable hybrids and other environment-friendly cars. Their cars could be considered as more brain than muscle since their cars would usually contain a lot of computer and automated technology; something that purists would consider as being a stir away from the passion and beauty in the mechanical engineering of cars. But this does not mean that they don't pack power in their cars. Cars like the Mitsubishi Lancer Evolution or Nissan GTR are some notable powerful Japanese cars.


Chevrolet Camaro and Chevrolet Impala
This shows a culture that gives a big importance on technology and consumption efficiency. They care about how they can lower the expenses of their people by introducing more economical cars into the market. But they do all this without sacrificing power – they even do the exact opposite by improving a car's performance with their technology.


European cars combine prestige and power. Their car-making companies really have this pedigree that gives importance to tradition. Rolls Royce, Ferrari, and other car brands actually still incorporate handmade components such as interior and others in their cars to really preserve intricate detail. One problem in these cars would be the price. European cars are known to be very expensive. Most of the top high-end cars are European such as Mercedes-Benz, BMW, Bentley, Alfa Romeo, Aston Martin and many others.
There is just something so sexy and intellectual about European cars and I guess the same could be said for their culture. Europe is known to have a very rich culture and history. Art is truly something that is prevalent in their culture and it is something they give importance to – a quality that is obviously reflected in the way they make their cars. One problem reflected by the car-making would be the cost of living. A Mitsubishi Lancer Evolution could beat the Lamborghini Murcielago at a circuit race and it is a fraction of the price, a fraction of the engine size, and a fraction of gas consumption.
(SEE ALSO: American vs. Japanese Cars: The Battle For the American Market)
There are a lot of debatable issues in this article. They are merely generalizations based on rough analysis. But obviously some of them actually make sense. So what is the conclusion? If you want the thrill of pure mechanical power then go for American cars. If you want something that is technologically advanced and still powerful then go for a Japanese car. If you have the money to spend then without a doubt go for a European car.
These other news, guidelines and techniques that might be helpful to you