India also has their take on automobiles. They are popular for being one of the most inclined countries to technology, hence, their edge on many other industries. Tata Motors Limited, which was formerly known as TELCO, is a multinational automobile company from India, particularly in Mumbai, Maharashtra.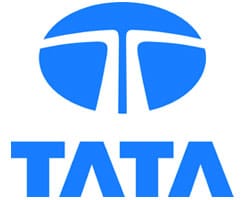 They specialize mainly on buses, coaches, cars, vans, trucks, military mobiles, and construction equipment. They are recognized as the 17th largest automobile manufacturing company, the 4th largest truck manufacturing company, and the second largest manufacturer of buses.
Their line of products are mainly assembled in provinces of Lucknow, Sanand, Dhanwad, Pantnagar, Pune, and Jamshedpur in India. They also have assembly plants in other countries like United Kingdown, Thailand, South Africa, and Argentina.
Related Other Indian Automobile Technology Complete list of all Mahindra car models
Being a big company, they have formed subsidiaries with other automakers including the Jaguar Land Rover from Great Britain and the Tata Daewoo from South Korea. They have also formed ventures on bus manufacturing with Marcopolo S.A., which mainly manufactures construction equipments.
Tata Motors was founded in 1945, releasing their first vehicle in the market together with Daimler-Benz AG. Soon after in 1991, they started on the manufacturing of passenger mobiles with the introduction of the Tata Sierra. They were then recognized as the first Indian automobile company to have been able to develop a very competitive vehicle and successfully release it to the market.
Seven years later and Tata launched their first passenger car which is the Indica and then after ten more years, they introduced the world's most affordable car, the Tata Nano. With the staggering success of the company, they bought the Daewoo Company in 2004, and then proceeded with the acquisition of the Jaguar Land Rover from the company Ford four years after.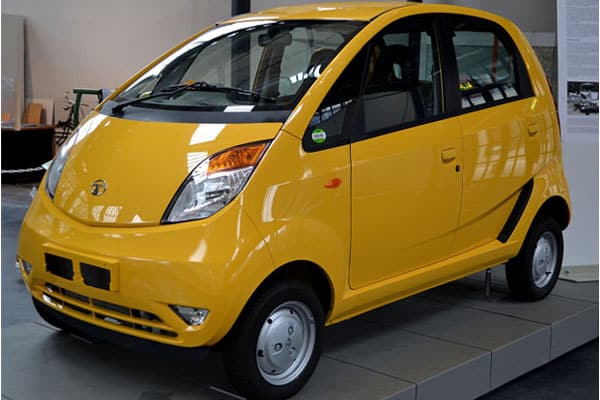 Tata Nano Car Model
Image source: wikimedia.org
Right now, Tata Motors is up to the list on the Bombay Stock Exchange, and is currently a constituent of the National Stock Exchange of India, the BSE SENSEX indec, and the New York Stock Exchange. They have ranked number 314 on the world's biggest corportation by the 2012 Fortune Global 500.
Full List of Tata Car Models
---
Tata Bolt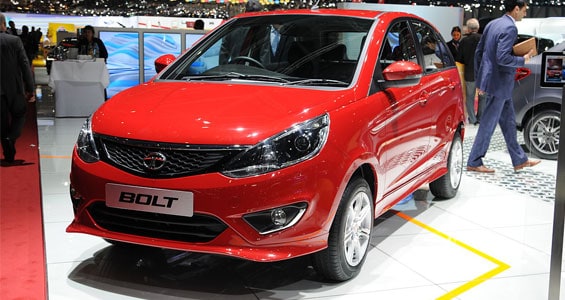 Image source: wikimedia.org
Experience a practical yet smart and functional motoring wonder in the Tata Bolt.
A Thrill of Comfort
The Tata Bolt perfectly delivers what a safe and comfortable ride should be. The AC unit can be accessed with the controls on a touchscreen; rugby shoulder seats provide stress-free and relaxing rides.
Designed to Thrill
Style and power are prioritized with the Tata Bolt. Smoked projector headlights are both appealing and offer an extra level of utility. The power bulge on the vehicles bonnet showcases the power within.
The Technology Within
Several innovative tech solutions can be found in the Tata Bolt. Sound isolators keep out the noise; geo-responders give passengers the assurance that a trip will a relaxing ride.
More About Tata Bolt on Wikipedia
---
Tata Nano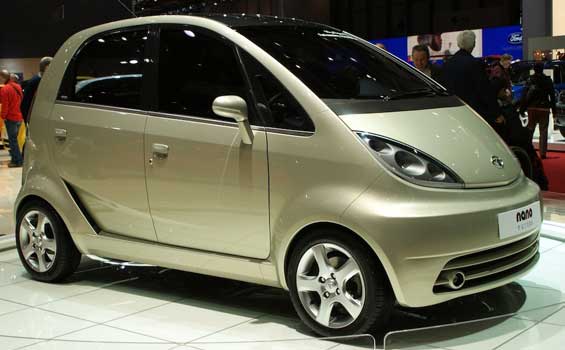 Image source: wikimedia.org
Big wonders come in small packages, which the Tata Nano best personifies! Best known for making the news of its affordable price, the Nano still brings a wonderful and unique ride for all sorts of drivers.
The New Generation Offers More
And what a wonderful surprise the latest model of the Tata Nano provides! Prioritizing a driver's convenience and comfort, the Tata Nano comes with an Easy Shift automated manual transmission (AMT). This, in essence, brings about the blend of the comfort of an automatic transmission and practicality of a manual transmission!
A Design Upgrade
Just because it's affordable does not mean it doesn't look fancy. The new Tata Nano sports eye-catching exterior fixtures. The interior does not disappoint as well – space is optimized and standard infotainment features are included!
More About Tata Nano on Wikipedia
---
Tata Vista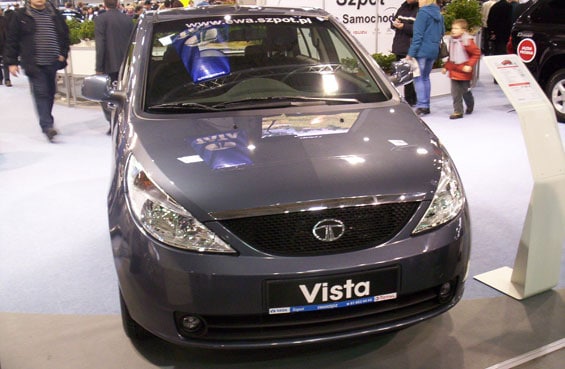 Image source: wikimedia.org
The Tata Vista is an electric vehicle variation of the Tata Indica, super compact car designed and released by Tata, an Indian automaker. It has four versions, the EV, Concept S, Quadrajet, and the D90.
Tata Vista Variants
Tata Vista Ini
Tata Vista Ignis
---
Tata Xenon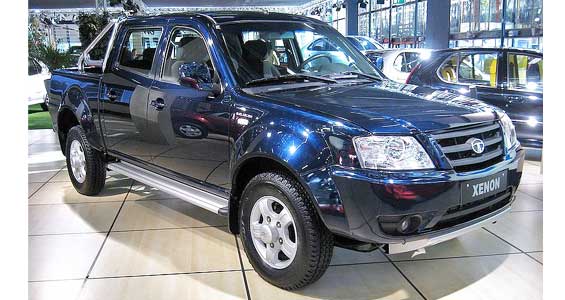 Image source: wikimedia.org
With two variants of the Tata Xenon to choose from in the market (4×2 and 4×4), drivers can choose a Xenon that will best suit their needs or driving style!
Tata Xenon Variants
Tata Xenon 4×2
Tata Xenon 4×4
More About Tata Xenon on Carmodelslist's Blog
---
Tata Tigor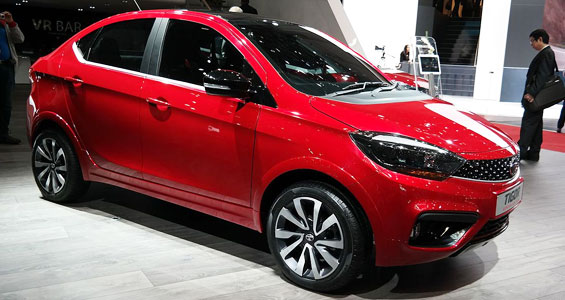 By Norbert Aepli, Switzerland, CC BY 4.0, https://commons.wikimedia.org/w/index.php?curid=56888876
Indian car manufacturer Tata may have just created one of its most dynamic cars. The Tata Tigor, a subcompact sedan, is a car that this company can truly be proud of.
Compact Excitement
Released just last 2017, the Tata Tigor offers awesome driving enhancements that will truly bring a smile among motorists. With modern and sporty stylings, coupled with a spacious and comfy interior, this is definitely a good-looking car.
Safety is Assured
Also, the Tata Tigor places extra emphasis on safety. With several airbags placed in the vehicle, and a body built to focus on driver safety, peace of mind is guaranteed in this ride!
More About Tata Tigor on Wikipedia
Other Tata Cars List
---
Tata Magic

Image Source: By User:Adityamadhav83 – Own work, CC BY-SA 3.0, https://commons.wikimedia.org/w/index.php?curid=30401752
Feel the magic with this amazing mini-van! Made to address the unique traffic conditions in India, the Tata Magic is actually the popular Tata Ace converted to cater for public commute demands. With seating capacity able to sit up to 7 people, this is one ride that'll go the distance in busy Indian districts.
Fuel economy is prioritized, an excellent choice among drivers hoping to go for multiple trips. Also, the Tata Magic focuses on low maintenance, giving motorists the peace of mind that'll stay in pace during every drive. Take note that another version, the Tata Magic Express, exists to cater rides of up to 10 passengers! A truly magical vehicle!
More About Tata Magic on wikipedia.org
---
Tata Ace

Image Source: By User:Deepak – Own work, Public Domain, https://commons.wikimedia.org/w/index.php?curid=3791076
One of the most popular releases from the brand, the Tata Ace may very well a pioneer in small commercial vehicles in India. Featuring a compact yet efficient design, the Tata Ace gets the job done with its focus on function. The Tata Ace boasts of a low maintenance construction, with a warranty coverage of up to 2 years.
Also, the Tata Ace is specially designed to deal with heavier payloads, with this vehicle's axles and suspension built for cargo of up to 750 kg, you can do more in this ride! The Tata Ace also has an innovative and useful instrument holder, allowing motorists to safely store and access their devices during drives. All in all, this is one excellent vehicle!
More About Tata Ace on wikipedia.org
---
Tata Movus/Tata Sumo Grande

Image Source: By User:Deepak – Own work, Public Domain, https://commons.wikimedia.org/w/index.php?curid=3790961
Made to move large families in comfort and style, the Tata Movus is a utility vehicle that allows the brand to showcase its unique aesthetics. Functional, the Tata Movus comes in several seating variations (7, 8, and 9 seating configurations are available) to suit all sorts of families.
Also, ground clearance is excellent, which is set at 180 mm, for a more comfortable riding experience. It may look big, but the Tata Movus has an amazing power steering system, making it really easy to maneuver even in tight traffic conditions. Move your loved ones in style with the Tata Movus!
More About Tata Movus/Tata Sumo Grande on wikipedia.org
---
Tata Safari

Image Source: By Corvettec6r – Own work, Public Domain, https://commons.wikimedia.org/w/index.php?curid=11069984
As one of the most stylish Tata models out there, expect only the best from the Safari. This SUV combines great design to go with comfort and versatility, perfect for all sorts of motorists out there. An outstanding design language is obvious with this choice, given the amazing grille motif and roof rails that proudly shows off the Safari branding.
The powerful Kryotec diesel engine offers a nice balance of power and torque to go with its impressive fuel-efficiency focus. Multiple drive modes are available as well, to suit all sorts of motoring styles. If anything, this is one model that Tata is surely proud of!
More About Tata Safari on wikipedia.org
---
Tata Venture

Image Source: By TataPower2 – Own work, CC0, https://commons.wikimedia.org/w/index.php?curid=73564761
This minivan doesn't only transport people safely and efficiently – it does it in style as well! The Tata Venture, an 8-seater wonder vehicle, assures motorists and passengers alike of a comfortable and safe drive. The powerful HVAC unit found within assures of a cool drive, perfect for traffic conditions in India.
Packed with nice driving tech as well (such as keyless entry, parking sensors, power steering, etc.), motorists would discover that this is an easy and fun ride! Like with other Tata models, fuel efficiency is excellent as well in the Venture, making this van a favorite for those who opt to use it as a source of income!
More About Tata Venture on wikipedia.org
---
Tata Sumo

Image Source: By order_242 from Chile – Tata Sumo EX 2.0 TDi 4×4 2001, CC BY-SA 2.0, https://commons.wikimedia.org/w/index.php?curid=35550617
Considered as a pioneer vehicle, the Tata Sumo is an SUV that showcases the brand's strength in creating powerful, efficient, yet practical rides. First launched in 1994, this offroad vehicle slowly transitioned into a commercial ride. Sturdy and reliable, the Tata Sumo is mainly known for its roadworthy features, such as its excellent 4WD orientation, outstanding suspension, and it's tough shell.
Fuel efficiency, of course, is also a priority in the Tata Sumo, making it a good choice for long drives. Its latest version, the Tata Sumo Gold, introduces more comfortable features (such as improved upholstery) and modern motoring enhancements. Truly, a ride like no other!
More About Tata Sumo on wikipedia.org
---
Tata Aria

Image Source: By Corvettec6r – Own work, CC0, https://commons.wikimedia.org/w/index.php?curid=22080362
Available during the years 2010 to 2017, the discontinued Tata Aria is still a good example of a crossover SUV that's perfect for the urban jungle. As a collaboration with the iconic Jaguar group, the Tata Aria focuses on high urban style without losing out on motoring performance.
Featuring impressive safety features (as seen among Jaguar SUVs) and the Tata group's tried and tested fuel efficiency, the Tata Aria is what one can describe as the best in Indian and European motoring technology! Coming in both manual and automatic transmission versions, this is one SUV that made motorists smile all over the world!
More About Tata Aria on wikipedia.org
---
Tata Indica

Image source: wikimedia.org
It may be small, but the Tata Indica is a fine example of good things that may come in tiny packages! This supermini model is actually India's very first diesel hatchback car, proving that there is indeed a need for a car in the country that is both mobile and fuel efficient.
The Tata Indica was a best-seller: more than 12 million units have been sold over the years, with Tata even bringing this car available in foreign territories! Basic as it is, the Tata Indica continued to evolve, by offering better motoring enhancements for drivers and passengers to enjoy. Although discontinued, this car is a precursor for other models from Tata!
Tata Indica Variants
More About Tata Indica on wikipedia.org
---
Tata Zest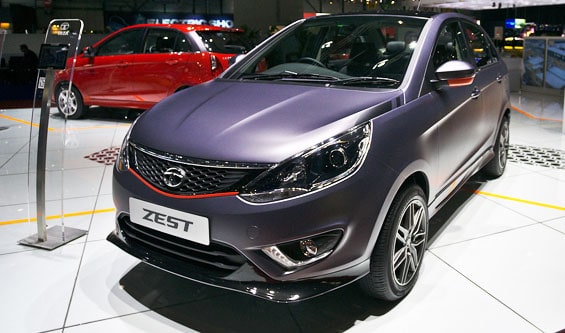 By Clément Bucco-Lechat – Own work, CC BY-SA 3.0, https://commons.wikimedia.org/w/index.php?curid=38141871in
An offshoot from the popular and successful Tata Indica, the Tata Zest is a sdean that proved to be a favorite not only in India, but in South Africa as well! Versatility is the name of the game for the Tata Zest, with both diesel and petrol versions available to choose from.
Yet no matter the variant, the Tata Zest maintains the awesome fuel efficiency factor found among Tata cars. Additionally, the Tata Zest integrates some excellent motoring enhancements such as an improved driver information display and infotainment features, proving that Tata can provide these elements into their signature designs. This sedan is nice and exciting – a good change among the basic vehicles that Tata is known for!
More About Tata Zest on wikipedia.org
---
Tata Manza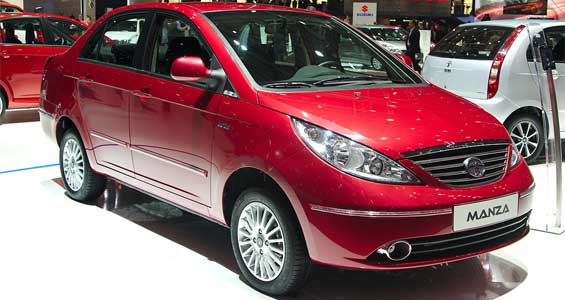 Image source: wikimedia.org
Executive class! The Tata Manza is a good example of Tata trying and winning in this sedan class of vehicles! The Tata Manza combines the excellent fuel efficiency of Tata vehicles, with some nice balance of both modern tech and power.
The luxurious design of this car is readily seen on both its exterior and interior aesthetics, which do match really well with Tata's focus on comfort for this ride. Safety features have also improved in this model, with some nice dual airbags to give drivers and passengers the peace of mind they deserve. The Tata Manza is a really nice car to drive!
Tata Manza Variants
Tata Manza Ini
Tata Manza Aura
More About Tata Manza on wikipedia.org
---
Tata Tiago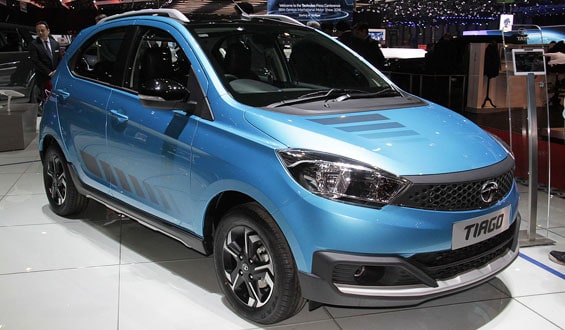 By El monty – Own work, CC BY-SA 4.0, https://commons.wikimedia.org/w/index.php?curid=48015988
---
Tata Indigo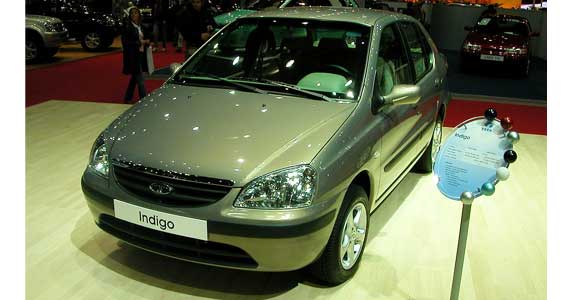 Image source: wikimedia.org
Tata Indigo Variants
---
Tata Winger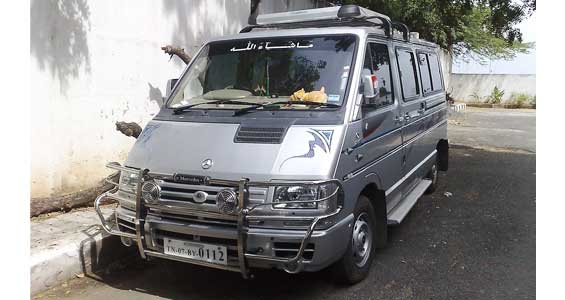 Image source: wikimedia.org
---
Cars
Tata Safari Dicor
Tata Safari Storme
Tata Sumo Gold
Tata Sumo Grande
Tata TL
Tata Xenon XT
Trucks and Buses
Tata Ace Bata

Tata Ace Bata Variants

Tata Ace Bata Cab & Chassis

Tata Ace Zip
Tata Buses
Tata Construck
Tata Defence
Tata Light Trucks
Tata Magic Iris
Tata M&HCV
Tata Prima
Tata Pickups
Tata Super Ace

Tata Super Ace Variants

Tata Super Ace Cab and Chassis
Tata Super Ace Drop Side Load Body
Tata Super Ace Aluminum Body
Tata Super Ace "Big Boy" Passenger Van (Single AC)
Tata Super Ace "Big Boy" Passenger Van (Dual AC)
Tata Super Ace School Service (Dual AC)

Tata Super Ace MINT
Tata Ultra
Tata Winger Platinum
Tata Venture

Photos of Tata's Different Types of Cars
(Photos Courtesy of https://en.wikipedia.org/)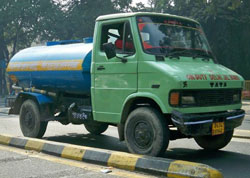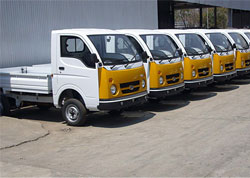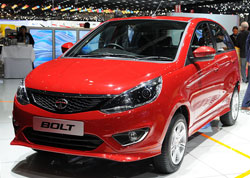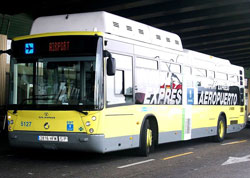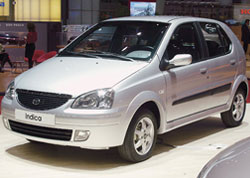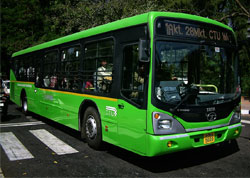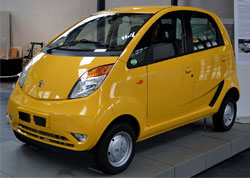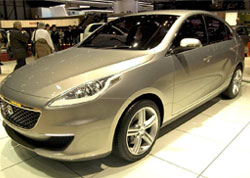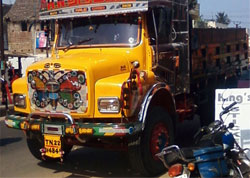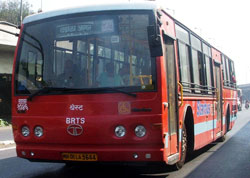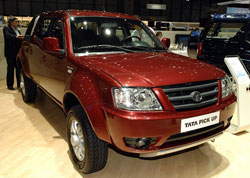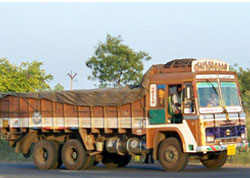 Other Tata Car Brand Resources:
Tata Motors Official Website
Tata Motors Twitter
Tata Motors Linkedin
Tata Motors FB
Tata Motors Youtube
Tata Motors IG
Tata Vehicle News, Trivias, Photos and Car Updates.
Swipe to see other trivia