If you are an adventurous person, and the first thing that comes across your mind is to wander around with your family, then a Porsche Cayenne is meant for you. This big and spacious SUV is what makes it more perfect for you and your family. It may not be destined for high riding, but it is not bad enough to take on escapades with the entire clan.

Porsche Cayenne is the best-selling Porsche even if it is not a sports car, and that is according to the website of an automotive shop named Cars Guide. Originally, Porsche Cayenne was made in 2003 from the name Cayenne Luxury Crossover with a V8 diesel. Then in 2006, it added the power V6 diesel, so Porsche drivers would now have an option to choose a type of engine power for their car.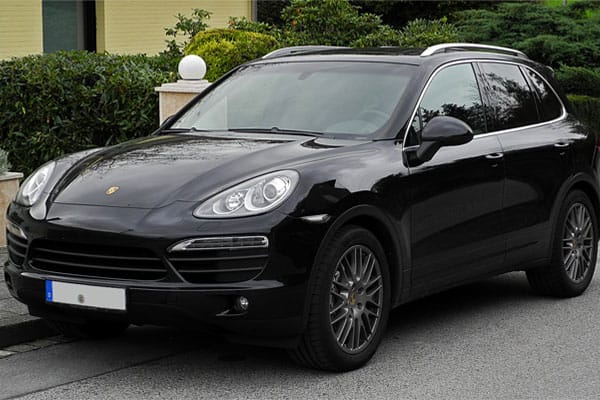 As time goes by, Porsche Cayenne improves its speed, and that's the constant change visible to it. Its style turned to be more of a sporty car compared to its previous models. However, there are only subtle changes on its exterior looks, and it seems that the company likes to keep it that way, because they had a huge success with Porsche Cayenne since day one.
Today's Porsche Cayenne somewhat looked like a merged SUV and Volkswagen as reviewed by an automotive critic. Just like a sports man, the new and improved Porsche Cayenne is described as athletic and muscular. Its sharper and more urbane front and rear sections can attest to that. Plus, its main headlights, front wings, bonnet, air intakes, stylish wheels, and side contouring added to the sporty built of the car.
It may be compared to SUVs like Range Rover Sport and BMW X5 M, but its only difference is its exteriors that are closely built based on your own needs.
Porsche Cayenne has even more lavish style in the inside. Its 4×4 seat is covered with high-end genuine leather and with classic materials that make sitting more comfortable especially during long hours of trip. These seats were even sewed with premium leather that is mixed with quality wood and sturdy metal accents. Car and Driver Magazine even commented that Porsche Cayenne seats are "thronelike, thickly padded, and extremely supportive" to sit on.
Related Article List of different Porsche models
Aside from that, Porsche Cayenne also provides an extravagant setting and modern ambiance in the inside of the car. It got tons of safety measures to take care of you and your passengers. It includes air bags for the driver, for the side head, for the passenger, for the rear head, and for the rear body.
It even has a 4-wheel anti-lock braking system (ABS) to control the car's take off and to prevent car collision, and it has a 4-wheel disc break to maintain the car's break balance. Plus, this car model has a child lock system just in case you bring your little ones for adventure. So when it comes to safety and security, Porsche Cayenne is evidently the car that you can depend on.
Aside from its safety features, there are other buttons found inside a Porsche Cayenne including the 7-inch touch screen display, lane-change assist cruise control, and Bi-Xenon light system, however, some find these buttons confusing at first. Though, it can be fully mastered in just days. Plus, each button is easy to use and intently customized for your own needs.
As Autoweek Magazine described it, those buttons make sense from the left gear shift that is for the driver's climate controls to the right gear shift that is for the passengers. Motor Trend Magazine even praised the high security found in the car and was amazed by the headbanging sound that can be heard from its Bose and Burmester speakers.
There is really no doubt that Porsche Cayenne is rated a four star because of its lavish look on its interior and exterior designs. However, one owner of Porsche Cayenne for 3 years rated it a five star car, because for him, Porsche Cayenne always gives him a great ride with his family.
Plus, his kids love the spacious car. Obviously, he considered the high price of this car, which ranges from $59,600.00 to $159,600.00. I won't blame him for buying such extravagant car, since Porsche provides not just elegance, but also assurance for him and his family's safety ride.
Porsche Cayenne may be criticized for its interior features, but this car still has room for improvements. Others may not like its strong and noisy engine, but some owners are so into it. The Automobile Magazine described Porsche Cayenne as a turbo car because of its extreme fastness. I don't blame this magazine for commenting the car's speed, because evidently, its 3.6 liter V6 engine that provides a 300 horsepower and 295 pound-feet of torque is the reason for the car's amazing speed.
Porsche Cayenne was also commended by an automotive shop, Kelley Blue Book for having an outstanding performance as an SUV. Even another automobile store, AutoTrader noticed the premium performance of the car.
Indeed, most critiques of Porsche Cayenne are satisfied with its accelerated speed and performance, and they even compared it to a sports car's performance. Even automobile shop, Edmunds added, "Regardless of engine choice, the unflappable handling and sublime steering make the Cayenne an excellent sport SUV'.
Related Other SUV Body Type Vehicle Toyota Fortuner Car Model Review
Well, Porsche Cayenne is a big and spacious SUV, and I personally think that it is meant for a family ride. Its 6 airbag features are obviously meant for the safety and security of the entire clan. However, Porsche Cayenne is an SUV that is not meant for high riding.
But in the heart of many, it still provides an astonishing performance, which I surely think will make you and your family enjoy the ride no matter how long it is. Of course not just the ride, but also the modern, sophisticated, and classy setting that can be found inside Porsche Cayenne.
Other Porsche Cayenne car model Resources:
Porsche Cayenne Official Page
Porsche Cayenne Wikipedia Page