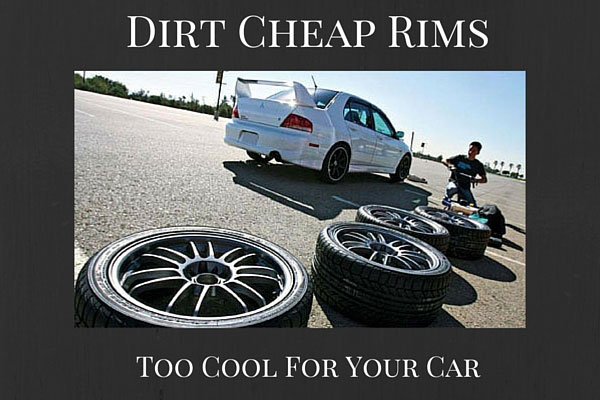 Are you the proud owner of your very own car? Do you want to make your car so sleek and sexy that all your friends will turn green with envy? Then you should start by buying a new set of rims for your car tires. These don't have to cost you and arm and a leg because there are secrets to getting dirt cheap rims that just as good as the expensive ones.
A friend of mine once drove up to my house with his brand new Kia Sorento car. His car tires had these cool silver spinning rims – the one's I had my eye on for months. He told me he had spent a fortune on them and I had nowhere near enough money saved up for making that purchase. Little did we know that these same set of rims were being sold at a fraction of the original price in the nearby wrecking yard.
Yes, the wrecking yard is the best place to find the cheapest rims. You see when cars get badly damaged during accidents they get send to this place. The cars are dismantled and their parts are sold at much lower prices that they are really worth. Interestingly enough, one part of the car which is rarely damaged even in the worst of accidents is its rims.
Related Other Article for Styling & Taking Care of Tires How To Choose The Right Tires For Your SUV
That's why you can find lots of them looking as good as new in various wrecking yards. Keep in mind that most drivers get into accidents because of over speeding. And most cars that can travel that fast are sports cars. So visit the junk yard soon. Who knows, the spinning rims you've always dreamed of buying could be just lying in wait for you.
Another good source for cheap rims is the internet. There are numerous online stores that sell all kinds of car parts and accessories at low rates. Setting up and maintaining an online store is much cheaper than running a traditional car shop. Thus, the owners of these online stores can afford to sell their rims at significantly lowered rates.
What's more, you will have a much larger selection of rims to choose from online. Store owners don't have to worry about storage or store space when building their websites. Just make sure that the shipping cost is low enough to make the rims worth buying online. If the shipping cost is waived then that would be even better.
Aside from online specialty stores, you can also find great bargains for vehicle rims on various auction sites. Sites that allow users to post secondhand products that they are selling are likewise good sources for these. Keep in mind rims come in numerous sizes and designs. You should get a rim which will fit the tire size recommended for your car.
In the same way, you should choose rims whose designs complement the style of your car. If you want to make others turn their heads towards your car in awe of its beauty, then you should buy some dirt cheap rims today!
These other news, guidelines and techniques that might be helpful to you