Purchasing a vehicle can be downright confusing especially if it is your first automobile. If you don't know the weightier matters to consider in terms of purchasing a car, MPV, SUV, UTE, or a van, then this article might help you.

When it comes to choosing a credible car make, Toyota is a good choice. With more than 200 million vehicles produced and considered as the largest automobile manufacturer in the world (beating multi-billion companies like General Motors and Volkswagen Group), the Toyota Company has already established solid integrity when it comes to producing top-notch automobiles.
Moreover, this company is also known for making hybrid electric vehicles. Although Toyota has a wide range of models, this article will discuss about the Toyota Avanza.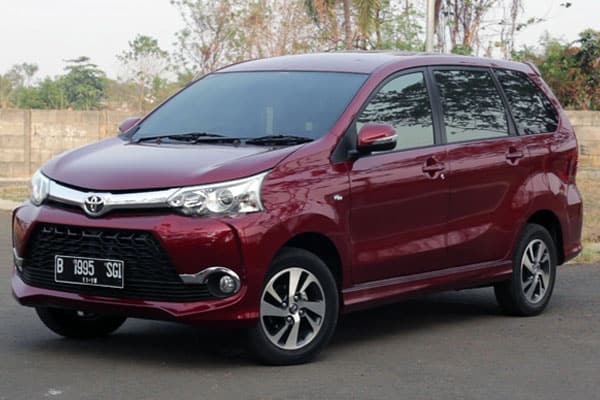 Image source: wikimedia.org
Trivia #1: Did you know that some of the car companies that you might be very familiar of are also owned by the Toyota Company? Hino Motors, Lexus, Scion, and Ranz are also owned by the company. It also holds several stakes in Isuzu (5.9%), Daihatsu (51.2%), Yamaha Motor Company (3.58%), and Tesla (0.27%).
Trivia #2: Did you know that this vehicle model was actually designed by Daihatsu. And that the word "Avanza" came from an Italian word "Avanzato", that when translated to English, means "advance". It is also called "Xenia" in other countries.
If you're familiar with the vehicle model, Kijang Innova (or just Innova in some Asian countries), it is considered as Avanza's spiritual predecessor. So, at a quick glance, you'd probably say it's a mini version of Innova. Although smaller, Toyota Avanza can be paralleled with Innova in terms of rural road capability, body-on-frame engineering, and rear-wheel driving.
This model is being distributed and sold mostly in Asian and Middle Eastern countries like Philippines, Malaysia, Indonesia, Sri Lanka, Thailand, Pakistan, Brunei, Lebanon, and Bangladesh. It is also sold in some African countries, and in Peru, Egypt, and Mexico.
Functionality and Comfort
Although considered odd-looking, this multi-purpose van has been improved two generations later. This article will focus more on the Avanza's 2nd generation. Its second installment has received positive reviews. The Toyota Avanza 2nd gen has grown 10mm in width (from 20mm to 30mm), while its height is maintained. From the exterior of chrome grilled and swept-back headlights, the 2nd generation Toyota Avanza now boasts of redesigned chrome grille and brand new headlights.
The bumper was also improved aesthetically and the vehicle now has a lower matte trim (black). Compared with the first gen Avanza's front end, the second generation vehicle has a more chiselled finish. However, the sides of the vehicle remain unimproved but are nevertheless good-looking.
A set of a new-style 15-inch alloy wheels is also built on the new Toyota Avanza. Taking a look at the rear of the vehicle, you would notice little exterior revisions. Aside from the taillight combinations (which are good, by the way), the chrome garnish was made thicker, giving the vehicle a better edge than its predecessor. The "G" badging is obviously new and the two hooks have been attached to new positions. The vehicle also has an added rear wiper, rear spoilers, and front fog lights.
Even better, this MPV will not give you few to no problems when it comes to parking. Because of its average height and width, finding a place to park your vehicle is just a breeze. Overall, from the hood to bumper, the second generation Toyota Avanza looks slicker and better, exterior-wise.
Inside, Toyota managed to make this budget MPV look more upscale by choosing a two-tone interior theme of gray and brown. Hard plastic material was profoundly used in the vehicle's interior. Although it is considered a budget-friendly vehicle, you will not feel that it's run-of-the-mill just by looking at the door trim and fabric seats. There's also an additional insertion of faux silver trim for a more enhanced upscale ambiance.
The interior provides an upscale feel and that's a thumbs up for Toyota. While for the G and E trims, interior colour is tweaked to dark brown and the Veloz now boasts of a full-black interior. Driving experience is comfortable because seats quality was ensured by the manufacturing company. However, you might find yourself in an awkward driving position because it takes a few moments to find a perfect position when you're already gripping the steering wheel. But you'll get the hang of it.

Seating capacity is on average with a good leg room on the second and third row seats. If you're a family guy, the two back rows are perfect for children, but for guys with bigger built, you might want to reconsider because the Toyota Avanza doesn't have much room for bigger buddies (practically speaking). If you want a little leg room at the third row, you can move the second row a little forward, but that's just about it. Headroom is also fine.
The room-mounted blowers located at the third row are some of the things you'd love about the Avanza. Getting in and out is the challenge in this MPV. Toyota somehow failed in managing to make the vehicle's seat-folding mechanism smooth (compared with other car make like Honda).
If you're getting in the third row, it might take more than one attempt before successfully folding the seat. Also, some of the storages and spaces provided are less than practical; like the storage bin which is located at the gear level in the front seat, the oddly shaped console box, and few cubby holes.
In terms of electronic features and connectivity, the new Toyota Avanza has a redesigned touchscreen LCD infotainment that offers options as: USB, Mp3, CD, AM and FM, and Aux. An SD card slot is also built. The vehicle also offers Bluetooth connectivity for hands-free phone communication. The good thing about the audio controls is these are wheel-mounted. This promotes driving safety when you want to navigate your audio, but you don't want your driving compromised.
Audio quality is one of the things that you'd love about the 2nd gen Toyota Avanza; compared with the previous generation, the new version now has a better audio quality. The speakers give off better sound and are equipped with sound equalizers. When playing music from your PSP, Nintendo DS, Android phone, iPod, or iPhone, the sound quality is surprisingly good. The radio signal is also good.
When it comes to safety and security, the Toyota Avanza is up to par. The vehicle comes with power locks, rear window defogger (good for zero visibility driving), and wipers. You can also use a 12-volt socket for charging various gadgets like mobile phones or iPods. This socket is adjacent to the USB port and both are built at the bottom of the centre console. The space below the centre console is fit for placing small items like phones, extra keys, coins or a few cash, cards, and even your wallet.
Three-point seatbelts, side-impact beams, dual SRS airbags, ABS, safety belt equipped with pretension and force limiter, parking brake, power window jam protection, door ajar warning, and Isofix are included on all Toyota Avanza models. If you are planning to purchase a luxury model, you'd be glad to know that additional luxuries are offered such as: roof monitor, wood panel, and leather seats.
Luxury models and facelifted Avanzas are also equipped with a DVD player, an audio system (2 DIN), and a sat-nav. Some dealerships also offer stability control for added vehicle feature. If you're looking forward to including an immobilizer in your Avanza, only the Veloz and G trims have this feature.
Engine and Performance
When it comes to performance, it is safe to say that the Toyota Avanza is a good vehicle for a multi-purpose vehicle. Considered as a family car, the Avanza can carry seven people, a decent amount of cargo, and still run smoothly. With a power of 105PS at 6000 RPM (Revolutions Per Minute) and a torque of 136nM @ 4200 RPM, this 4-Speed (torque) converter automatic vehicle is a good catch. The engine is powered by a 1.5-litre fuel that delivers reasonable mileage.
Related Other MPV Body Type Vehicle VW Touran Car Model
Toyota decided to place the engine lengthwise, an engine that powers up the rear wheels. Although its performance is good, it is advisable that you must not even think of trying any drifting exhibitions. And here's a little tip: because of its body-on-frame engineering, this high-centre gravity vehicle feels very acutely when carelessly driven on sharp corners.
Highway-driving performance is on average and it doesn't offer much speed compared with its direct competitors like Honda BR-V and Nissan Grand Livina. Good thing, Toyota eventually introduced the Dual VVT-I engine technology for a better performance. However, the engine still needs improvement when it comes to the throttle. The Toyota Avanza is also capable of keeping up with almost any urban traffic situations.
Steering is impressively swift and comfortable-which you won't find in most front-wheel drive vehicles. Moreover, its 4-speed transmission provides smooth driving experience except for one thing: you will find an apparent 'shift shock' when you shift from first gear to the second gear. But you'll probably get used to it as time goes by. Another drawback is its transmission 'whine' which you might hear when travelling on a highway at high speed.


If you're wondering how economical a Toyota Avanza can get, here's good news: this vehicle can be frugal at its finest. In urban kilometres, an Avanza can deliver an astounding 8.33 litres/ 100 kilometres! Even better, you can also reach a record low 7.5 litres / 100 kilometres (highway driving). Now, this is a good thing, especially if you're mindful of your gasoline budget.
Conclusion
Cannot decide yet? Here's a tip: whether you're a family guy who loves travelling interstate with your family, a businessman, or a bachelor who's always on the go, this Toyota Avanza is a good choice. Not only you are getting a people-mover vehicle, you're also in for a top-of-the-line MPV that's capable for urban and highway driving.
This vehicle is also equipped with several safety features that you will surely love. You can count on it when it comes to swift navigation and ease of parking. Not only that, the Toyota Avanza is also fuel efficient. You get reasonable mileage at a fewer cost because it is carefully engineered to bring the best performance while consuming less fuel as possible!
We thought you were interested in this other Toyota model. Toyota Corolla Altis
On the other hand, if you are the type of driver who loves off-roading, this is not the perfect vehicle for you. The Avanza only stands on a set of 15-inch wheels-not suitable for driving on bad road conditions like rocks, mud, and sand. Its built is also not perfect for a bumpy ride. Clearly, the Toyota Avanza is not manufactured for rough road driving. And if you are more concerned with the looks, this is not the best looking multi-purpose vehicle there is in the market.
It is even considered a budget vehicle that gives bang-for-buck. Yes, it is practical (equipped with a lot of features), capable for urban and highway driving, but it looks simple. So, if you're looking for a good-looking car, scratch this off your list.
Related Other MPV Body Type Vehicle Toyota Avanza Veloz Car Model
Overall, the Toyota Avanza is a winner if you're after a reliable, versatile, and driver-friendly vehicle. It can house more than five people, offers up considerable space, looks decent enough, has an upscale ambiance, and provides a comfortable driving experience. With a price that is apparently lower than other SUVs and MPVs, you will surely get the most out of your paid greens. However, don't expect too much because you won't be getting anything that is more than the offered price-that is one reality that you can't take away from this model.
So, if you love most of the features from this vehicle, go to the nearest dealership and purchase your brand new Toyota Avanza now!
For more information about automobiles, you may visit our other car reviews from this website.
Other Toyota Avanza car model Resources: