When it calls for heavy hauls and endurance drives, make sure to go for a vehicle you can rely on. And with Ram 2500 trucks, you can be sure you'd be able to go the distance (and even further still!)!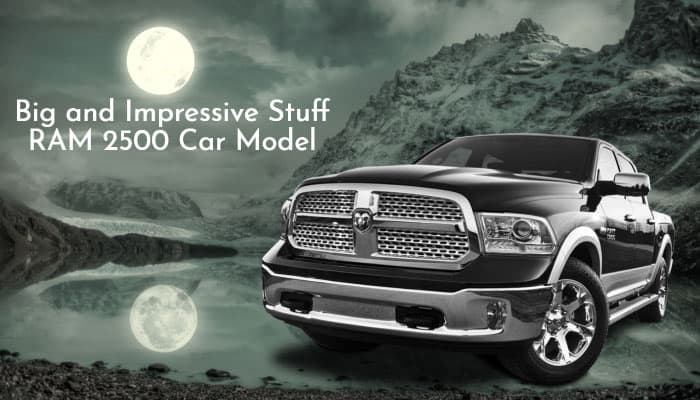 Big and Impressive Stuff
Known for its toughness, Ram 2500 trucks have the right set of tools to match up to any heavy-duty jobs. A behemoth of a truck, any model out of this brand will surely bring in some much-needed power (without losing out on comfort and reliability as well!). Built for the wild, Ram 2500 vehicles also bring in a touch of adventure for motorists in need for some nature trips.
Very much so are trucks from this brand in touch with all sorts of drivers' sense of adventure that Ram 2500 even partnered up with country music recording artist, Easton Corbin. The musician, inspired with the rugged beat that Ram 2500 trucks are known for, wrote a catchy ditty, "Let's Ride".

Image Source: ramtrucks.com
Related Other Pickup Truck Body Type Vehicle Nissan Navara Car Model
And also, Ram 2500 trucks do not only bring in some thrills for the outdoor man. It's reliable and reputable reputation to be a tough truck is an important facet for businesses in need of a vehicle that will deliver. It is just that good of a truck!
And perhaps this is what we want to aim for in this review. We'd want you folks lucky enough to drive a Ram 2500 vehicle to ride and feel why this truck is one of the best there is for the wild. The adventures one can experience from this truck are moments surely to be treasured, that we really do hope that we can all just go out for a ride in it!
Powerful and Massive Engines
A beast of an engine can be found under the hood of each Ram 2500 truck. With several engine options to choose from, motorists can be sure that the right amount of power can be wielded for any sort of job out there. Choose your power below!
CUMMINS TURBO DIESEL I6 ENGINE (6.7L)
Proven to be a beast, this reliable choice transforms the Ram 2500 truck into a trustworthy vehicle able to accomplish any massive task.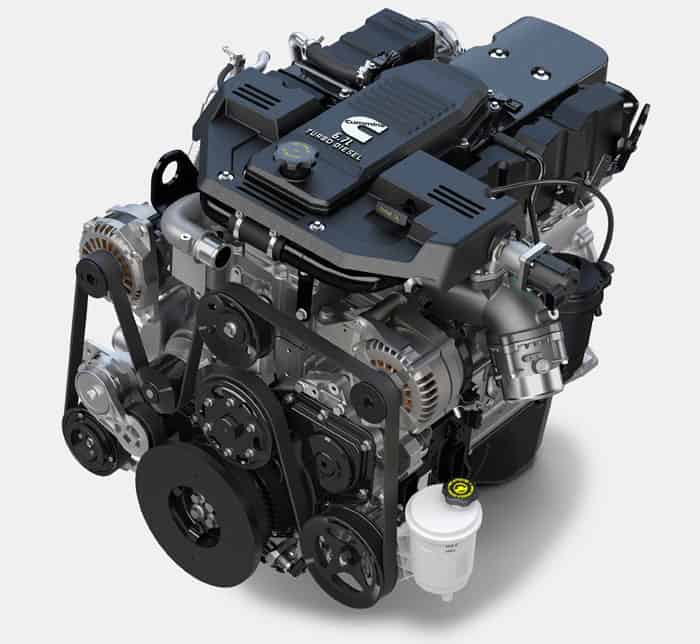 Image Source: ramtrucks.com
Maximum Towing Power: 17,980 lbs.
Change Oil Interval: 15,000 mileage suggested
Payload Capacity: a whopping maximum load of up to 3,160 lbs.
Maximum Horsepower: massive 370 HP
HEMI V8 ENGINE (6.4L)
For an even more powerful boost, choose this epic engine option. Each cylinder of this engine comes equipped with two spark plugs, offering more torque and power to deliver the job.
Payload Capacity: massive load of 3,990 lbs.
Maximum Horsepower: raising the power of up to 410 HP
Towing Power: up to 16,320 lbs.
HEMI V8 ENGINE (5.7L)
The standard choice on Ram 2500 trucks, this engine comes with an efficient variable valve timing system for smooth and powerful drives.
Change Oil Interval: 10,000 mileage suggested
Maximum Towing Power: 13,890 lbs.
Payload Capacity: an impressive load of up to 3,060 lbs.
Maximum Horsepower: exciting 383 HP count
Choose Your Transmission
Offering again the power of choice, Ram 2500 trucks come with the option of either a manual or automatic transmission. Both coming in six-speed capabilities, Ram 2500 trucks' transmission options will suit every sort of driving style or preference – just perfect to stay in control of this behemoth of a truck!
Impressive Suspension System
Given the toughness of a Ram 2500 truck, the right kind of suspension system is also needed to tackle the toughest adventures. Here are the different suspension systems:
Five-Link Coil Suspension System (Rear)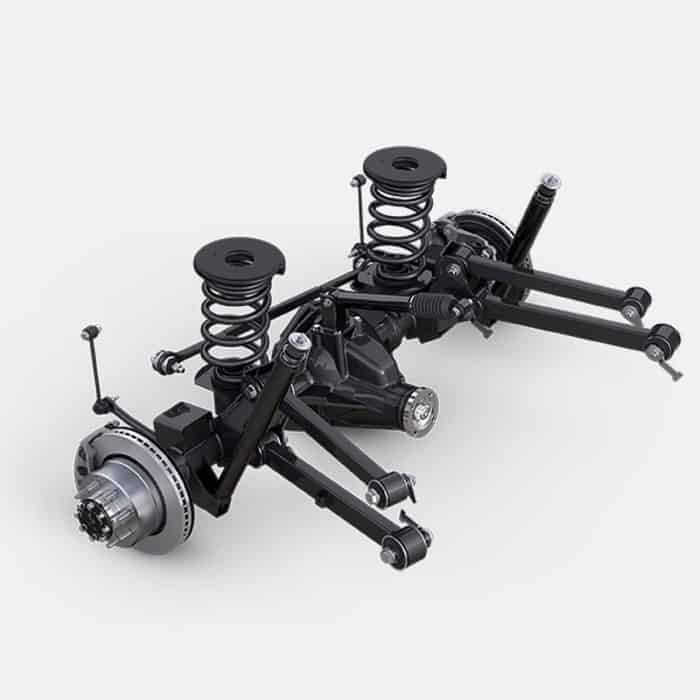 Image Source: ramtrucks.com
A standard on Ram 2500 vehicles, this reliable suspension reduces friction from even the heaviest hauling jobs.
Three-Link Suspension System (Front)
This suspension system stabilizes the Ram 2500 truck with a larger stabilizer bar and frame – smooth adventures assured!
Auto-Level Suspension System (Rear)
For specialized and crucial jobs, go for this suspension system. Adjustable depending on the need, motorists can simply shift ride height selections. This means that proper truck alignment is guaranteed, for smoother and stabilized drives.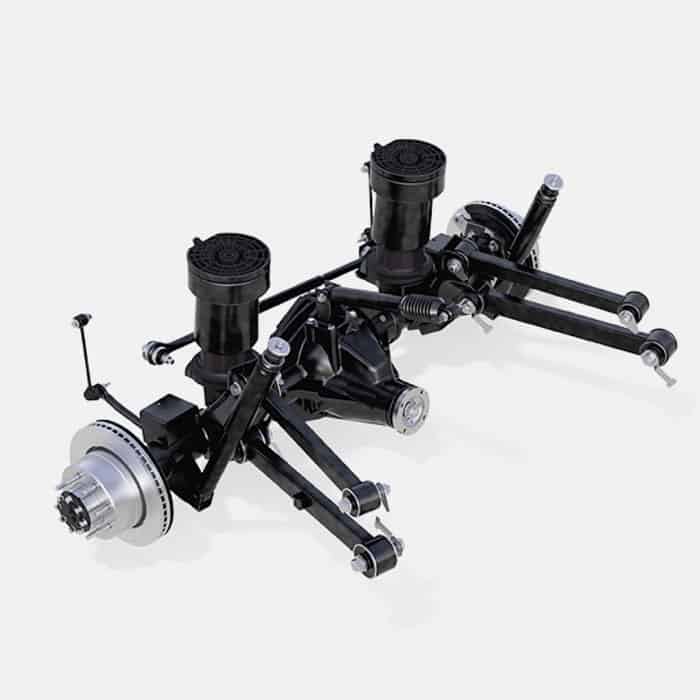 Image Source: ramtrucks.com
More Ram 2500 Features to Appreciate
For customized jobs and needs, Ram 2500 features an even wider choice of adjustments and configurations.
Snow Chief
Winter may be coming, but the Ram 2500 Snow Chief package can match up against the cold. This configuration assures drivers of safer and slip-free drives, and also comes with additional winter equipment such as snow plows and the like.

Hooks
Heavy duty and meant to last, specialized Ram 2500 hooks guarantee solid and reliable grips.
Harness Connector
Working in tandem with the truck's electrical system, the bumper attached harness connectors assure motorists of secured hauls.
RamBox Cargo Management System
A storage system that can be integrated on the side rails of a Ram 2500's truck bed, this amazing system offers more and variable loading solutions.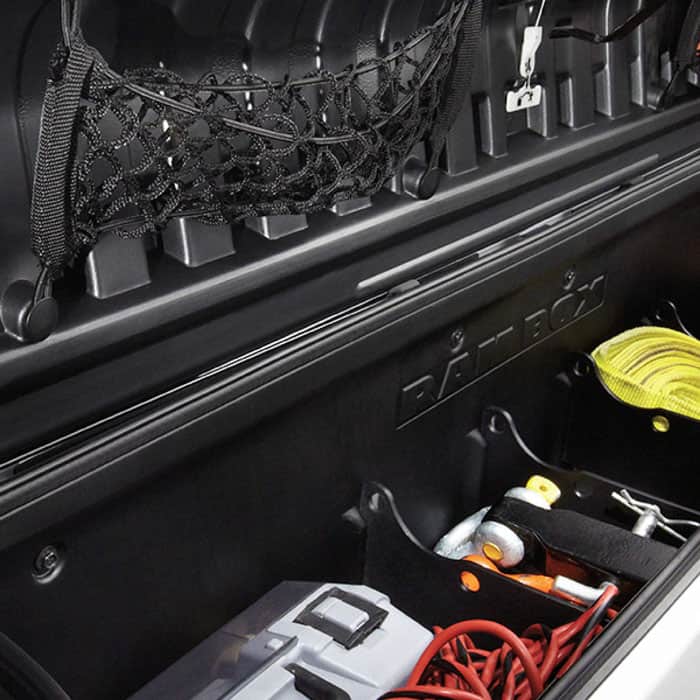 Image Source: ramtrucks.com
Cargo View Camera
Drivers gain the peace of mind knowing that the cargo is safe from harm with this cool camera system. Accessible from the Ram 2500's UConnect display system, motorists can keep a watchful eye on the haul, without having to constantly stop and check!
Box Rail Caps
A standard on Ram 2500 trucks, these caps help on loading and unloading needs. Aside from quick transports, these box rail caps assure that the truck is safe from scratches and the like.
Some Massive Ram 2500 Models to Choose From
Lastly, we'd like to have a quick rundown of some Ram 2500 models for you to take out for a spin!
RAM 2500 TRADESMAN
RAM 2500 SLT
RAM 2500 LARAMIE
RAM 2500 BIG HORN
Probably One of the Toughest Trucks Ever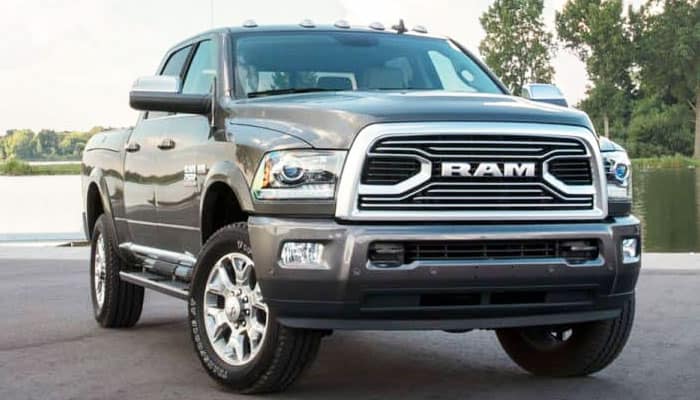 Image Source: ramtrucks.com
Ram 2500 trucks are definitely built to withstand anything thrown at it. So, if you have a tough job to tackle, or just want a vehicle that you can rely on wild adventure treks, look no further than trucks from this reliable automobile company. We hope you get the chance to ride and drive one today!
Video of RAM 2500 Car Model
Other Ram 2500 Car Model Resources: