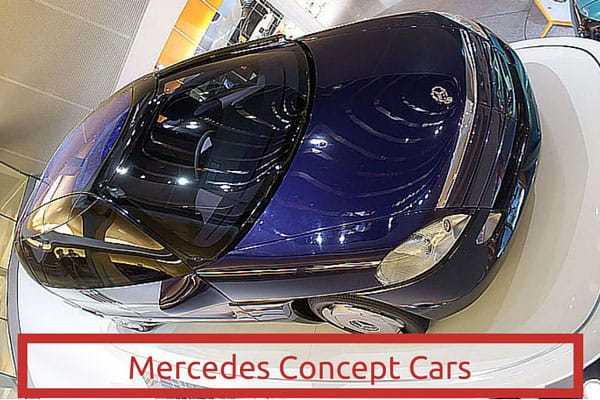 Concept cars are vehicles designed with atypical materials and engines that operate differently from commercial vehicles. These cars are often made in limited edition and are made for show or to be driven.
Many car manufacturers have created at least one concept car for their brand. Mercedes-Benz is a company that has produced a wide range of vehicles in a variety of models, which includes nearly 40 individual concept cars that vary widely regarding functionality and overall focus of the design.
300S Cabriolet A by PininFarina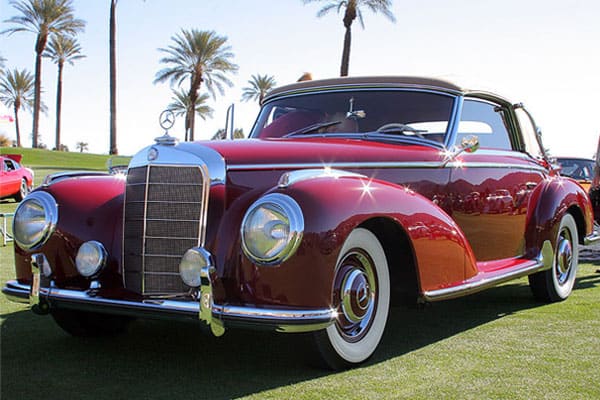 Image source: wikimedia.org
One of the first concept cars for Mercedes-Benz was a modification made in 1955 by the Italian car design firm, PininFarina. The owner took it to PininFarina to conduct modifications to improve the vehicle.
The outward appearance of the original vehicle was modified to have freestanding headlamps, an opening toward the front fenders, and an extended running rear. The folding roof was changed to work in a third position, partially opened, in addition to the standard open and closed positions.
ESF 13
Going into the 70s, it became apparent to car manufacturers that safety needed to be a top priority. Mercedes-Benz began a program of developing experimental safety vehicles to conduct research on how to create a safer car. As a result, over 30 cars were manufactured for the project.
The ESF 13 was a vehicle developed during this time, and it had features now seen on many modern cars, such as headlamp wipers, rear wipers, beam range control, and a taillight monitoring system.
Other features for the car catered to pedestrian safety. Front and rear bumpers with a foam covering and rounded door handles were designed with the safety of pedestrians, bikers, and motorcyclists in mind.
NAFA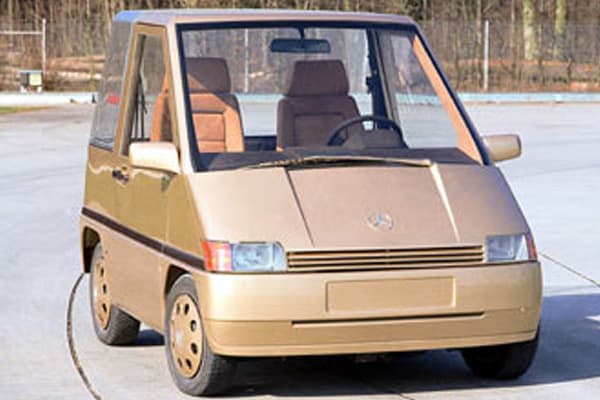 Image source: wikimedia.org
The short distance vehicle, NAFA, was developed in 1982. The car could seat two individuals and was only 2.5 meters long. This car marked the first time a Mercedes-Benz was equipped with front-wheel drive and was intended for driving in the city.
The vehicle's design focused on compact maneuvering with four-wheel steering and sliding doors allowed for passengers to exit the vehicle even in the tightest fit.
This car never made it to the production line because it could not meet the high safety standards the company established for all of their cars. The company incorporated the concept in later designs, most prominently in their "A-class" model.
F100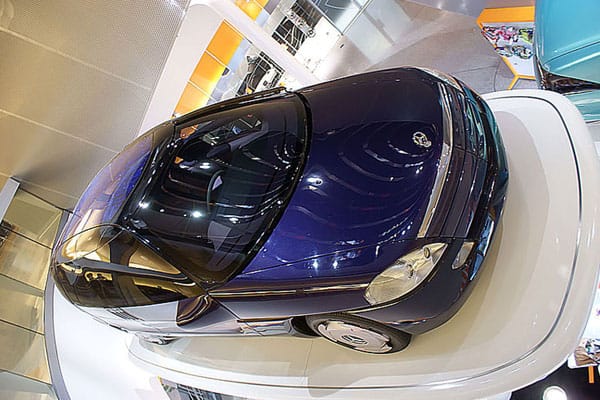 Image source: wikimedia.org
In 1991, the Mercedes-Benz F100 was the first concept car in the "F" series to be debuted by the company. As the first car in the "F" series, the vehicle showcased new technologies and ideas while still being fully operational.
One of the most notable features of this car was the driver's seat, which was centered in the car to create more distance from car in the case of an accident. As a safety feature, passenger seats were also oriented in a way that created a significant distance between them and the dashboard.
This car established luxurious features seen on modern commercial vehicles such as an unlock feature that does not require a key, and a hatchback built for increased car space.
Vision SLA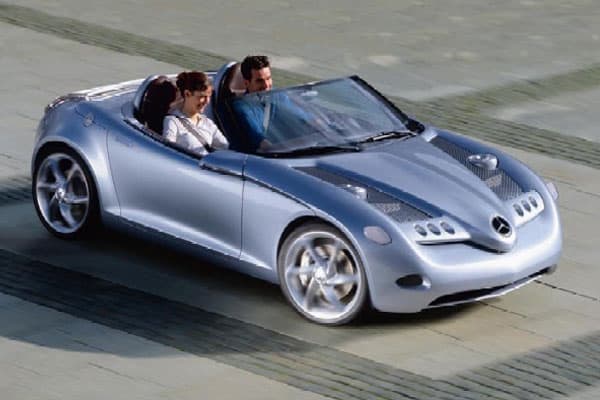 Image source: wikimedia.org
Based on the "A-class" model, the Vision SLA was developed in 2000 to create the same feel of an SL series car in a compact vehicle. The car could seat two people and had a body shaped similarly to a sports car, with a V-shaped nose and open top.
Always keeping safety in mind, Mercedes-Benz built this car with the engine sitting at an angle that would slide it down the front floor panel on impact. The windshield frame was reinforced, and roll over bars were put in place to protect against the car rolling over.
Lighting was enhanced with LEDs that were placed in the rear to create more visible rear and brake lights. The car had a sports car feel without compromising any safety features that were standard in the company's manufacturing line.
Bionic Concept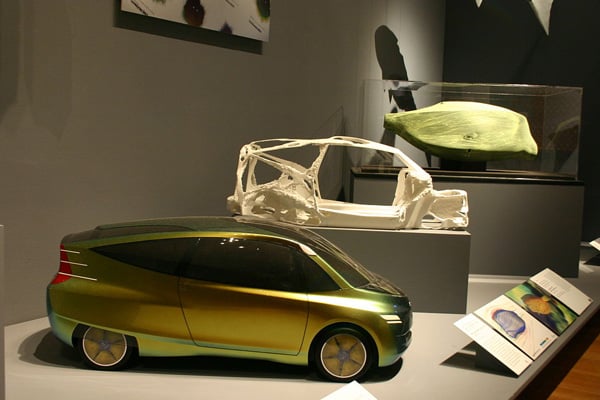 Image source: wikimedia.org
For the bionic concept conceived in 2005, Mercedes-Benz looked to nature for inspiration. The boxfish was the inspiration for this model, which took on a shape similar to the fish's body.
The car was able to achieve maximum aerodynamic efficiency, all while being able to hold four passengers and luggage. Fuel consumption for the bionic car was significantly less than other cars in mass production at the time, and it could drive 70 miles to the gallon.
The body of the car was reviewed to make the material lighter weight, where only highly stressed areas were reinforced, and low load areas were reduced. This made the car lighter than standard cars while maintaining the same safety capabilities.
SL Coupe Torino
Based on the SL roadster, this car was designed by Studiotorino and IAAD in 2008 for the "Turin World Design Capital 2008" event. The purpose of this concept car was to make the car into a coupe while keeping the look and feel of the original SL roadster.
The goal of this concept was to create only a functional prototype, which meant the car was never built to scale. The inspiration for the modifications came from two fastbacks and an Italian coupe.
Future Truck 2025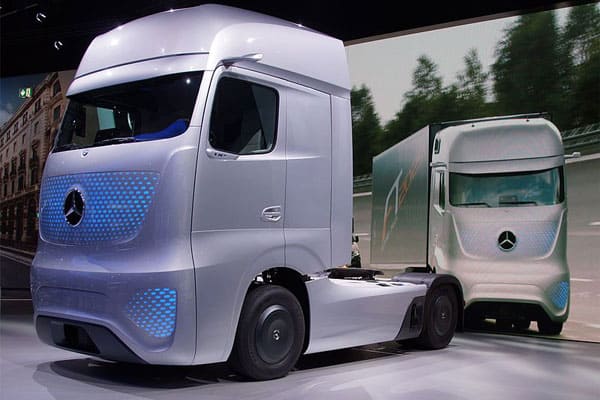 Image source: wikimedia.org
Mercedes-Benz does not always create concept cars meant for everyday use. In 2014, the company introduced a long-haul truck that could steer on its own.
The truck's highway pilot system allows it to drive independently at a speed of 80 kilometers per hour. Cameras, radar sensors, and vehicle-to- vehicle communication are all features that make it a safe form of futuristic transportation.
The driver assistance systems and automated driving systems work together to create a safer, less demanding environment for truck drivers who are required to drive long hours without rest.
Final Thoughts
Concept cars are a way to showcase new technology and ideas that commercial cars may not be capable of handling. Among the many vehicle manufacturers who have created countless concept cars, Mercedes-Benz has been able to create some of the most efficient and safe concept cars.
Some of their concept cars have been able to pave the way for new features on their commercial models, and others have become a one of a kind piece of their history.
Mercedes-Benz has been able to showcase their passion for safety and high-quality parts through their concept cars and commercial vehicles, and they continue to strive for excellence in car manufacturing.