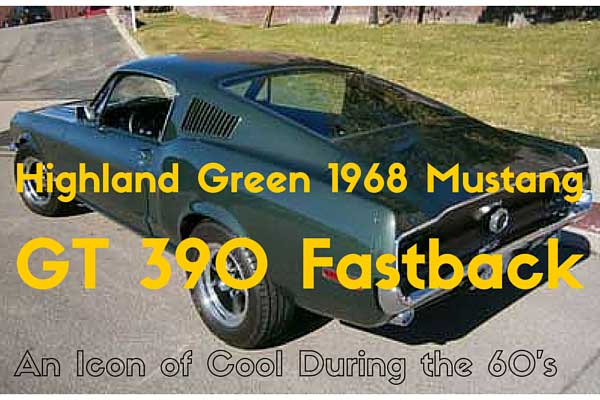 The Iconic Car from a Steve McQueen Movie
If you love classic movies and classic muscle cars then you've probably watched Bullitt, it's a 1968 action thriller movie featuring the "King of Cool" Steve McQueen and an awesome car chase scene with him driving a Highland Green 1968 Mustang GT 390 Fastback chasing two villainous hit-men in a Black 1968 Dodge Charger R/T 440 Magnum, and the cars were both heavily modified like the engine, suspension, and brakes to make the fast paced scene part and parcel of the Mustang's legendary appeal to any race enthusiast or classic muscle car buff out there.
This car's popularity most especially the Mustang brand strengthened during the late 60's and is in tandem with Steve McQueen's character in the movie Bullitt, who would've thought that making two muscle cars race against each other in a cinematic stand-off that became the benchmark for future movies to come with car chase scenes, have you ever seen the French Connection?
Or The Seven-Ups? Those are just a few movies that also have car chases but none that still makes the cut like the Highland Green 1968 Mustang GT 390 Fastback and Steve McQueen driving it who was also an avid race on both cars and motorbikes.
This car wouldn't be the muscle it was without Max Balchowski who was at that time a veteran race driver and car builder, he was enlisted in the film to modify the essential parts of the car to withstand the high octane chase. It got stronger springs, Koni shocks, enhanced the braces by fabricating them and for the inner fenders and additional auto tuning to the 390 cubic inch engine for more revving power.
It seems that auto folks those days were concerned with making a name for the Mustang and they sure did thanks to people who pushed boundaries like McQueen and Blachowski. So there you have it! An incredible muscle car which is a blast from the past that is never forgotten!
These other news, guidelines and techniques that might be helpful to you