In essence, if there ever was a perfect car to drive or ride in, it'll be one that will not only be able to handle any sort of road condition or situation it may find itself in. After all, comfort, stability, and safety are some key reasons that should also be prioritized and considered.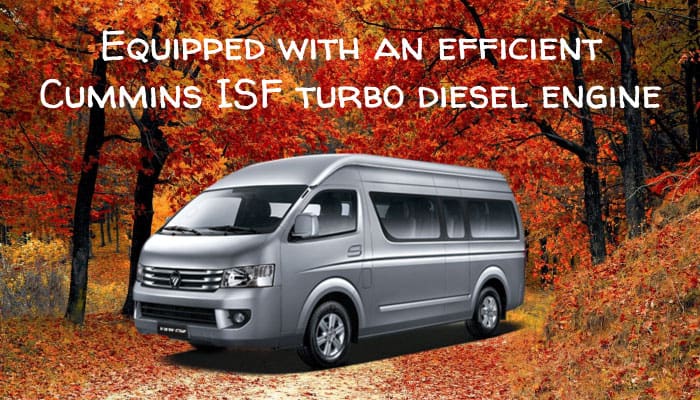 And by bringing to light these factors, a memorable and positive sort of ride can be attained – perfection indeed!
And with the Foton View Traveller, this sort of minivan does have the right set of tools and features that can very well be the closest definition to motoring perfection. And as such, we are more than happy to present some reasons why you may want to consider this outstanding vehicle.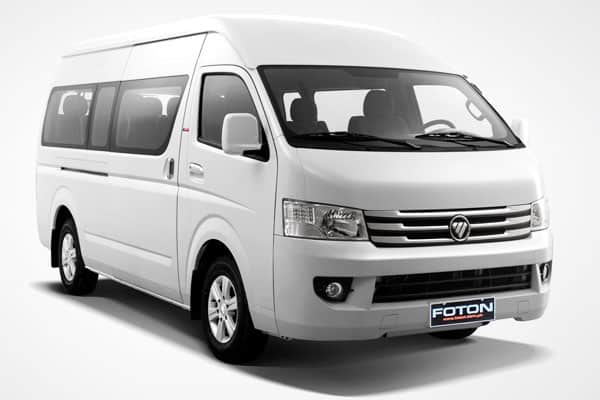 foton.com.ph
We hope that this review will push you on driving (or riding, or better yet, owning) this car!
Getting a Clear Perspective on this Foton View Traveller Review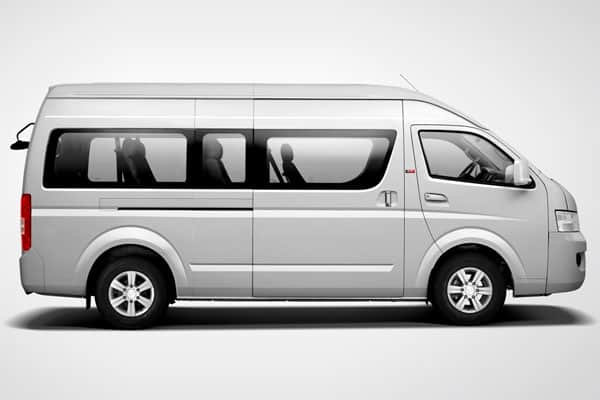 foton.com.ph
Just like our other motoring or car reviews (take for example, our Acura RLX writeup), we aim to give out select or key details of the subject vehicle in question. By doing so, we hope to have an unbiased view on giving reasons why a car is a definite ride.
In effect, as well, we hope to achieve a clearer perspective on a vehicle – the point of the matter is, we do believe that each motorist is different and deserves to choose a vehicle that will support his or her endeavors in life.
Foton Van Engine Details and Essentials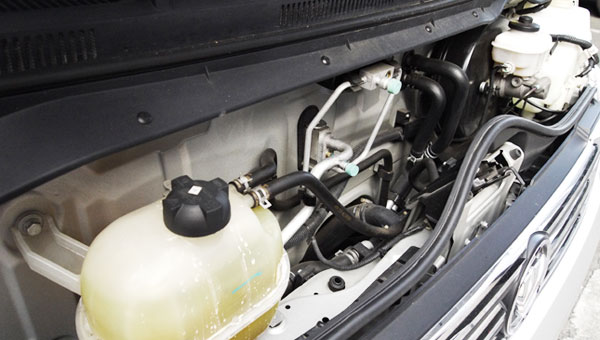 Image source: topgear.com.ph
To understand more on what pushes the Foton View Traveller to go the distance, lets try and find out more about the engine within. As driven and prioritized by the Foton car manufacturer group, the View Traveller comes equipped with an efficient Cummins ISF turbo diesel engine.
At a 2.8 L and 16-valve efficiency, the Foton View Traveller can be a reliable vehicle when it comes to hauling heavy cargo on transporting a large number of passengers. Also, fuel efficiency is taken into consideration, with the Foton View Traveller capable of having a mileage and fuel saving capacity of 13 km per L.
Additionally, the Foton View Traveller has impressive braking safety features. This brings about an additional layer of safety for drivers and passengers alike, of having the option to stay in control during even split-second decisions!
Emphasizing on control, this vehicle's rear drum brake and front disc brakes have been primed to perform in maximum tolerance (and in effect, maximum stability).
A View on the Foton View Traveller 18 Seater Interior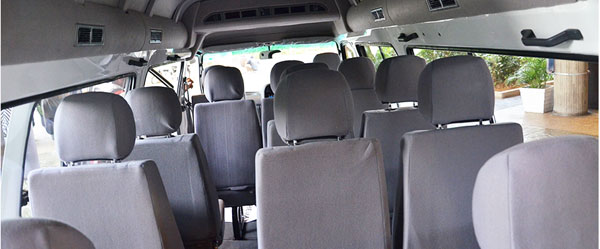 Image source: squarespace.com
Speaking about how this vehicle can transport passengers with ease without sacrificing on comfort, let us take a look on its interesting interior.
On paper, the Foton View Traveller has 15 seats to cover for passengers. And as mentioned, safety and comfort is still prioritized even with a maximum count of passengers.
Related Other Van Body Type Vehicle Nissan NV350 Urvan Car Model
But because of space saving solutions and smart seating adjustments and arrangement, up to 18 people can be assure of safe and comfortable rides in the Foton View Traveller.
Add in some impressive infotainment features, then you and other motorists can be assured that passengers have a comfortable and memorable ride in this vehicle!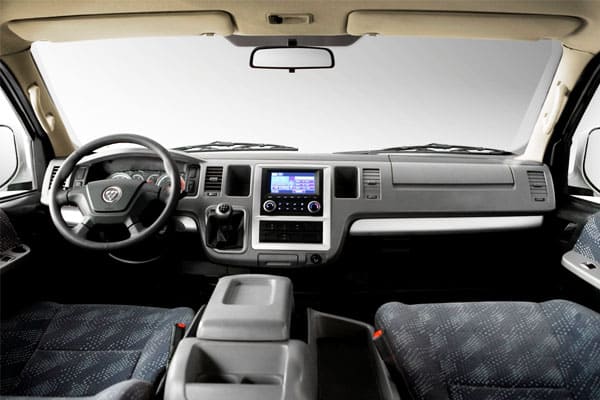 foton.com.ph
Some infotainment features that the Foton View Traveller boasts of are the following:
MP3 and CD player audio system
Efficient and cool air conditioning system
An Alternate Exposure: The Foton View Traveller vs Toyota Grandia
To get an even clearer perspective on what makes the Foton View Traveller a hit of a vehicle, let us compare this vehicle with a similar vehicle in its category, the Toyota Grandia.
First and foremost, the Foton View Traveller and the Toyota Grandia may be at par when it comes to passenger or cargo capacity. Yet the View Traveller may have the slighter advantage of having more space-saving solutions, with the various adjustments that can be done to address different riding or hauling needs.
Second, when it comes to overall design, both vehicles bring about a suburban look that will make both fit in the urban jungle. The details are in the devil, with both models having subtle accents that are best appreciated up close. With the Foton View Traveller, its no-nonsense appearance brings about a simple yet even elegant look at par with the Toyota Grandia.
A bit similar with each other, the Toyota Grandia and Foton View Traveller have differences just at the slightest points. But to further expand our view on the View Traveller, check out the next point!
Taking a Peek at Some Foton View Traveller Problems
For an even clearer perspective on this vehicle, we'd also like to list down some potential problems that you or other motorists may encounter.
As mentioned on the previous Toyota Grandia analogy, the straight-to-the-point design that the Foton View Traveller may seem to be a simple afterthought. Yet, without focusing on the looks, the appeal that most motorists seek for in a vehicle is lost.


Additionally, when it comes to the interior, space will never be a concern. With performance and function as primary focus points for this vehicle, hauling cargo or transporting passengers is definitely a breeze.
But perhaps an added emphasis on better infotainment features may be a suggested improvement for the Foton View Traveller. After all, with our initial definition on motoring perfection, a total package of a convenient road experience is needed.
Also, we'd like to point out the need for the Foton View Traveller to stay in line with the times. With more vehicles integrating smart technology (from safety features to infotainment and connectivity options), having some tech enhancements is one way to reach out to the growing tech-savvy motorists in the market.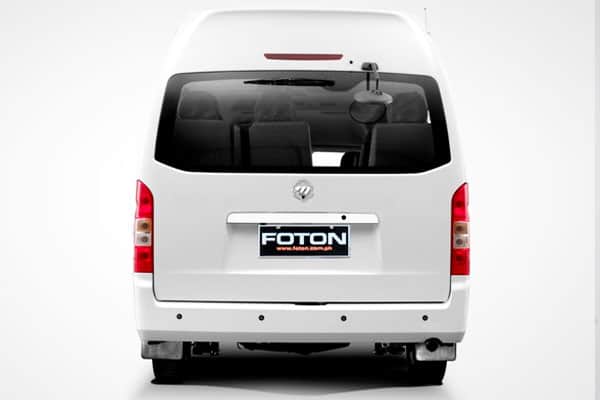 foton.com.ph
Other than these concerns, the Foton View Traveller is a reliable vehicle to put your trust on. With its spacious capacity and road-worthy performance, this is a van that will definitely go the extra mile in providing comfortable and powerful drives. Please do make sure to visit your nearest dealership today to take a Foton View Traveller out for a spin!
Other Foton View Traveller Car Model Resources: